Events
//
Events Team
//
2020-16-12
quantilope at DIY Digital Week: Diversifying Research
(String: https://www.quantilope.com/hubfs/BLOG_DecPanel_op2_gray.png)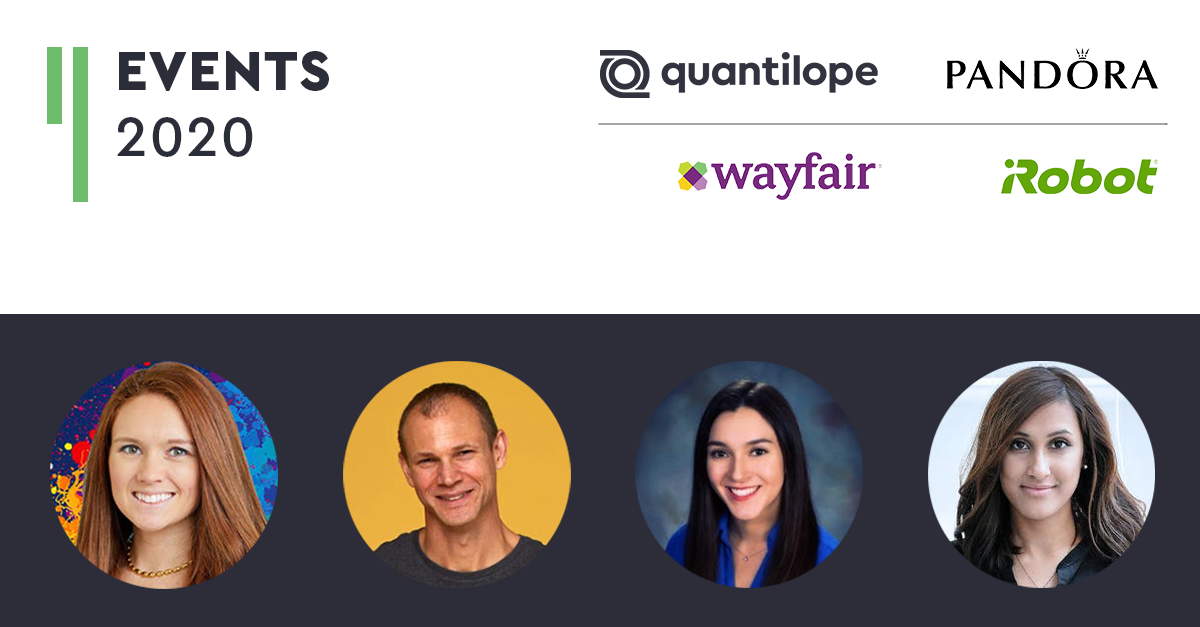 As part of Informa Connect's DIY Market Research Digital Week, quantilope hosted a panel session on the diversification of market research methodologies.
In this session, quantilope's Head of Client Development and moderator of the session, Katelyn Ferrara, was joined by Dominic Jones (Director, Global Marketing Consumer Insights at iRobot), Jess Solomon (Senior Consumer Insights Analyst at Wayfair), and Shilpi Sinha (UX Researcher at Pandora Group).
Along with using an array of research methodologies (quantitative, qualitative, advanced methods, etc.), a common theme arose among the panel: the importance of cross-functionality between teams. Though it can sometimes be a challenge to ensure consistent communication occurs across internal teams (such as research, user experience, and marketing), it's necessary to ensure you are getting the most out of your research. Members of the panel mentioned that hearing other teams' perspectives often creates an opportunity to make research even better by connecting the dots, especially because various stakeholders can sometimes have different motivations.
Similarly, throughout the discussion, panel speakers touched on the effects of the pandemic, including how to gain the most value out of research and what's in store as we approach 2021. One of the major takeaways from this year is the importance and value of organization-wide knowledge sharing to make research findings accessible to all divisions. With companies shifting to digital research methods this year, even for qualitative studies, they've had an opportunity to get innovative with ways of sharing these findings and ensuring a collaborative effort across the company. One method of doing so includes collaborative communication channels (such as Slack) where colleagues beyond just the research team can stay up to date on research findings and utilize the insights for their own team's objectives. The panel also emphasized the importance of sharing recordings of report presentations to extend the visibility of projects. At quantilope, we ensure extended visibility through our sharable interactive dashboards, with live significance testing and automatic data trending on tracking studies.
When asked about diversifying research between outsourcing and keeping it in-house, all panel speakers were in agreement that it's a matter of finding a balance. Companies need to ensure they're strategically using external vendors in situations where their time is better used elsewhere (such as outsourcing data analysis and visualizations to focus on the insights/narrative). Using external vendors can also be beneficial in establishing a third-party/neutral opinion toward an idea or concept, as internal teams can have biases or specific goals. Finally, utilizing services from companies that specialize in your areas of need enables you to work better, faster, and more efficiently. From a research perspective, software services like quantilope provide simplified access to an automated platform and advanced research methodologies, with the choice of a DIY approach or guidance from certified research consultants.
Thinking ahead to next year, panel speakers observed various learnings they plan to keep top-of-mind. Dominic and the iRobot team have had great success performing an increased level of research through digital means (such as virtual studies and focus groups), which may open the door for more opportunities to do so as consumers become more comfortable and familiar with a digitized research space compared to traditional in-person methods. Throughout the year, Shilpi at Pandora Group recognized the value of revising a vision and going beyond the normal constraints of a business in order to stay relevant over time. For example, in a previous role at IKEA, she witnessed the company adapt during the pandemic with a 'click and collect' option not only for furniture but for food as well; this allowed customers to get their favorite Swedish meatballs that they associate with shopping at IKEA, despite stores being closed. And, Jess at Wayfair gained a heightened understanding of empathy for consumers during a sensitive time (for example, if you don't need to ask about income, consider leaving it out of your survey while many have lost their jobs this year). Such findings will hopefully shed light on ways to improve respondent experience beyond the specific challenges of this year.
For a further dive into this discussion, the full recording is available below.
Access the full recording now!