How To Perform Market Research for Advertising Campaigns
(String: https://www.quantilope.com/hubfs/MRX%20Glossary_Market%20Research%20Advertising.png)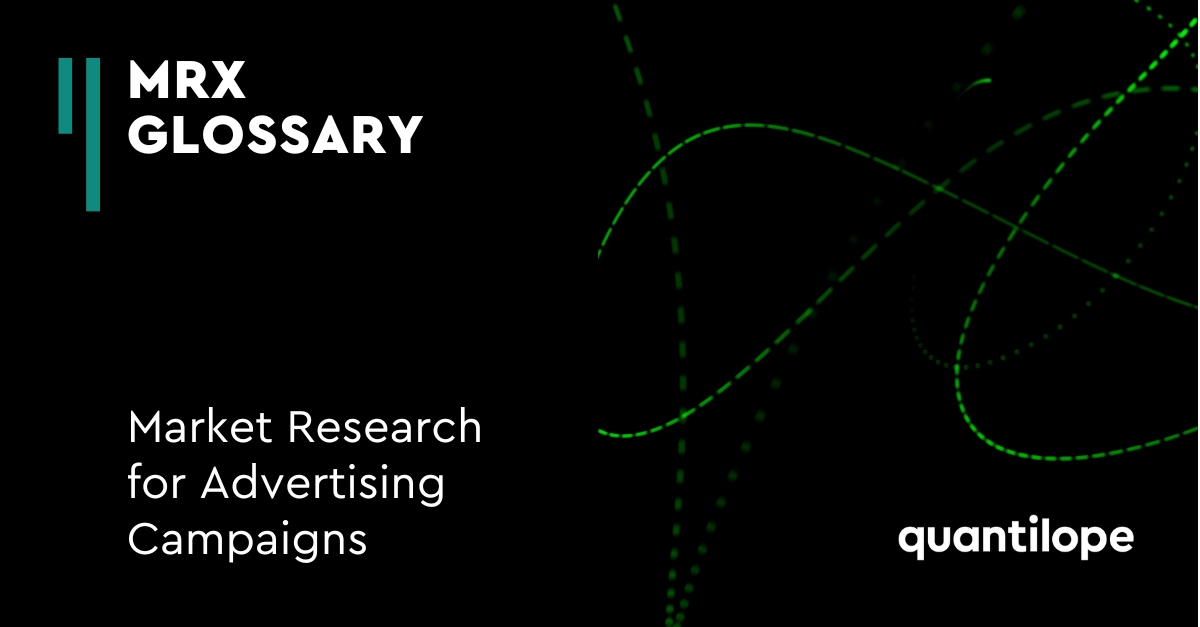 Market research is often thought of as the background or prep work to launching a new product or service or checking in on a product's performance; however, market research can also be leveraged quite beneficially for prepping or measuring the impact of advertising campaigns.
---
Table of Contents:
How can market research improve advertising?
Market research is any form of data collection that gathers metrics from your target audience or potential new customers on how a product, service, or campaign is performing. There are two main types of market research: quantitative and qualitative.


Quantitative research focuses on the numeric side of data collection, often done through online survey questionnaires with research methods such as MaxDiff, market segmentation, or another methodology that provides advanced findings to standard usage and attitude questions. Qualitative research, on the other hand, collects more in-depth feedback from a customer base through the use of focus groups, video surveys, or ethnography (i.e. observation) studies. Qualitative research is a great way to capture the user experience side of consumer insights - through observation or detailed description of how a customer is using a product/service.
Advertising research could take the form of quantitative or qualitative methods. Using quantitative research, brands can test their advertising concepts through A/B tests which identify the top-performing concepts among respondents. Brands might also leverage quantitative research for advertising by using a TURF analysis to understand which media channels will result in the optimal visibility of the advertising campaign.


Brands can also use qualitative research to improve their advertising efforts by asking for in-depth feedback from respondents on certain elements of an advertising campaign - such as the music used in video concepts, the colors/logo placement in print advertising, or the choice of celebrity endorsements in brand positioning advertising.
Benefits of market research for advertising
Performing market research prior to launching an advertising campaign, or in the early stages of a campaign launch, can inform a brand how the advertising concept is perceived among their overall target audience, which demographic groups respond best to it, and where they might need to make some adjustments. Through the use of market research for advertising, brands are optimizing their marketing efforts by ensuring they are leveraging effective advertising concepts that resonate with the audience they intend to.


Using market research for advertising also helps brands with competitive analysis - understanding how a campaign stacks up overall against competitors in the space, how memorable a campaign is among a competitive set, or how respondents' reactions to advertising concepts differ from those of competitors in terms of demographics or psychographics. This informs a brand of who they should be prioritizing in their advertising reach.
How research plays a role in marketing campaigns
To conduct market research for advertising or marketing campaigns, there are a few key steps to keep in mind during the planning, execution, and post-campaign stages.


1. Develop an understanding of your target audience when building your advertising strategy
Even before you create your advertising concepts, you need to start with an understanding of who your current customer base is, and which potential customers you want to reach for the first time. Developing these personas will make your research process easier, by understanding which demographics and psychographics you're interested in and effectively catering your advertising concepts to those audiences.


2. Set campaign goals
Once you've identified the target customers you want to reach with your advertising or marketing campaign, set your campaign goals. This includes what you want to come from your campaign efforts - be it raised awareness, promotion of a new product, promotion of a new message, or some other metric that you can easily use to define success.


3. Create campaign messaging and pre-test ads
Market research is very beneficial to use in the pre-testing phase of an advertising campaign. By pre-testing your advertising concepts (meaning, showing the advertising concepts to a group of respondents), you have a good idea of how the advertisement will perform once it goes live. Concepts are anything that you've developed for advertising purposes and want to test among your customer base. For example, you might have two different versions of a print ad with different color palettes and want to test which concept performs better. Similarly, maybe you've developed two video advertisements and used different tones of voice or music in each - one that's very upbeat and one that's more slow and serious. Testing which video concept resonates better with your target audience is helpful during this pre-testing phase before the official launch.


You can perform pre-testing for advertisements in a variety of ways. One of the most common ways to do so is through the use of A/B tests (aka, split tests). This type of test is used to compare product concepts, communication ideas, or specific ads using equally structured groups of respondents to inform a brand which concept is the most visually appealing, relevant, convincing, educational, and/or easily understood. If the feedback for one concept is overall positive during the pre-testing phase, you are in a good spot to move forward with that version into the market. If feedback is negative for both concepts you've tested, it would be wise to take your concepts back to the brainstorming phase to make edits before wasting budget on an underperforming advertising campaign.


While A/B tests are popular for testing semi-finalized concepts, it's also advantageous to test your advertising ideas at all stages of development. For example, you can start with an online survey to test which elements of your brand positioning are most important to consumers so you can emphasize that in your advertising communication used in the final concepts.


4. Monitor ads in your brand tracker
Once you've confirmed the optimal market research concept, it's time to set your advertising campaign live and track its performance over time through the use of a brand tracker.


Ensure your brand tracker has a module dedicated to asking about respondents' recall of seeing recent advertising, and which ads/messages stood out to them. Identifying and comparing perceptions of those that claim to be exposed by your brand's advertising against those that have not been exposed can give you a clear indication as to whether the creative is strong enough to have a lasting positive impact on consumers.
Back to Table of Contents


Improve your advertising through powerful market research
There are many research services to use for different forms of advertising testing. Some services might excel in providing design services and others might be known for their post-campaign tracking metrics.


quantilope's Insights Automation Platform offers both quantitative and qualitative approaches to advertising research. Using the platform, brands can monitor their advertising concept metrics in real-time through a live field tab and automatically updated insight dashboards. quantilope also offers a video research solution, inColor, where brands can gather feedback on advertisements in customers' own words.


To better inform your business decisions when it comes to ad campaigns and overall marketing strategy, take the time to plan, test, and track advertising concept performance. To learn more on how quantilope can help with market research for advertising, get in touch below:
Get in touch to learn more about market research for advertising!