quantilope Tracking Study: Four Waves of Mattress Insights
(String: https://www.quantilope.com/hubfs/blog+social-insights-mattress.jpg)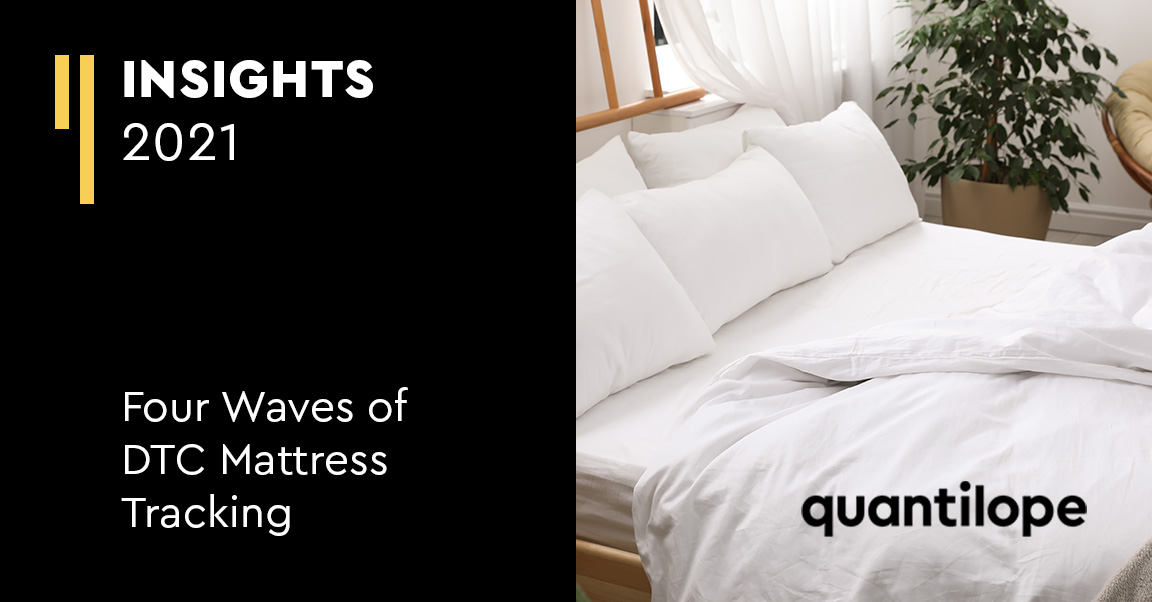 See what four waves of tracking data can show you about a brand and a category's performance with quantilope's Mattress Tracker.
quantilope has been monitoring the mattress landscape since 2019, keeping a close eye on how DTC (Direct-to-Consumer) brands are competing against established, legacy brands.
This DTC mattress study is just one example of how tracking studies can equip brands with continuous access to data, real-time charting, and automated significance testing. These benefits allow new brands to monitor their success in growing market share. Similarly, older legacy brands can take clues on where they might be losing customers to new competitors so they can quickly adapt with the market in real-time...and the world certainly is shifting and adapting.
Just a few years ago, online mattress shopping was hardly the norm. Many consumers may have never imagined swapping their in-store mattress ritual of feeling the fabrics, testing the firmness, and being accompanied throughout the store by a sales rep, for an online mattress shopping experience. After all, a mattress purchase is a sizable investment made fairly infrequently.
Fast forward to today's market, where almost everything is (or can be) purchased online - mattresses included. As we've seen over the past few years of our DTC Mattress Tracker, the mattress world is changing. That's because DTC mattress brands have a few notable advantages over some traditional, legacy brands:
They excel at customer service. This includes fast shipping, always-on customer service, and digital assistance vs. in-store or over the phone.
They offer an exciting unpackaging experience. For something that arrives in a box, then unrolls and expands into a bed - that's pretty exciting! Especially for Millennials and Gen Z'ers who might need the convenience of a compact delivery in big cities and college accommodations.
Health + Wellness has become a priority. In light of the recent pandemic, many US consumers are paying closer attention to their health than ever before. Part of a healthy regimen includes a good night's sleep with a quality mattress.
Legacy brands (like Sealy and Sleep Number) are still top of mind for consumers, but DTC brands (like Casper and Purple) are gaining notable traction. As of August 2021 (wave 4), Purple held an aided brand awareness of over 50% - just a few percentage points short of legacy brand, Beautyrest!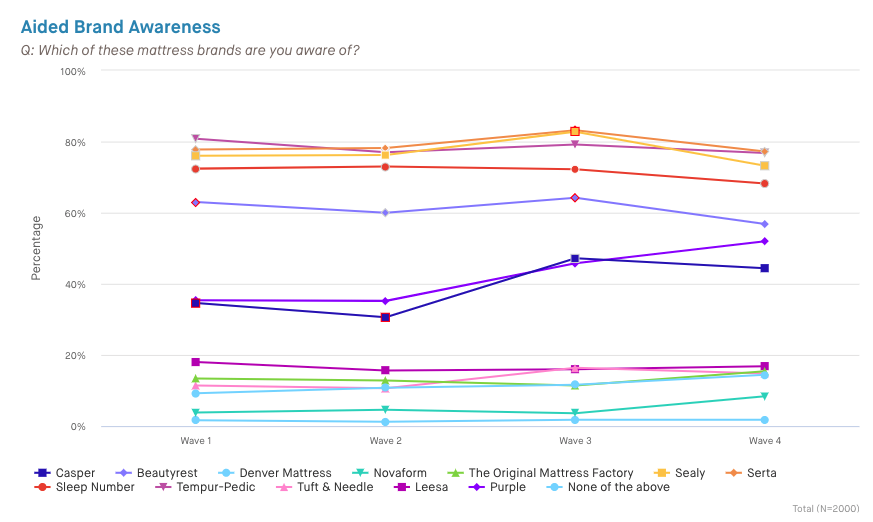 This is huge for Purple, and for DTC brands as a whole, as consumers are really starting to take notice of their brands (and their advertising) during a rise in popularity of eCommerce. As shown below, starting in Aug '20 (wave 3), online shopping for mattresses significantly increased. A year later, in Aug '21, this metric held steady.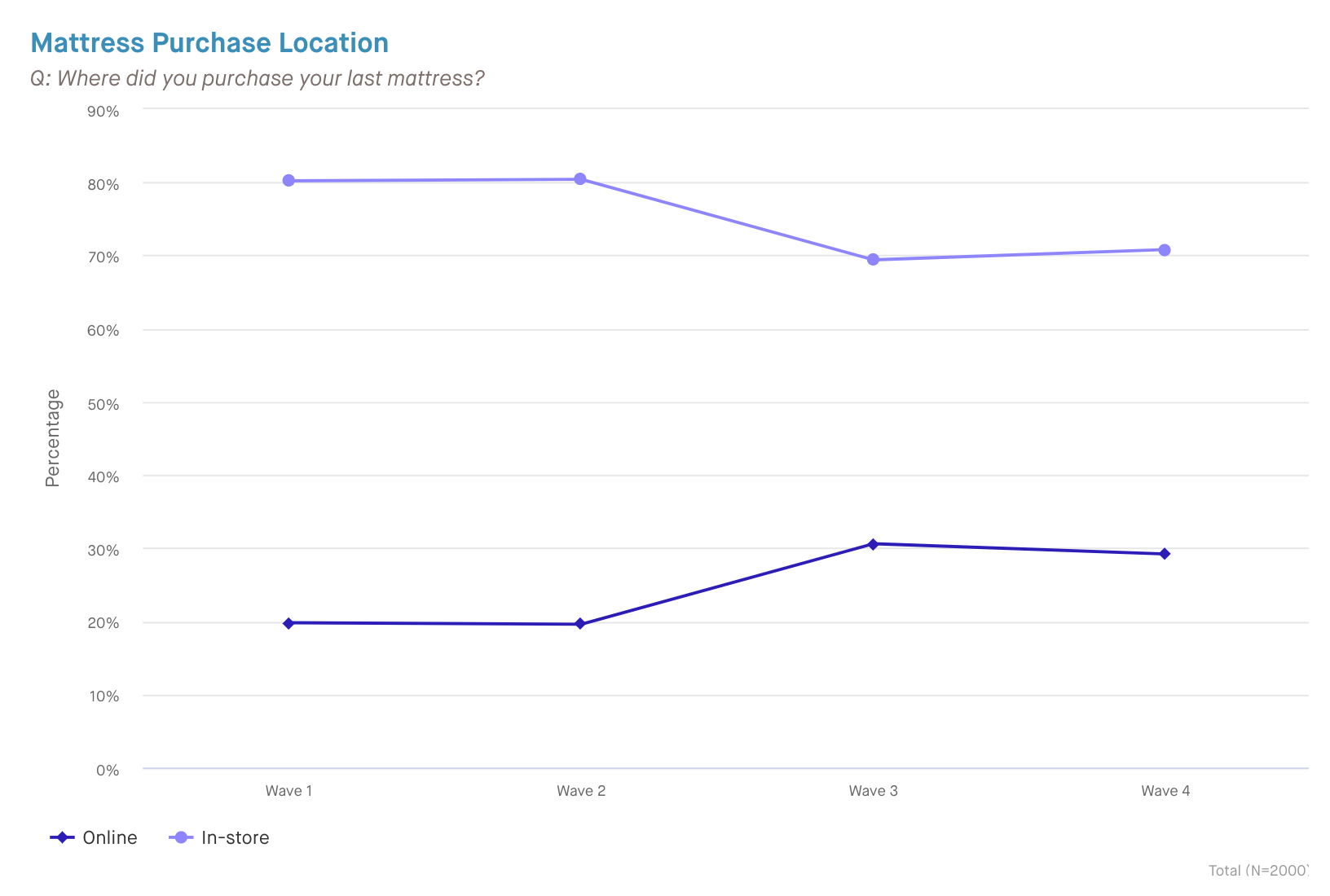 This might suggest that online mattress shopping (while still less popular than shopping in-store) might be on the start of a gradual climb, and is something we will continue to track in future waves.
As for this most recent wave's insights, here are the main takeaways:
Consumers are back to pre-pandemic levels of mattress purchasing
E-commerce purchases continue to eat up retail share
Consumers prefer shopping in places with multiple options over brand-specific retailers
DTC brands continue to rise across the funnel in 2021
Purple is a 2021 winner!
Consumers remember more mattress ads now than in 2020
For a full look into the mattress industry, download our complete interactive tracking dashboard, which updates automatically with each new wave of data.
Download the full dashboard now!