Events
//
Events Team
//
2021-22-02
quantilope at The Quirk's Global Virtual Event 2021
(String: https://www.quantilope.com/hubfs/blog-events-quirks01.jpg)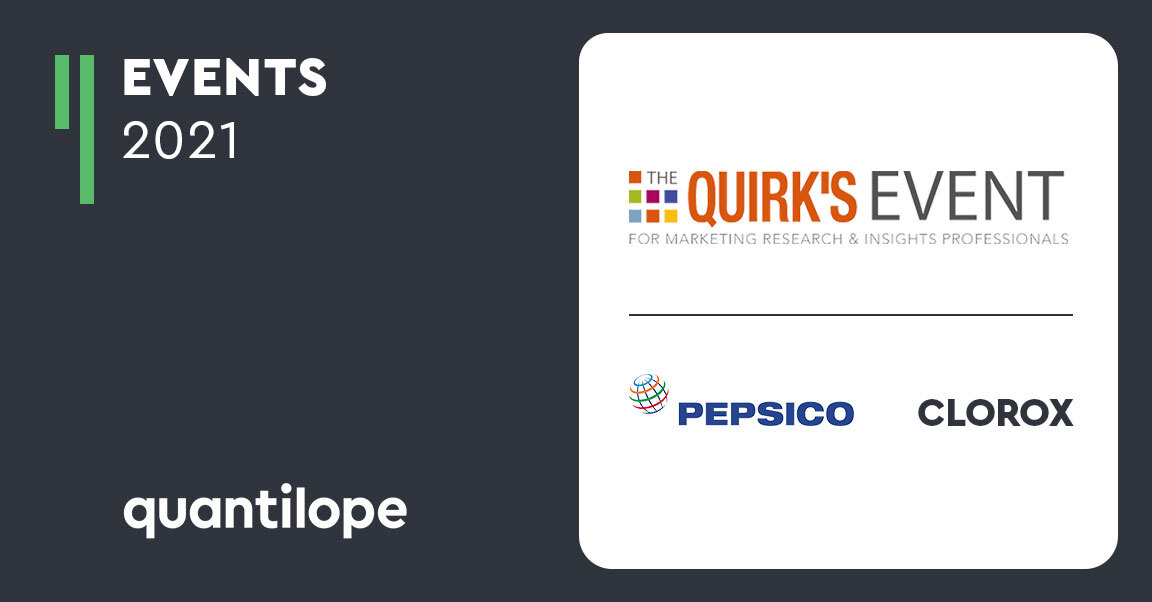 Join quantilope at The Quirk's Global Virtual Event from Tuesday, February 23rd - Thursday, February 25th!
Agenda - https://www.thequirksevent.com/virtual-global-2021/schedule/#day-1
Session 1: Tuesday, February 23rd at 9:20 am - 9:50 am
Race and representation: What do consumers expect from brands in 2021?
Following last year's narrowing focus on race, quantilope sought to better understand the consumer climate around topics like diversity, race and representation. This session will review the key findings from our advanced research study surveying 630 respondents uncovering what consumers want to see from brands and entertainment companies as it relates to race and representation in 2021. quantilope will discuss how a brand's approach to diversity and inclusion impacts consumer perceptions and provide key recommendations for what insights leaders can take back to their own organizations to support their brand's diversity efforts.
Speakers: Johanna Azis, Head of US Marketing at quantilope & Stephanie Rand, Senior Research Consultant at quantilope
Session 2: Wednesday, February 24th at 8:40 am - 9:10 am
The role of a researcher is to create transformational change
Technology is moving researchers from the passenger's seat (buying and handing over insights) to the driver's seat (generating and interpreting insights on their own, faster than ever before). As a result, insights managers are experiencing more influence and impact on the direction of their company and are solving more unique, challenging business questions. In this fireside chat we'll hear from leading brands to discuss how they're leveraging technology to redefine the role that insights managers play within their organizations to focus on the creative, not the repetitive side of research, and to use more advanced methods without breaking the bank. This conversation will also touch on the benefits of insourcing your research capabilities to keep a constant pulse on your consumers with real-time, high-quality insights, to influence marketing and senior leadership teams to take action and develop competitive advantages.
Speakers: Katelyn Ferrara, Head of Client Development at quantilope, Casey Berns, Associate Director, Shopper Insights at The Clorox Company & Acky Dinnepati, Director Global Insights at PepsiCo