Research in the era of COVID-19
(String: https://www.quantilope.com/hubfs/Copy%20of%20Copy%20of%20Blog%20Logo%20Left%20%284%29.png)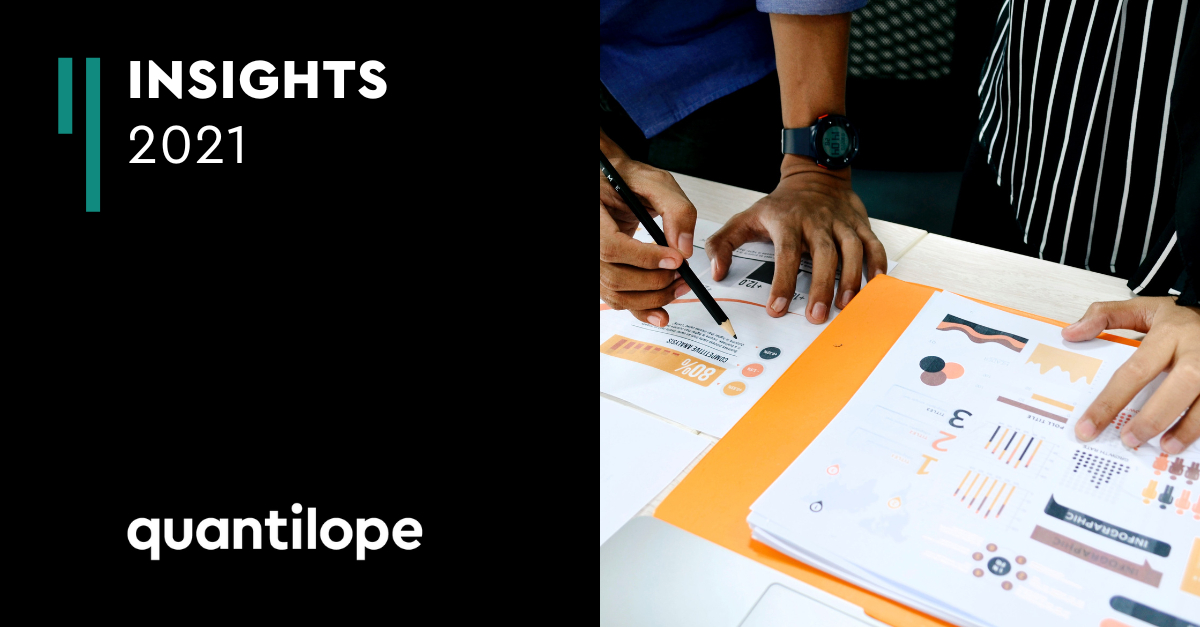 Work-life has changed for many of us, and you might not be thinking about commissioning or conducting research right now. But even if you've put the brakes on for the time being, research will become vital over the coming weeks and months.
Some types of research are obviously not possible at the moment. We conduct research to get closer to people, and now we can't get closer to people. It goes without saying that online research will allow the show to go on – and video surveys, with their built-in social distancing feature, will also get to the heart of how people are feeling.
So why should we keep going with research during the next few months? We think there are three main reasons.



1. People are online more
In the absence of in-person meet-ups and chats, colleagues, friends and family are turning to digital platforms. People keep in touch and get support via social media; they also want to see each other, to feel a human connection.
Digital activity in the last couple of weeks bears out our new online life. Instagram has introduced a new 'co-watching' feature, allowing users to link up via video while scrolling and sharing content. People are also, understandably, more interested in news: according to a study of news websites by media measurement company comScore, the number of minutes spent by readers on news sites increased 46% compared to the same period in mid-March last year. Helping each other has moved online too: around 300 local Coronavirus support groups have been formed on Facebook, involving more than a million people.
So people are online. And while they are there, they are clearly in the mood to voice their opinions. Market Research company Norstat this week reports that more people working from home, with potentially more flexibility around how their time is spent, means that response rates are high and representative research samples are easier to access.


2. To monitor how habits and needs are changing during COVID-19
People might be living in a different way, but they are still choosing how to spend their money. Brands need to gauge how to respond to changing attitudes, such as what people have decided they can live without for now (new clothes? Phone accessories? Homeware?) and what they are hoping to buy more of (paint? Plants for the garden? TV subscriptions?)
The service industry is surely one where behaviour will need to adapt – what will people do if they want their hair cut or dyed, or need a plumber? And how should the stand-in solutions best serve people?
Central to brand planning should be the way they talk to people. They clearly need to answer real needs and respond to people's emotions in a useful and appropriate way. Research should be exploring how, and in what tone, people want to receive messages. Do they want brands to acknowledge the crisis and empathise, or move away from it and look to the future?
A time like this can be one for reflection, when people take stock and reassess their lives. Research may well find it gets closer to the heart of people's fundamental priorities and subconscious drivers of behaviour that people find harder to articulate in 'normal' daily life. That is not to say that how they feel now will be the way they feel once the high alert mode is over, but later on, it will be useful to know which parts of their current mindset they do keep and why.
3. To understand what the world will look like after COVID-19
How will people behave and spend money when we come out the other side? Our economy will be in disarray and researchers will have an important part to play in its recovery by monitoring trends in consumer anxiety and attitudes and advising decision-makers appropriately.
Research will also be able to measure the staying power of new habits taken up during the outbreak. Will people decide to move away from urban areas, work from home more or quit their job and invest in their real passion? Will communication via WhatsApp, Zoom and other online social platforms continue at the same level or will people revert to meeting up in person as much as they once did? This is clearly of major interest to those in the business of digital communication; if you're Facebook, Vimeo or Zoom, for instance, you'll be wanting to plan your offer accordingly. But even if you're a non-digital brand, what would new habits imply for you; what will they mean about the way people share messages – including brand messages – with each other?
If we're selling a brand or service we have to be sensitive to how people feel right now. Subject matters shouldn't be frivolous and there are some that are more suited to the moment than others: home improvement, TV and digital content, hobbies, food, money. Video surveys are second to none in helping us understand consumers better and communicate their views to a wider team; they also tap into the human connection that people crave and enable us to ask questions in a nuanced, empathetic way, while video responses communicate how people are really feeling as they pick their way through the uncharted territory in which we find ourselves.
Get in touch with an expert