Dive Inside the quantiverse: Meet our Solution Consultant, Madita
(String: https://www.quantilope.com/hubfs/Q%20-%20Marketing%20internal/Blog/imagery/people-culture/Madita%20Inside%20the%20Quantiverse.png)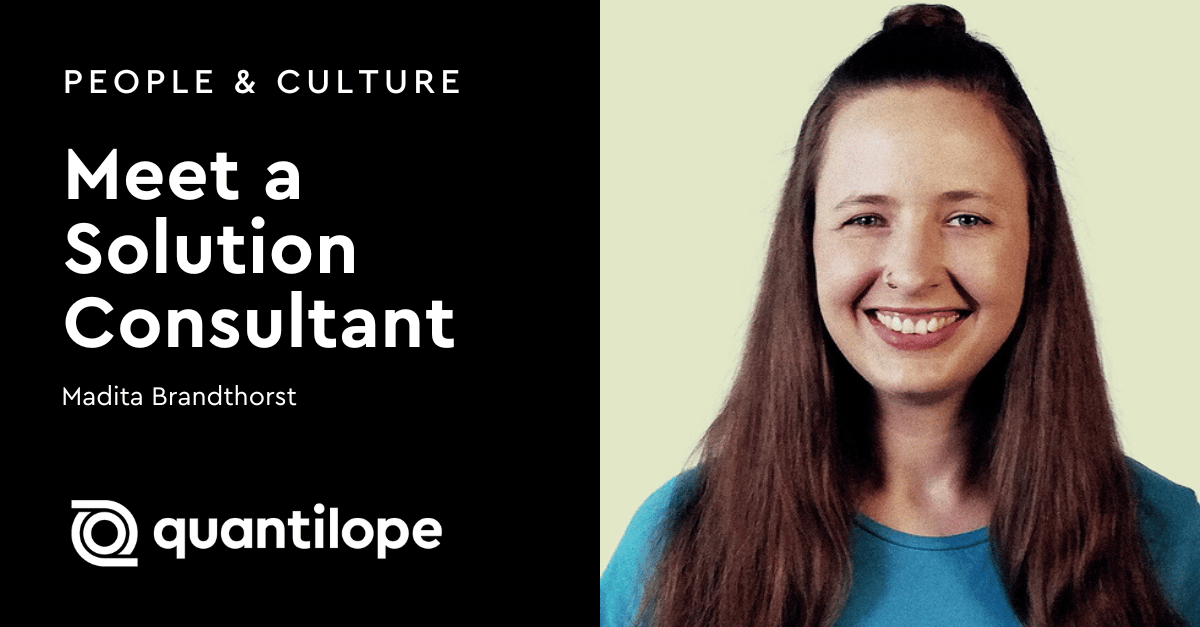 Hi, my name is Madita. I'm a Senior Solution Consultant at quantilope and have been with the company for more than two years now.
Before quantilope, I worked at a big full-service market research institute where I accompanied renowned brands in their brand tracking, audience understanding, concept testing, and ad testing efforts.
💻 What are your responsibilities as a Solution Consultant?

My goal as a Solution Consultant is to identify how potential new customers can best leverage quantilope's Insights Automation Platform to transform and improve their insights processes and projects. Or - in other words - I work to understand and prove how quantilope can create value for insights teams.

🤓 What does your day-to-day look like?

The beauty of being a Solution Consultant is that there is rarely an 'ordinary' day! I talk to new potential clients (almost) every day and show them our platform to help uncover how quantilope can support their insights processes through automation. That can be an in-depth session on one of our advanced automated methods or a strategy session to discuss the research projects that they have planned for the next few weeks or months.

🔍 What's been your favorite project so far?

It's hard to name a specific single project; personally, I think much more about the brands and the people that I accompanied in adopting Insights Automation! There's the Marketing Manager that we empowered to set up a Brand Tracker spanning 10 countries all by herself, the Global Insights team that is adopting a new Brand Equity philosophy following our recommendation, or the project that we presented to a Global COO to allow for decision-making based on data (instead of gut-feel).



😍 What are you passionate about at work?


I'm a naturally curious person and I love that I can - and have to - be curious all the time as a Solution Consultant! I talk to new people almost every day who come from different organizations and have different research challenges and different goals. This means that my day-to-day is always super interesting and diverse. It requires me to be curious and dig deep into the challenges that different Insights teams face, to determine how quantilope could help them solve those.
🚀 What advice would you give to someone looking to get into Solutions Consulting?

Well, you will surely need to bring a solution-oriented mindset 😉 Being a Solution Consultant is all about finding (creative) solutions to problems people currently have. If you are a curious person, have some insights expertise, and a love for learning about technology - you'd make a great Solution Consultant for sure! Also, you should like talking to people - as the job requires you to meet new people constantly.

👍 Why do you choose to work at quantilope?

I really enjoy the general working atmosphere at quantilope - it's very empowering, provides a lot of freedom, and also puts a lot of trust in its people.
At quantilope, you can always bring in new ideas to drive our platform and the ways in which we work forward. I can also always rely on my colleagues to support where needed and to provide me with feedback so that I can grow both as a person and as a professional.
Subscribe to the Insights Scoop Newsletter