Dive Inside the quantiverse: Meet Mia, our Sales Development Representative
(String: https://www.quantilope.com/hubfs/Template%20for%20People%20&%20Culture%20%287%29-1.png)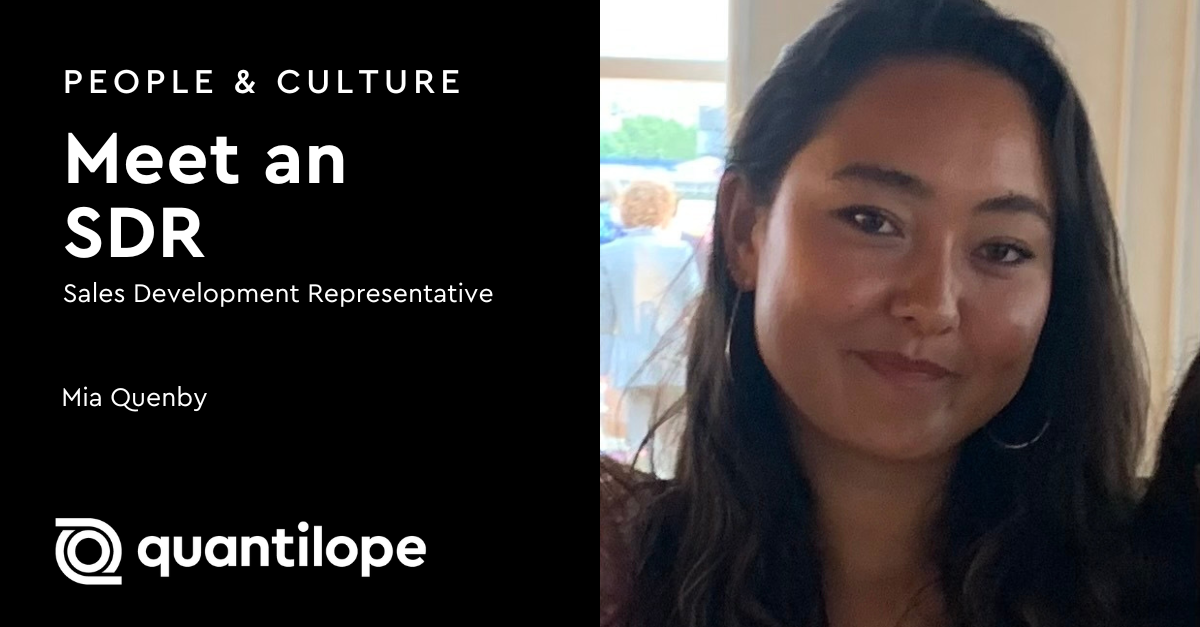 Hi, my name is Mia. I'm a Sales Development Representative (SDR) at quantilope and have been with the company for 1 year.
Before quantilope, I studied History at university and then worked as an art consultant in a gallery for 2.5 years. My experience in art sales is where I first discovered my passion for working in a client-facing and target-driven role.
💻

What are your responsibilities as an SDR?

As an SDR, I'm responsible for outreaching, prospecting, and qualifying sales leads. The role focuses on contacting as many potential customers as possible to decipher whether to move them through the quantilope sales funnel.

It's important that I connect with the right prospects and qualify them as to ensure that our Account Executives are spending most of their time on qualified opportunities.
🤓What does your day-to-day look like?

A typical workday starts with responding to emails and LinkedIn messages. Then, I will spend the majority of the morning calling,emailing, and conducting customer research. This allows me to prepare tailored content to the insights and market research professionals I am targeting.

Sourcing and researching our ideal customer profile is also an integral part of my day-to-day, so we can connect with our prospects in a meaningful and actionable way. The goal of all of this activity is to book sales-qualified discovery and demo meetings for the Account Executives.
🔍What's been your favorite project so far?



My favorite project so far has been researching and creating a tailored cadence for the tourism and leisure sector as it allowed me to really immerse myself in the current trends of that market and paid off with some booked meetings. The end-to-end process was especially rewarding.
😍

What are you passionate about at work?



I love the customer facing element of the role and the gratifying feeling of engaging a prospect, learning about their world, and igniting interest in quantilope. The creativity and curiosity that is encouraged when it comes to either harvesting new accounts or thinking of new ways to outreach is also another reason why I am passionate about the role. Every day is different!


🚀What advice would you give to someone looking to get into sales development?

Sales Development is a really fun and rewarding role which isn't predicated on prior sales experience. Everyone on our team comes from a different background in terms of profession and the subject of their degree,which just shows how diverse a role it is. If you enjoy meeting new people, are curious and target driven, and have an eagerness to learn, then a sales development role would be a perfect fit.
👍Why quantilope?

At quantilope, you can always ask for help. Not coming from a market research or sales background meant that entering such a supportive working environment was hugely encouraging and beneficial. We are empowered to do our jobs successfully through the feedback we receive and collaborative nature of working with our peers across the global team.
Subscribe to the Insights Scoop Newsletter