Inside the quantiverse: Meet our Full Stack Developer, Sree
(String: https://www.quantilope.com/hubfs/Q%20-%20Marketing%20internal/Blog/imagery/people-culture/Sree%20Palanichamy%20-%20Full%20Stack%20Developer.png)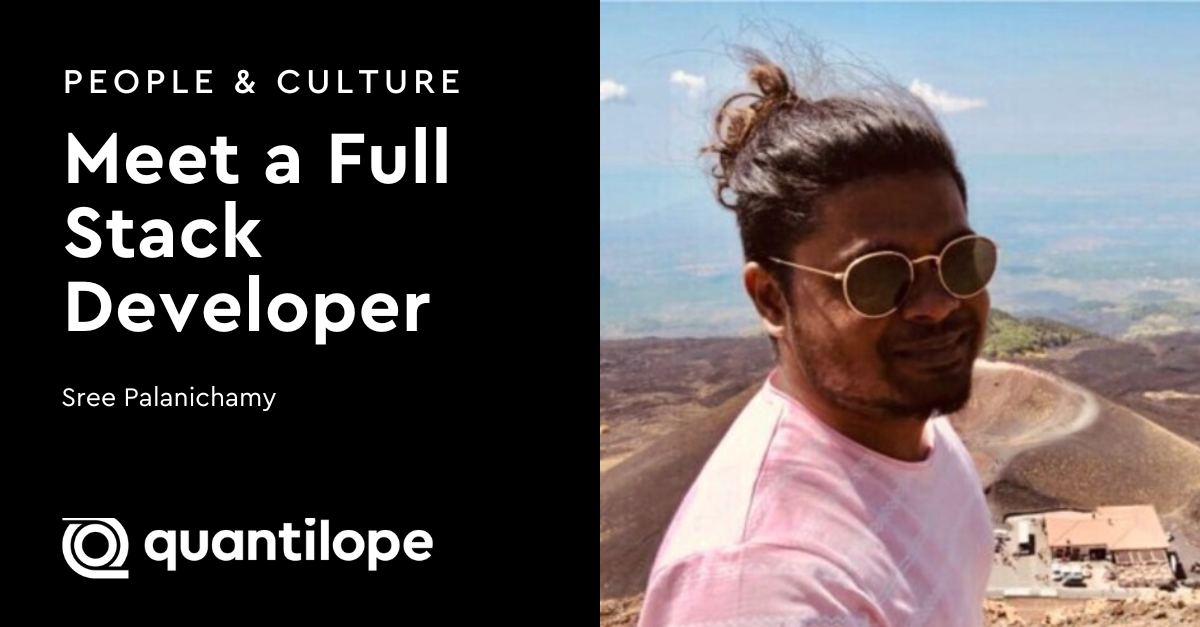 Hi, my name is Sreedharan Palanichamy. I'm a Senior Full Stack Developer at quantilope and have been with the company for a year. Before quantilope, I was working in developer/consultant roles in different firms for over 11 years.
💻

What are your responsibilities as a "Full Stack Developer"?

As a full stack developer, it is my responsibility to develop, deploy, and maintain the parts of quanitlope's platform that my team owns. These areas encompass backend, frontend, infrastructure, and maintenance of the platform. I am also responsible for designing solutions for any problems that arise, and delegate them into tangible, technical tasks that my team can work on iteratively.

🤓What does your day-to-day look like?

We have quite a consistent process to our team's workflow, working in bi-weekly sprints (i.e. two week periods). During each sprint, we might be working on tasks that are pre-planned for that sprint, making requested improvements, or planning something for long-term or future sprints. Some days I could also be facilitating daily stand-ups, working on sprint planning & refinements, and supporting teammates with other tasks in our team.
🔍What's been your favorite project so far?

My favorite project so far is building a local development platform using Tilt, to spin up different squad owned micro services in a developer's machine. Devs can use it to run any of the services from any squad with minimal overhead & knowledge about them.
😍

What are you passionate about at work?

I love working on projects that improve developer experience, and I love collaborating with different squads to help solve problems across different teams & areas of focus. Fortunately for me, being on the platform squad allows me to work on many of these topics I love.

🚀What advice would you give to someone looking to get into your role as a Full Stack Developer?

If you've ever been interested in working on an end-to-end application or service, full-stack development is the role for you! If you are curious & just getting started, I would recommend learning by practice - write a very small application with any tech framework, with separate frontend & backend components, and deploy them in a cloud environment like AWS or Azure. With a bit of patience, this will help you glide through all the topics & tasks involved in this role!
👍Why quantilope?

At quantilope, I get to work on a type of platform that I have always used only as a user, like participating in surveys, etc. but here I get to build it! Apart from the technology, I get to work with high-quality, trustworthy teams, supportive colleagues, and a work culture that puts emphasis not just on work or productivity, but also on the physical & mental well-being of everyone. Plus, we get to have a lot of fun in team events and global company retreats!
Subscribe to the Insights Scoop Newsletter