Are digital activities the new norm?
(String: https://www.quantilope.com/hubfs/2020-04-Consumer-Now-Wave-8.jpg)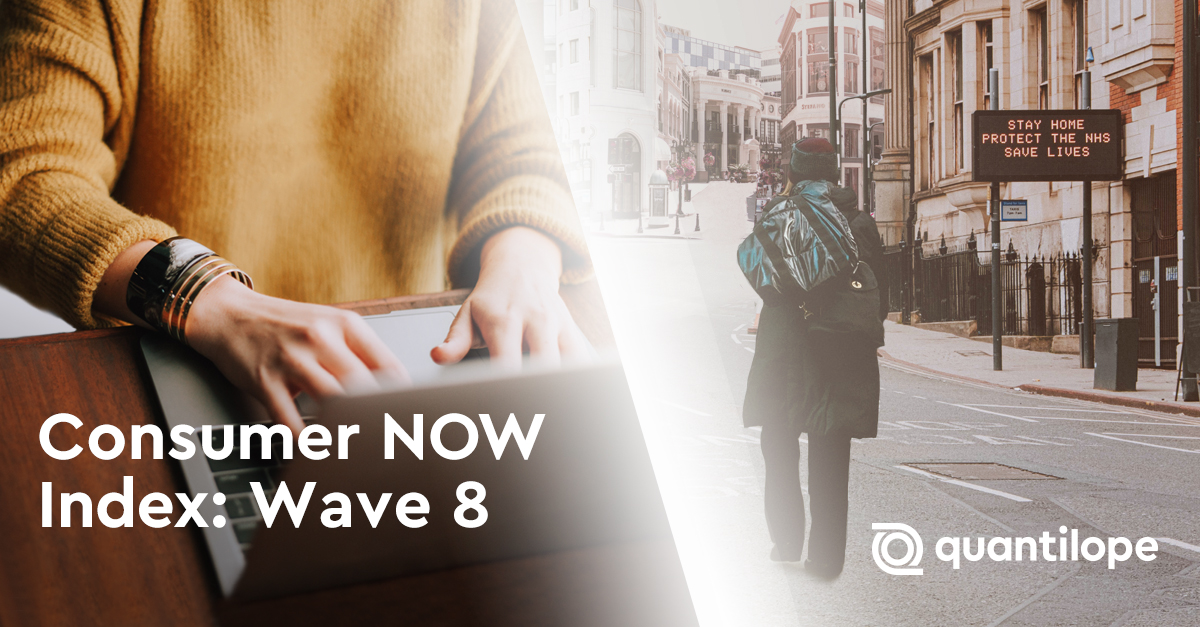 As summer nears and restrictions lift, consumers are slowly beginning to regain feelings of freedom alongside a significant decline in reason since wave 4 (April 10th - April 15th, 2020).
Nearly three months after tracking began, the general profile of a consumer's implicit motivational map has reset to near average levels across freedom, curiosity, joy, trust, reason and status. A noticeable increase in freedom over the past few waves indicate that consumers are more accepting of their 'new normal,' and may be feeling less of an impact from coronavirus on their daily lives.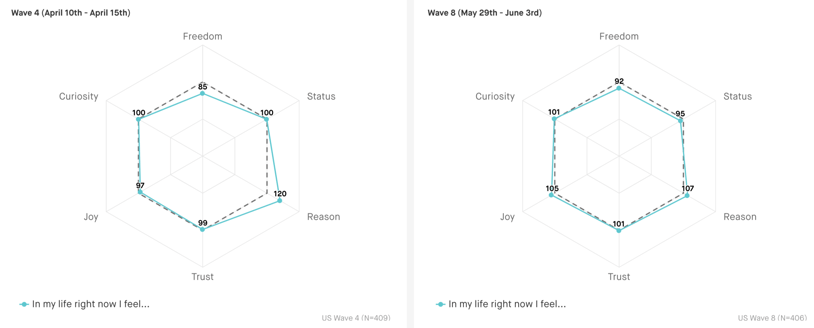 Brands should think about how their marketing campaigns can further increase moments of joy and freedom for their consumers while still focusing on responsible behaviors.
Subconscious feelings of reason continue to decline just as consumers report being more and more ready to go back to normal public life. While consumer's feelings on opening up are largely consistent between waves there are two notable exceptions. Wave-over-wave, more consumers report wanting public places to open up now and report feeling more comfortable returning to normal activities as soon as it's allowed.



Forty-six percent of consumers either slightly or strongly agree that they "want public places to open up now." While 63 percent slightly or strongly agree that they will "be comfortable returning to normal activities as soon as it is allowed," compared to 52 percent in wave 7.
While consumers are antsy to return to public life, an emphasis on digital actions and activities may be here to stay. Twenty-five percent of consumers reported that they expect to order groceries online much more often compared to life before COVID-19 and 47 percent who either expect to utilize online workout classes slightly or much more than before.
Brands and marketers should evaluate what they are going to prioritize and communicate with consumers in the new normal. Just because consumers are eager to return to normal life does not mean that all of their previous habits will follow suit.
View the full insights dash board here.

Wave 8 of the Consume NOW Index reflects consumer sentiment and behavior from May 29th - June 3rd, 2020
Learn more about the Consumer NOW Index