Make the new normal feel...more normal
(String: https://www.quantilope.com/hubfs/Q%20-%20Marketing%20internal/Blog/imagery/insight-studies/2020-04-Consumer-Now-Logo-Wave-2.jpg)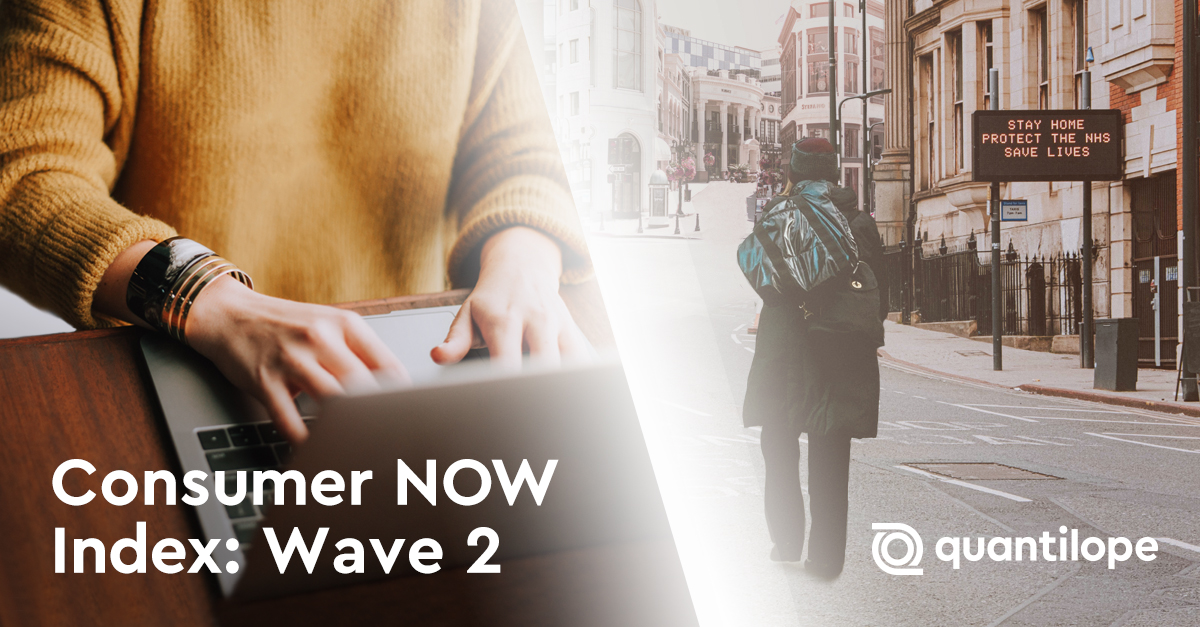 quantilope's Consumer NOW Index is an automated tracker monitoring the reactions and adjustments to changing micro and macro events impacting individual lives, families, work, health, and a general sense of self.
As we enter new waves of the Index we'll call out the specific changes to data and consumer behavior patterns we see. While you'll notice a focus on US insights, the Index includes a complete data set for consumers in the US, Germany, and the UK featuring a MaxDiff, Key Driver Analysis, and an Implicit Association test for each market. We can provide this data upon request.
Contrary to expectations about the impact of coronavirus on daily life, consumer sentiment remained relatively positive throughout wave 1 (March 20th - 25th 2020) in regards to both current and future outlook. Sixty percent of US consumers reported feeling either very positive or somewhat positive about their current daily life and 69 percent reported feeling very positive or somewhat positive about their future.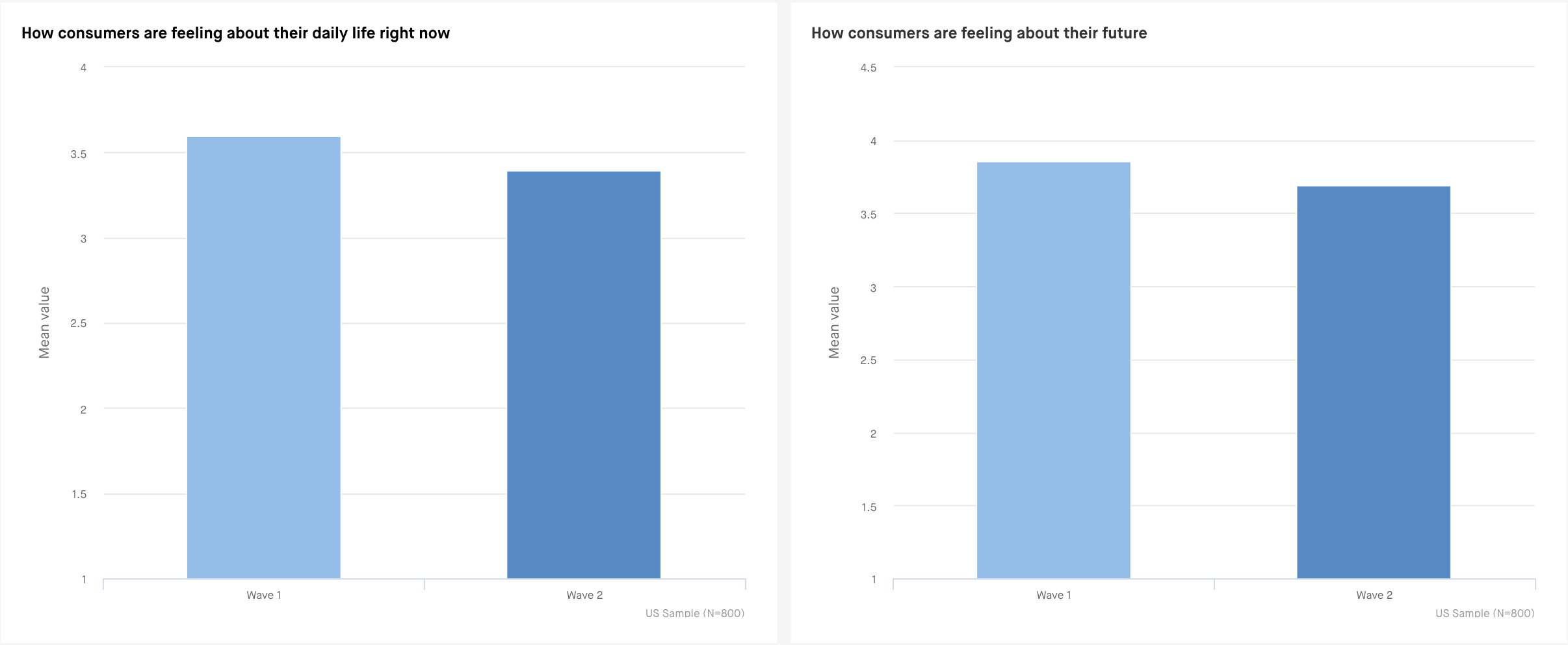 However, we're already beginning to see a decline in positivity among consumers across the board. In wave two of the Index (March 27th - April 1st, 2020) the amount of consumers who reported feeling either very positive or somewhat positive about their current daily life dropped from 60 to 53 percent while the percentage of consumers feeling very positive or somewhat positive about their future fell from 69 to 63 percent. Now more than ever, marketers should create relatable experiences for consumers and let them know that they are not alone. Implicit feelings should be monitored closely as the situation continues to wear on individual groups.


Between wave 1 and wave 2 we saw an increase in the extent to which consumers are challenged by boredom and cabin fever. An inability to treat oneself should also continue to be monitored. During this time, Brands should consider encouraging self-care - it's OK to promote the little things that drive positivity and create distractions from the outside world. As boredom continues to take over, identify the products, technologies, and actions that resonate for various groups to alleviate these escalating challenges and make the new normal feel...more normal.
Quick Takes from the Consumer Now Index Wave 2:
Men tend to be more optimistic than women. Fifty-nine percent of men in wave 2 report feeling generally positive about their current life compared to just 48 percent of women.
The effects of the pandemic remain clearly visible in consumers' unconscious feelings — the virus is instilling a sense of strength and discipline. Gone are the days of feeling perfectionism, spontaneity, and proximity.
Regardless of an uptick of alcohol sales throughout the nation, the majority of consumers report that they are prioritizing liquor less than other essential categories. The differences between self-reported prioritization and actual spend may indicate a need to distract themselves from daily life that consumers are not proud of.

Walmart was replaced as the preferred retailer by local independent grocery stores - falling 6.5% week-over-week highlighting a general sense avoiding crowded spaces and supporting local businesses.
Fifty percent of both men and women are monitoring their bank accounts. However, more men (46 percent) reported relying on their savings than women (37 percent) over the past week.

The full insights dashboard from quantilope's Consumer NOW Index is available as a free resource here. We recommend opening it on a large screen.
Reach out below to get your own deep dive in the Consumer NOW data or to request a customized Index for your own brand.
Learn more about the Consumer NOW Index