quantiCon - Insights, education, and inspiration to market research professionals
(String: https://www.quantilope.com/hubfs/blog-quanticon-whatsnewconsumerbehavior.jpg)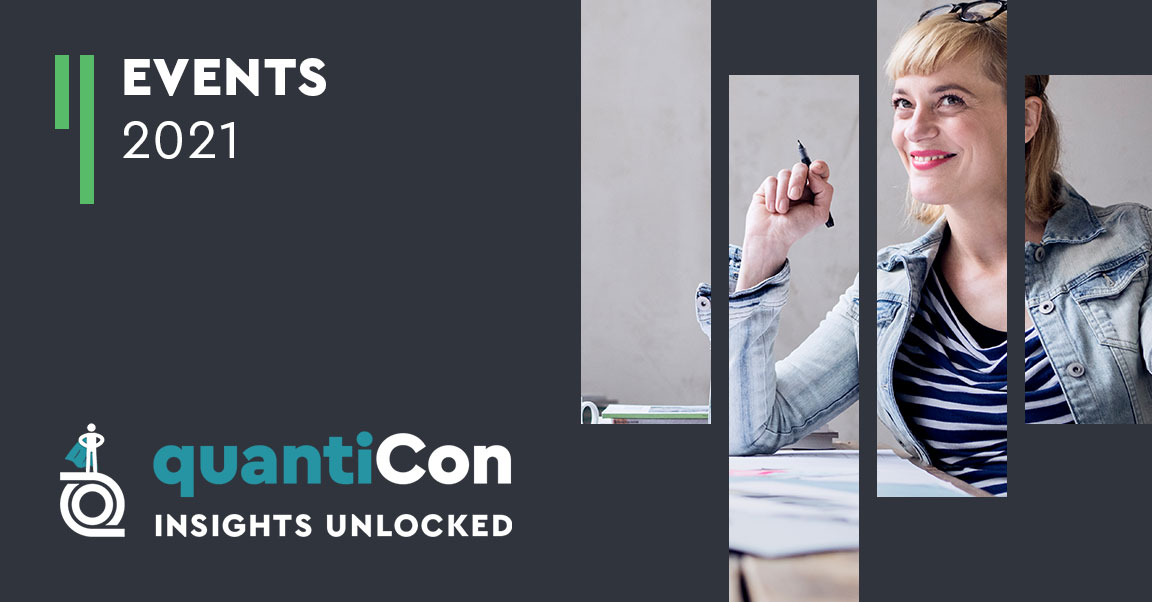 Join quantilope's quantiCon next week! Experience four quick and engaging talks on what's new in consumer behavior in the US, a discussion on how disruptive brands are building their own insights departments, and a look into the new Generation N (Novel).
quantiCon provides insights, education, and inspiration to market research professionals.
Join the event on June 2nd, 2021 from 5 PM - 7 PM CEST (11 AM - 1 PM EST).

5 PM - 5:30 PM CEST
What's New in Consumer Behavior (US market)



Unlike the year before, 2021 continues to fly by. In this session, quantilope will provide an update on evolving consumer behaviors', motivations, and needs from our monthly research tracker in the US - the Consumer NOW Index. Viewers will leave with an understanding of consumer's current goals, how they are spending their time, their challenges, and what they require from brands.

Speakers: Johanna Azis, Head of US Marketing at quantilope and Jenna Stearns, Product Marketing Manager at quantilope

5:30 PM- 6 PM CEST
Disrupting Markets & Building an Insights Department with Chewy and Planterra Foods



New trends and categories are changing the ways brands cater to and create new products for consumers. And as the world continues to shift, leading brands will be those who fuel more and more of their business decisions with robust consumer insights. In this panel, we'll discuss how brands on the leading edge of their industries are, for the first time, developing their own internal insights power teams and are leveraging advanced agile research to drive business and industry impact.

Speakers: Diana Solazzo, Director of Consumer Insights at Chewy, and Meghan Liefeld, Director of Category Management at Planterra Foods, Katelyn Ferrara, Head of Client Development at quantilope, Hugues Dumouza, Head of Research Consulting at quantilope

6 PM - 6:05 PM

CEST

- Break


6:05 PM - 6:35 PM CEST
The Rise of Generation-Novel: Why a New Breed of Digital-First, Conscious Consumers Can Guide Business Growth (US market)

Among the most progressive and innovative companies, consumer insights have been thrust into the spotlight? Why? Because customers have changed faster in the last 14 months than they have in the past 10 years.

World-renowned digital anthropologist, futurist, and best-selling author Brian Solis has studied how consumers specifically changed during the crisis. What he learned became the foundation for defining a new genre of digital-first, conscious consumers he called Generation-Novel.

In this inspiring and enlightening talk, Brian will reveal customer insights and trends to guide human-centered innovation and digital transformation in a post-pandemic economy.

Speaker:

Brian Solis, Global Innovation Evangelist at Salesforce

6:35 PM - 7 PM CEST
From the Ground Up: AMA with quantilope Founders

Since 2014, quantilope has grown from a single vision to enable robust agile insights on a global scale to a multi-national insights power house. Join quantilope's Co-Founders Peter Aschmoneit, Lucas Bremer, and Tom Fandrich for an ask-me-anything session discussing their view on the future of research, what it's like to create a research technology from the ground up, and their many stories along the way. Attendees will be able to submit their questions both in advance and live.

Speakers:

Peter Aschmoneit, Co-founder & CEO at quantilope, Thomas Fandrich, Co-founder, CCO & President USA at quantilope, and Lucas Bremer, CPO and Co-founder at quantilope
Be with us at quanticon!
We are looking forward to seeing you.
Register now for quantiCon