Our Competency Framework for Individual and Organizational Success
(String: https://www.quantilope.com/hubfs/DONT%20USE%20-%20TEMPLATE.png)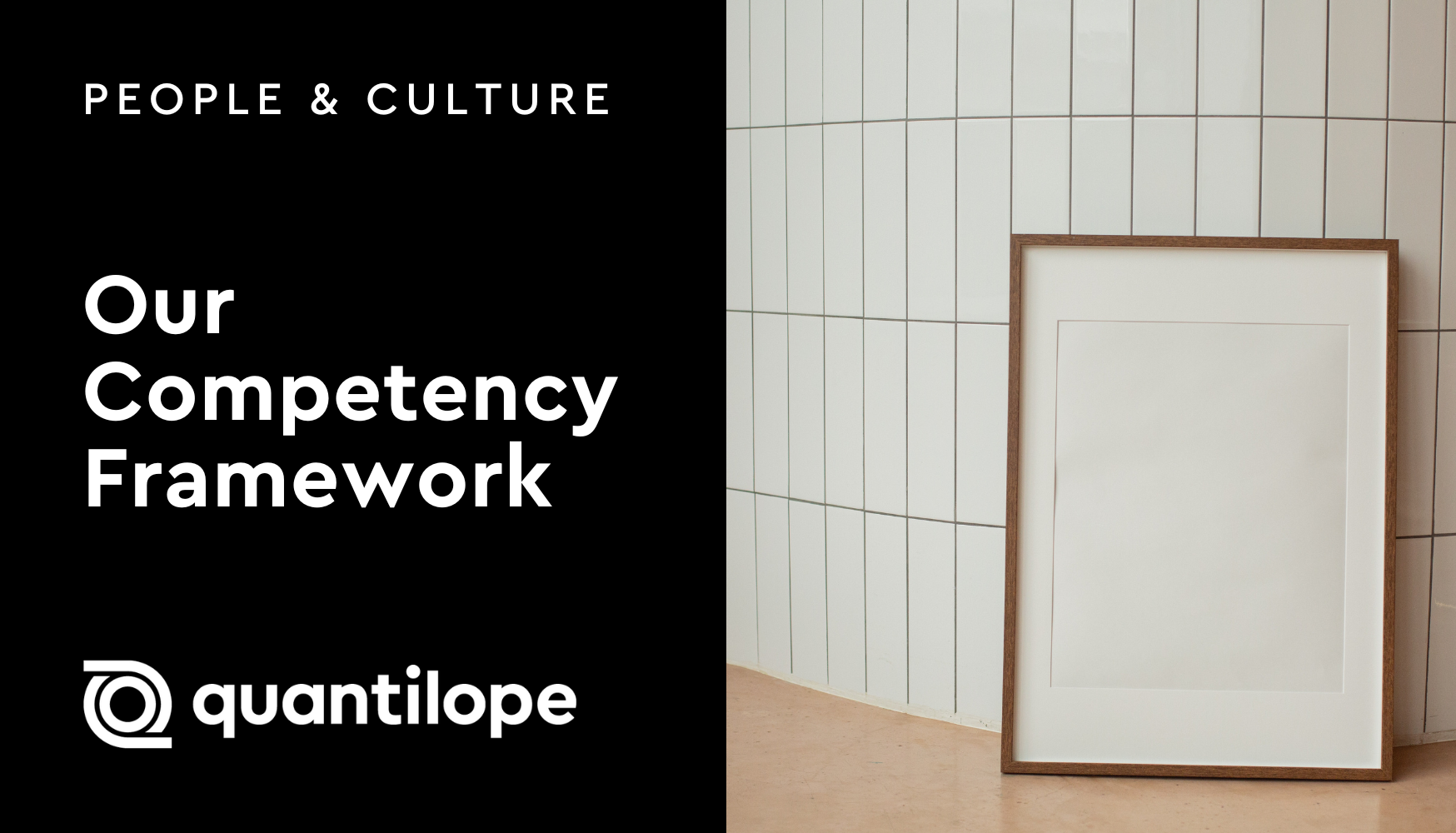 At quantilope, we believe in the power of a well-defined competency framework. By creating a vibrant roadmap of behaviors and criteria for each career level, tailored to our different teams, we have created a solid foundation for individual and organizational success.
The framework at quantilope was developed through a collaborative effort between our L&D team and dedicated managers from each department. With a strong emphasis on best practices and research-based methodologies, the framework was developed using defined criteria, ensuring validity and relevance.
Benefits of a competency framework
Below we dive into the benefits of a competency framework and explore how these benefits foster personal growth within individual teams.
Providing clarity and direction:
A well-designed competency framework acts as a compass, guiding employees toward their desired career paths. By defining the required behaviors and skills for each career level, employees gain a clear understanding of what is expected of them at every stage of their professional journey. This clarity not only helps individuals set realistic goals but also enables managers to provide relevant guidance and support.
Fostering skill development:
Competency frameworks provide a structured approach to unique skill development. By identifying the key competencies required for success in each role, employees can focus efforts on acquiring and training those specific skills. This targeted development allows individuals to enhance their value to the organization and opens up new opportunities for growth.
Facilitating performance management:
Along with providing clarity and direction for employees, defined competencies serve as an objective basis for evaluating and managing performance. By aligning individual goals and expectations with the defined behaviors and criteria, managers can conduct fair performance assessments. This not only helps in identifying areas of improvement but also recognizes and rewards employees who consistently demonstrate the desired competencies.
Encouraging continuous learning:
By clearly articulating the skills and behaviors required at each career level, we promote a culture of continuous learning. This could involve attending relevant training programs, pursuing certifications (e.g. via our benefit Linkedin Learning), or seeking mentorship from experienced colleagues. With a structured framework in place, individuals can take ownership of their learning journey and actively invest in their personal growth.
Developing quantilope's competency framework:
First, the L&D team defined five criteria that would serve as guardrails and ensure a consistent approach across departments, teams, and cultures; all competencies would be specific, progressive, behavior-related, accessible to everyone, and concise.


Next, we organized workshops involving dedicated managers from each team. During these workshops, the managers worked together to develop competencies for each role and level within their respective teams. This process involved one or more feedback loops to refine and iterate on the competencies. Once the competencies were finalized, they were added to our L&D tool, Leapsome, which is accessible to everyone.
Our teams use our competency framework as part of our bi-annual performance reviews and are open to continuously learning & improving the framework as time goes on. As with anything new, we take an iterative approach to fine-tune individual competencies as needed to make them more specific or less complex for certain teams.
We're convinced that our competency framework is a valuable tool for nurturing individual growth and driving organizational success. By providing clarity, fostering skill development, and encouraging continuous learning, it serves as a cornerstone of our talent strategy.
Get in touch to learn more!