Introducing: Here, There, Everywhere - Our Way Of Working
(String: https://www.quantilope.com/hubfs/Q%20-%20Marketing%20internal/Blog/imagery/people-culture/life%20at%20quantilope_%20Here%2c%20There%2c%20Everywhere.png)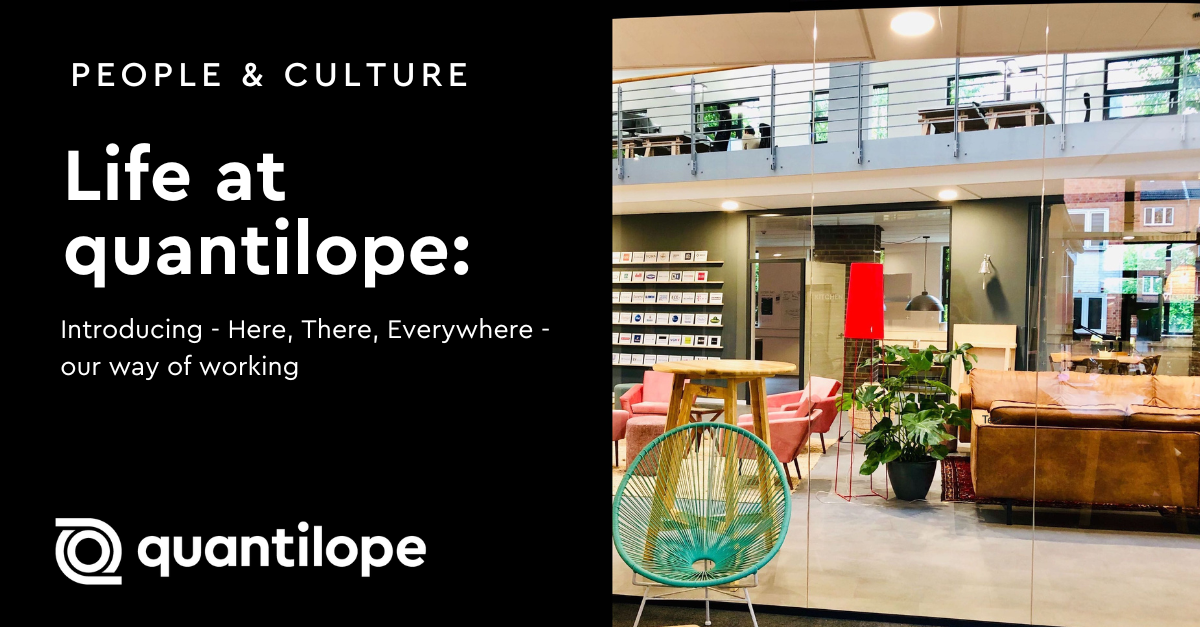 Find out how COVID19's work situation brought us to our working concept of HERE, THERE, EVERYWHERE.
Like many companies, COVID19 brought a sleuth of unexpected challenges. One that we took to heart was rethinking our ways of working together.

This led to conversations about how quantilope will operate in the future. We wanted to come up with a versatile model that would best suit our needs, leading us to our 'Here, There, Everywhere' working concept - a work model which is driven by the outcomes, not the output. So what do these three words mean exactly?
HERE: The choice to work from the office. It can be 1 day a month, 5 days a week, or anywhere in between. Our offices are a cultural hub where you can mingle and collaborate with colleagues. 'Here' in the office, our employees can meet with their teams, build connections, attend training sessions, or join company-wide meetings with other colleagues.
THERE: Employees can choose to work from home, in a prefered location with a secure network, or any other place that is comfortable for them and is close to the office.
EVERYWHERE: For six weeks every year employees can choose to work abroad from any international location. We believe that working remotely gives our employees a great opportunity to gain new experiences, get inspired, and broaden their horizons to grow both personally and professionally.
At quantilope, we think in terms of outcomes. This reflects in our approach to time management. Trust-based working time allows employees to choose when they work, fitting professional commitments around their personal lives.
In the spirit of agile working, we recognize that this concept might change and evolve so it continues to suit the needs of us all.
Subscribe to the Insights Scoop Newsletter