Inside the quantiverse: Meet our Events & Community Marketing Manager, Alison
(String: https://www.quantilope.com/hubfs/Inside%20the%20quativerse%20%20-%20Alison%20Bauer%20%282%29.png)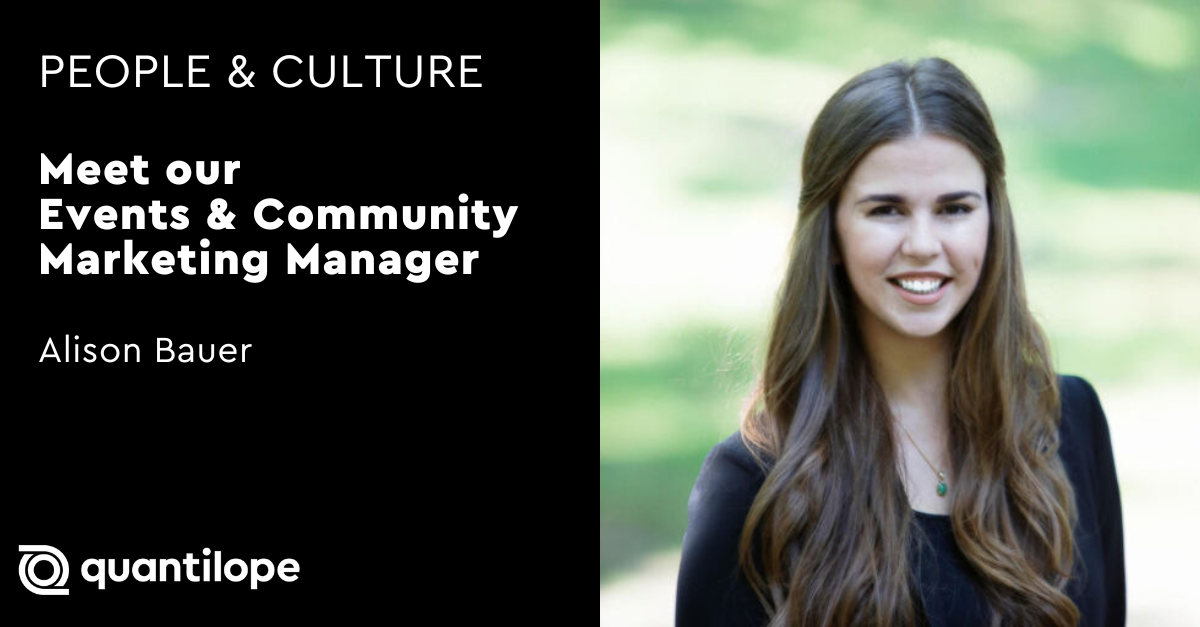 Hi, my name is Alison Bauer! I'm the Events & Community Marketing Manager at quantilope and have been with the company for almost one year. Before quantilope, I worked in leading marketing departments for B2B/B2C companies such as Whole Foods Market, GAF Materials Corporation, and Douglas Elliman Real Estate as well as studied Corporate Strategies for Sustainability at Stanford University.
💻

What are your responsibilities as our Events & Community Marketing Manager?

I spearhead the company's global event and organic social media strategies from ideation to execution. As these two equate to more than 75% of all marketing opportunities by source, it's extremely important for the company's pipeline.

🤓What does your day-to-day look like?

When I am not traveling for a market research trade show, I spend my time completing a checklist of over 130+ items before each event or creating exciting social media campaigns to promote on our channels. I love how my position allows me to lean into my creativity whenever I can.
🔍What's been your favorite project so far?

Aside from my main duties, I am involved in various initiatives such as quantilope's DEI program and our internal sustainability group. Additionally, I volunteer my time with WIRe (Women in Research) to assist with their events throughout the year. Giving back and actively supporting causes that align with my values are important to me.
😍

What are you passionate about at work?

I enjoy my job which enables me to connect with colleagues in real life while traveling to amazing cities domestically and internationally. While I appreciate the current digital age, I don't think anything can substitute for human interaction in person.

🚀What advice would you give to someone looking to get into your role as an Events & Community Marketing Manager?

If you want to pursue this kind of job, it's important to establish connections within the industry both online and offline. Attending events, whether in-person or virtual, is a great way to begin! Networking is crucial in securing a job, particularly if you have limited experience.
👍Why quantilope?

Working for quantilope affords a great experience, particularly with regular leadership check-ins, balanced feedback, flexible work arrangements, and meaningful appreciation shown to employees.
Subscribe to the Insights Scoop Newsletter