Life at quantilope: Working Abroad
(String: https://www.quantilope.com/hubfs/Q%20-%20Marketing%20internal/Blog/imagery/people-culture/Working%20Abroad%20Post.png)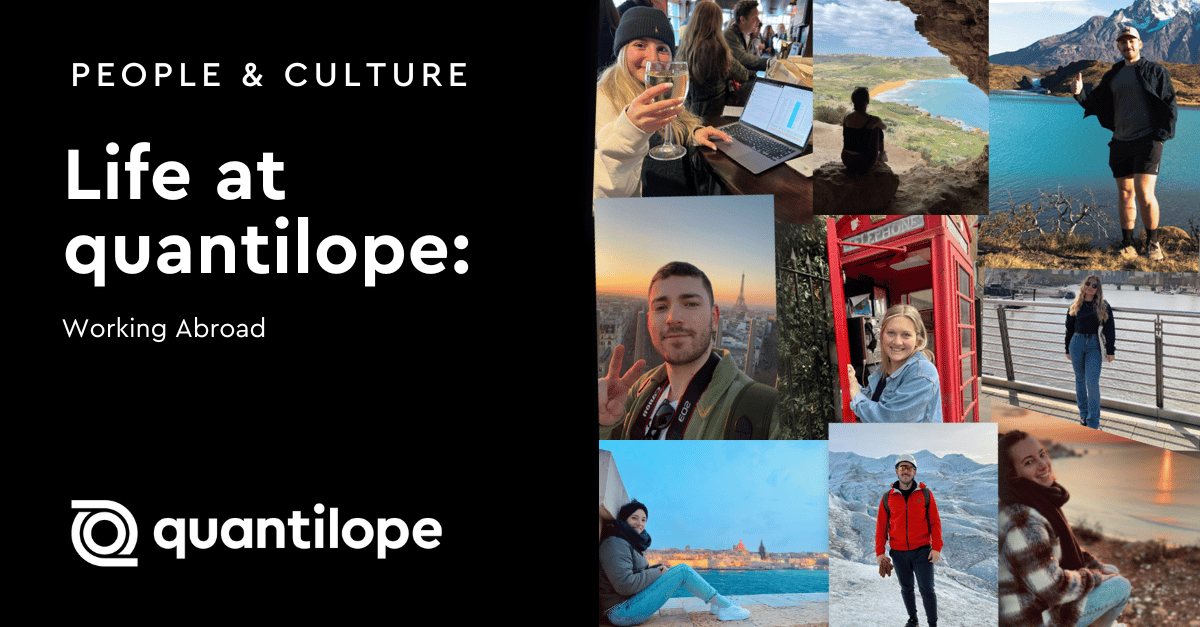 Learn more about quantilope's working abroad policy.
The COVID-19 pandemic forced many organizations to learn just how quickly things can change, regardless of how well they were going before.
One of the lessons that we learned at quantilope is that our offices need to change from places of work into collaborative and cultural hubs. Office spaces should become places where our employees can not only work, but can come to learn and connect with each other as well.
For this reason, quantilope no longer expects that our employees spend 100%, or even 50% of their working hours inside of the office. They can work from wherever best suits their working needs.
In addition, to accommodate new requests for flexibility, we've introduced a special policy enabling all employees to work internationally abroad for six weeks a year.
These are just some of the reasons why our employees love the benefit of working abroad:
"Working abroad gives me the chance to spend quality time with my family while still meeting the needs of my career. Knowing that I have the flexibility to work in Canada is not only a huge benefit to my own life but a reflection of quantilope's commitment to its employees' own unique preferences and needs." - Jo, Global Director of Corporate & Brand Marketing - went to Canada
"I really enjoyed combining work with my passion in sports (windsurfing and surfing) and exploring a different (amazing) country, people & culture." Kerstin, Senior Data Scientist- went to South Africa
"I really enjoyed being able to switch to a completely different environment, I felt like that gave me some headspace and an extra energy boost. It was also amazing to be able to get some extra good weather and tasty food!" - Luiza, Engineering Manager- went to Brazil
Here are just a few of the countries our employees have been working from: Poland, Romania, Malta, Spain, Italy, Portugal, Thailand, Argentina, India, Switzerland, France, Turkey and many more.

Apply to join quantilope and enjoy the benefit of working aboard for yourself! Check out our open job postings here.
Subscribe to the Insights Scoop Newsletter