Blog
//
quantilope
//
2022-05-12
Google Surveys Has Closed: Three Alternatives To Use for Research
(String: https://www.quantilope.com/hubfs/MRX%20Glossary_GoogleSurveys.png)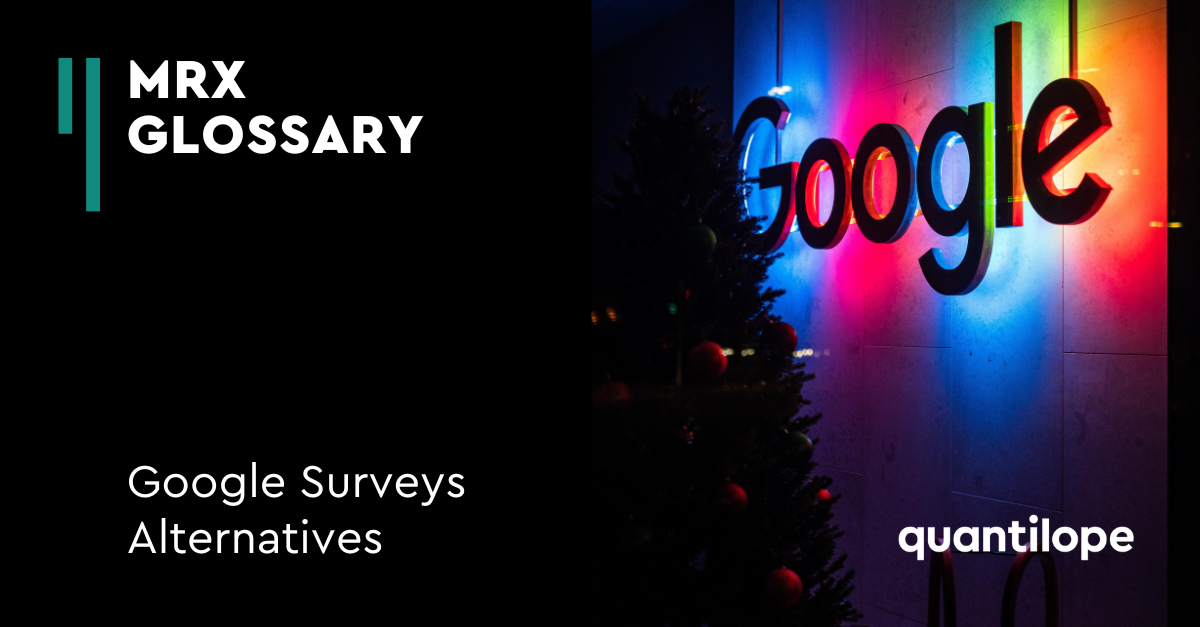 This post covers three research alternatives for previous users of Google Surveys, a service that shut down in November 2022 - with users no longer able to access historical data through the product.
---
Table of Contents:
What was Google Surveys?
Not to be confused with Google Forms, Google Surveys was a custom research tool within the Google Analytics suite, offering an easy-to-use interface for advertiser, customer, and market research.
The tool accessed a panel of online respondents and was commonly used as a way for websites to avoid paywalls for published content; businesses would pay to create survey questions through the tool to capture consumer data, and consumers would then participate in the survey (essentially trading their data for free premium website content - rather than paying for it or having to submit their email address). Users of the tool could create custom surveys to send out to the general population browsing third-party websites (such as a news outlet), to Android smartphone users (via the Google Opinion Rewards app), or to their own website visitors.
While the tool offered customizable options, Google Surveys also offered a limited free version that captured respondent answers to predefined questions - for businesses who didn't care to create their own survey questions from scratch.
Why did Google Surveys close?
As of November 2022, Google Surveys was no longer accessible to users - including any historical data they may have captured through the tool. The reason for the closure was Google's decision to focus on other research and insights initiatives that they feel could better serve their market. According to their statement, Google hints at future survey offerings:

"The Surveys team will be working to find new ways to bring the scale & insights of our research network to customers via Google Ads products for advertiser, customer, and market research."
Back to Table of Contents
Alternatives to Google Surveys
While the news of Google Surveys' closure may have come as a shock to its users, the good news is there is no shortage of other great market research options at their disposal. Below are just three potential alternatives for these users to explore:
1. quantilope
Similar to Google Surveys, quantilope shares the quality of being incredibly easy to use with drag-and-drop functionality, and fast results (a matter of days). Before the results are final, quantilope users also have the luxury of monitoring online survey results in real-time, with charts updating automatically as soon as new questionnaire data is available.
The user experience of the platform makes it simple to liaise with your customer success team through a tagged comment or question, and edit questions in a matter of seconds. The platform offers a variety of survey templates loaded with predefined questions for various market research topics, as well as many types of questions, such as single-select checkboxes, multiple choice checkboxes, multiple choice grids, linear scale, blank forms/question boxes for open-ended answers, and several more. Beyond this, users can browse and choose from a dropdown menu of thirteen advanced method analyses for an added layer of consumer insights.
Once a survey is complete, users have the option to export their final raw data to an excel or .csv file for further exploration or analyze and display their data directly in the platform. Within quantilope's data visualization dashboard, users can embed their own videos, photos, logos, or brand colors to customize the presentation of findings for their stakeholders.
2. Google Forms
Google Forms is another product within Google Drive, separate from Google Surveys that allows users to gather key information about their audience of interest. Anyone with a Google account has the ability to create a survey within this tool, which captures and analyzes responses in real-time. Google Forms users can also add collaborators to work together - the same way Google Docs and Google Sheets operate.
A Google Forms survey, like quantilope, has simple drag-and-drop features to build a survey with checkbox questions and multiple-choice grids, though it does not offer advanced methods or a dedicated team of researchers as quantilope does. Results are shown in the responses tab, through visualizations like bar charts and pie charts.
Google Forms has integrations with other products in the Google workspace such as Google Docs and Google Sheets, making it a great tool for any researcher looking to capture quick, simple consumer insights.
3. Survey Swap
A third option for prior Google Surveys users is Survey Swap. This is a tool that allows users to take part in other surveys on the platform in exchange for survey respondents for their own research study. The platform caters to dissertation or thesis research in academia but can be used for consumer market researchers as well.
Users of Survey Swap follow a series of four main steps to capture their insights; first, they'll connect their survey to the tool, then select the target audience they want to capture, take part in surveys to earn their own respondents for a study, and wait for responses to come in. The platform makes adding surveys from almost any other software simple through app integrations with platforms like qualtricsXM, Typeform, and Survey Monkey (part of Momentive).
Interested users should know that Survey Swap estimates final results in 1-2 weeks, and for more than 300 respondents, Survey Swap requires a specialized quote.
Back to Table of Contents
Conclusion
Though Google Surveys has been phased out, prior users have plenty of great options for capturing actionable consumer insights. Beyond the three examples listed above, researchers should look for automated, intuitive platforms with quick-turn insights to stay competitive in their market.
Get in touch to learn more about quantilope's Insights Automation Platform for high-quality, advanced insights in just days:
Get in touch to learn more!