Blog
//
quantilope
//
2022-08-07
Visualize your Data with a Customer Insights Dashboard
(String: https://www.quantilope.com/hubfs/MRX%20Glossary_Insights%20Dashboard.png)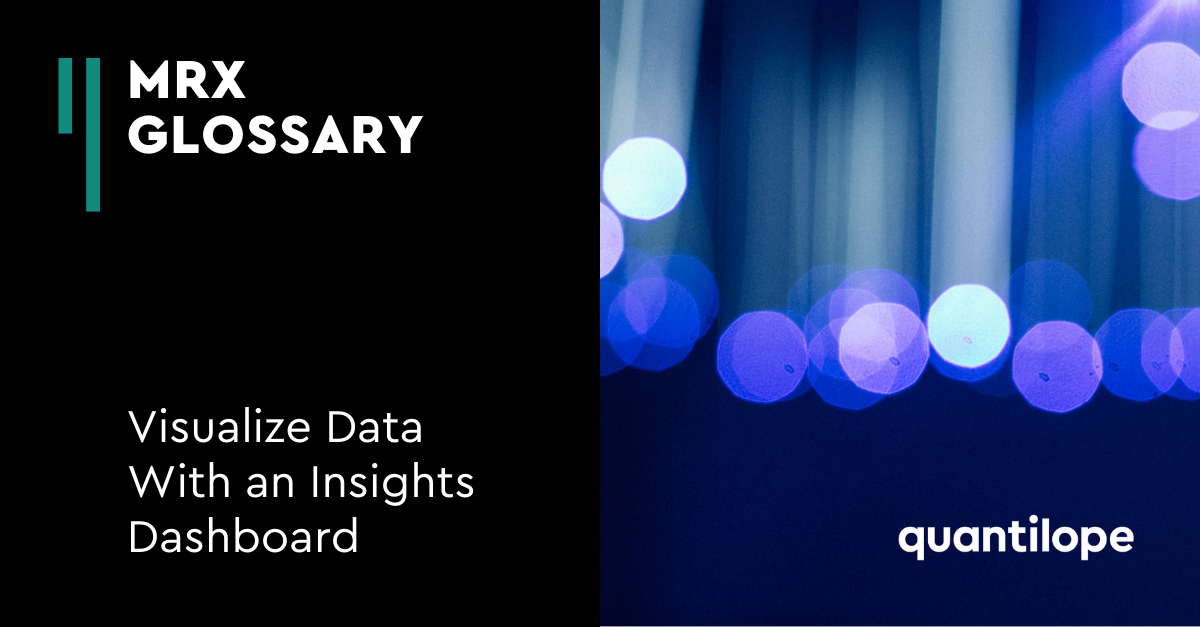 This blog explores how a customer insights dashboard can bring real value to a company's strategic and tactical decision-making.
---
Table of Contents:
Managing consumer insights data
Today's consumers have a bigger voice than ever before, through social media mentions, online reviews, and more, leaving companies rich with customer insights. Some of these metrics come from research commissioned by companies themselves, while other insights are gathered from external data sources like social media apps or consumer intelligence agencies.
With so much information about consumer behavior and opinions available, it can be a huge task to organize and keep track of all information, especially if multiple business teams within a company are involved in the market research process. There's no point in duplicating research that has already been done, so insights need to be cataloged in a way that makes them easily accessible and easy to uncover whenever a new business decision needs to be made.
This organization of data becomes even more complex when you consider that customer data comes in many different forms (numerical survey data, videos, and written responses, to name a few) and a variety of these formats might be applicable to the new business issue in question.
Back to Table of Contents
What are the benefits of having a customer insights dashboard?
To organize all the various forms of customer data, many companies lean on customer insights dashboards. A dashboard is often part of an online platform (some even made from reusable templates) where all permitted stakeholders can monitor research in real-time, or circle back to at a later date to mine historical information for insights relevant to their current business projects. Looking at knowledge gathered in the past can highlight how and where customer opinions and behavior have changed over time. Tracking customers in this way often helps predict future behavior, putting businesses in a competitively advantageous position.
As well as collating data sources, insights dashboards also bring colleagues together. Dashboards are a very collaborative tool, uniting teams in their knowledge of their customers, which means colleagues can all act and speak from the same knowledge base when they work together. Further, the metrics and information on customer insights dashboards are shareable, making teamwork more efficient.
And further, using existing customer analytics from historic dashboards not only speeds up the business decision process, it also saves money. Conducting new research every time insights are needed can heavily impact a team's budget, and isn't always necessary if the information already exists.
Back to Table of Contents
Building an insights dashboard with quantilope
quantilope specializes in insights dashboards based on high-quality market research that gives a reliable view into the customer experience.
Setting up market research with quantilope is easy via a fully automated online platform. There are just a few quick steps to turn your research question into a survey that delivers intuitive data metrics with interactive, visual reporting.
While consumer responses are still coming in, you can begin to build an insights dashboard that communicates the research findings using custom charts, graphs, and videos (depending on the research methods you are using). Dashboards are also interactive, meaning you can dig into metrics of interest by cutting responses in different ways, hide certain data points to focus on one area, or see how charts change as more participant responses filter in during fielding.
quantilope's platform is designed to support interactive communication between teams. Simply add multiple colleagues to a project to review and edit each study together. Teammates can communicate with each other by adding comments to the survey or dashboard and easily share charts and reports with a single link. If you'd like to share findings only once the research study is complete, that's possible too, with polished dashboards containing data visualization that can be protected with a password if desired. The style of your final analytics dashboard will be customized to fit with your own company's branding (brand colors, logos, images, etc.) - instantly ready for stakeholder review.
Turn customer insights into action
A customer insights dashboard creates a more efficient workflow in many ways; it's convenient, allows for the comparison of insights over time, supports cross-team collaboration, and is cost-effective.
With quantilope's insights dashboards, teams can monitor consumer thinking according to their KPIs, dig into customer expectations or customer satisfaction, and build up a bank of knowledge that enables them to make data-backed business decisions, be it strategic or tactical. Clear, accessible reporting through the means of a dashboard delivers actionable insights that can be revisited time and again, helping your business to optimize both information and budgets.
To learn more about how you can build a consumer insights dashboard for your business needs with quantilope, get in touch below:
Get in touch to learn more about quantilope's insights dashboards!