Blog
//
quantilope
//
2023-01-05
Top Consumer Insights Companies To Consider in 2023
(String: https://www.quantilope.com/hubfs/optimized-compressed-images/MRX%20Glossary_Top%20Consumer%20Insights%20Companies.jpg)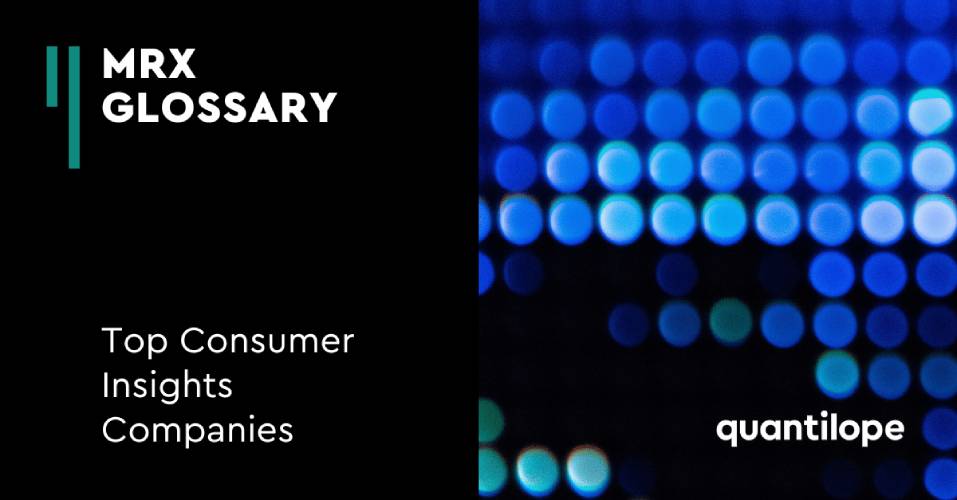 In this post, we'll explore what consumer insights companies are - including some examples you can consider for your research needs this year and beyond.
---
Table of Contents:
What is a consumer insights company?
A consumer insights company is a company that specializes in capturing data and consumer intelligence on customer experiences with your brand. This customer data might include customer satisfaction, brand awareness, brand usage, purchase behaviors, or advanced method insights. The goal of a consumer insights company is to help build customer relationships through the power of data-driven market research questions and related insights.
Why do you need a consumer insights company?
Any customer-facing brand should be keeping tabs on how their customers are feeling and reacting. Customer insights companies make that process easy by providing access to data sets, dashboards, or other research findings.
These companies are experts in sourcing qualified participants for your study or can easily help set up your own customer panel. By partnering with a consumer insights company, it becomes much easier to uncover actionable insights at any point in time vs. having your market research findings spread out across many different channels or trying to collate information from many different data sources.
Types of consumer insights companies
All insights companies seek to offer information that will help businesses understand their customers better and ultimately sell more of their products or services. However, the way they gather insights and their main areas of business can differ. Here are a few of the labels with which market research companies might define themselves:


Online research platform:


Online market research companies make it quick and easy to reach respondents. The client takes control of launching the study online (with or without help from a research team), and automated research tools take over from there - gathering responses from the sample, analyzing them, and presenting the findings in visual formats like graphs, charts, and tables.
Traditional research company:


This type of market research agency is often full-service; it employs researchers who undertake all aspects of the research, from the initial research proposal to respondent recruitment, fielding, analysis, and reporting. The commissioning client can oftentimes be as involved as they like, but the majority of the to-dos tend to fall on the research partners with limited access to data until the project is complete.
Syndicated research company:


Syndicated market research services provide insights into pertinent commercial issues, generate reports on the findings, and sell them to any company that wants to buy them. For example, they might produce reports on consumer attitudes to climate change, cellphone purchase behavior, or the issues facing food retailers. Syndicated research also includes omnibus research whereby multiple clients can pay to insert specific questions into a survey that goes out to the same set of respondents on a regular basis - this is useful for low-cost tracking purposes.
Specialized research company:


Some research companies focus on a specific area of customer insights, such as media, advertising, or shopper research (exploring the decisions made by shoppers at the point of purchase). There are also companies that only conduct quantitative research (larger-scale, numbers-based studies using questionnaires) or only qualitative research (smaller, open-ended, discussion-based projects looking at the emotional nuances and reasoning behind behavior or opinions).


It's important to note there can be a lot of crossover between genres - for instance, an online research company might mostly offer custom research but will also produce market reports or white papers focusing on a specific area.
What to look for in a consumer research company
Whichever type of market research company you choose, there are some key areas of their offer that you should look at before going ahead.
All-in-one solutions:


If you're looking for a consumer insights company to make your life easier and more organized, you don't want to be navigating between different data sources or contacts. A good consumer insights company will house all the necessary steps to the market research process in a one-stop shop.



When deciding between platforms, make sure to ask where you can track the status of your survey while in the field, and how the analytics process works so you know well in advance what you can expect from your research process.

Data collection methods:


Most market research companies rely heavily on online surveys, carried out via email, texting services, social media, or a client's website. This allows a brand to reach the masses and speeds up the fieldwork stage of research - that is, if you are looking for quantitative findings.

One of the decisions you will need to make is whether you require quantitative research, qualitative research, or both. Where quantitative research delivers breadth, qualitative research delivers depth.

Quantitative data is numerical in nature, making it excellent for measuring responses on larger scales and applying them to a population as a whole (e.g. interviewing 1000 people about their reaction to an advert for sunscreen will give a good indication of how all sunscreen users in the same geographical locations would react to the ad).

Qualitative research, on the other hand, is more exploratory. It takes a smaller sample size and asks respondents to give more spontaneous, unprompted reactions to a topic to reveal the more emotional drivers of responses. Reactions are gathered in focus groups, depth interviews (one or two respondents), or ethnography-based approaches (e.g. observation of consumer behavior only or observation with a follow-up interview).
Not all firms offer both quantitative and qualitative research, so if you want to conduct both with one company this will narrow down your choice of provider.


Research methodologies:

If you're looking for a consumer insights platform, that means you're probably looking to take your market research to the next level and perhaps modernize your current approach to insights; your new avenue of insights should be equipped to offer a variety of advanced research methods to do just that.



Aside from basic usage and attitude questions, be on the lookout for advanced methods to tack onto your research as well; does the company offer a choice-based conjoint analysis to test specific aspects of your brand or product?; or an A/B test to help anticipate preferences toward a new product or advertising concept? These types of advanced analyses are what will set your brand up for a competitive edge. Especially for brands looking to explore product development, having access to advanced analytics will go far beyond what basic usage and attitude metrics could inform.

Research customization:
Lots of companies tend to design custom studies for each client, though not all insights companies do. Syndicated companies design their own study on a certain subject so clients don't have any control over which specific questions are asked. Other companies might allow a brand to have some input but may not offer customization when it comes to phrasing, question choices, or scale adjustments.


For some brands, broad industry-wide insights may be enough for them to leverage. But if you're a brand that needs unique findings specific to your business, and with the option to customize as you wish, this is something to be on the lookout for in your search for a research partner.
Customer support:

Some insights teams are well-equipped to manage their own studies, while others may be looking to completely hand off the research process to an expert. Similar to the varying needs of support clients are looking for, insights companies vary in the level of support they offer.

Some insights companies operate only as fully-managed services, meaning they take care of all the research processes between the time of the research brief to the final delivery of insights. Others lean on their DIY services - meaning the client will manage all steps of their research process with very little (if any) support from the research partner. And some fall somewhere in the middle, offering a DIY option with customer support along the way. Be sure to know what your insights company offers throughout the research process to ensure it aligns with your needs.
Company reputation:


As with any purchase, proven results and customer satisfaction are good indicators that a consumer insights company will deliver great work. Regardless of how well-known a company might be, you should always be sure that the company prides itself on high-quality consumer insights and has supporting evidence to prove it.

A great way of checking whether a company will fit your research needs is by asking to see their previous experience in your field of business or viewing similar research projects through case studies.
Examples of top consumer insights companies
Bearing in mind the requirements listed above, we've outlined below five research platforms or market agencies with some of the best research software to consider:


1. quantilope
quantilope offers an online consumer intelligence platform that is largely DIY, powered by automation. Everything is done online in a one-stop shop, from questionnaire design to recruitment, analysis, and data visualization. Clients have access to a variety of questionnaire templates that come pre-loaded with appropriate questions for a variety of research study types. The platform updates in real-time, providing data analytics as soon as responses come in and updating report charts accordingly. And despite being an intuitive platform to use in a DIY manner, quantilope's team of certified research consultants is always available to guide and support.


Whatever the study requirements, quantilope has the most appropriate research solution. This includes market segmentation, testing new product or messaging ideas, informing product development, planning pricing strategies, or exploring the current customer experience. quantilope's suite of fully automated 13 advanced methodologies is applicable to a broad spectrum of business areas, from CPG companies to healthcare, financial services, media, technology, e-commerce, and the public sector - and its multi-language capabilities make it a global solution to research.


One of the main advantages of quantilope is that it offers both quant and qual research. quantilope's inColor product is a video-based qualitative methodology that connects face-to-face with consumers online. Respondents present their opinions in video responses, bringing a deeper understanding of their emotions. Video reels edited from real consumer footage help to bring findings to life, while keyword, facial emotion, and sentiment analyses add an even further layer of insight.
Whether it's qualitative or quantitative research that's required, quantilope's platform functionality, advanced methodologies, and data collection make it simple to manage market research studies, collaborate across teams, and make business decisions founded on solid consumer insights.


2. Statista
Statista is a research provider of consumer and market data with a diverse range of research capabilities. Statista uses proprietary data to provide reports in four different languages on tens of thousands of topics - from the pandemic to the hotel industry to the music business.
Its research and analysis team collects and analyzes stats and public opinion data according to the demands of individual clients. Meanwhile, a content and design team creates infographics, presentations, and videos to help companies communicate their knowledge visually. For e-commerce businesses, there is a dedicated specialty providing information on thousands of online retailers, and a global consumer survey containing statistics on consumer behavior and media usage across dozens of countries. Finally, there is a team that focuses on digital markets and forecasts how they will change over time.


Much of Statista's data is accessible for free online, but there are also monthly packages to purchase, with prices dependent on the level and type of information required. For a wide range of data on the subject most relevant to your business, Statista is a great choice for a syndicated consumer insights provider.


3. Insider Intelligence
Like Statista, Insider Intelligence uses data analysis to produce reports on market health, market trends, and consumer behavior. A large part of its business is also benchmarking and forecasting, helping businesses plan for the future by adapting their products and services accordingly.


Insider Intelligence focuses on digital opportunities for its clients. It uses proprietary data alongside data from other research firms, audience measurement companies, media agencies, government institutions, and industry associations. The company specializes in five main areas: advertising and marketing, eCommerce and retail, financial services, health, and technology.


Data visualizations are a core part of presenting statistics in a way that is meaningful and engaging for clients, and Insider Intelligence prides itself on the quality of its proprietary data, eliminating biases so that clients can put full trust in its statistics.


There are three pricing levels for this service according to the level of reportage a client requires.


4. Comscore
Comscore is an online third-party solution specializing in advertising measurement, media planning, and content measurement through its global data platform. Comscore captures deduplicated data (i.e. doesn't count the same person twice) on an individual and/or household level for brands to understand their customers' media consumption across a number of channels.
In addition to measuring and evaluating advertising material, brands can leverage Comscore to measure digital audiences across devices, capture television/movie audience viewership, or understand social media audiences. By leveraging Comscore, brands can gain a holistic view of cross-platform media consumption to optimize their media plan without basing decisions on duplicated representation.
Comscore is a great consumer insights company for brands looking to gather third-party data about their media consumption. Comscore users pay a monthly fee for access to these insights.


5. Nielsen
Nielsen is a global measurement and data analytics company that provides insights into consumer behavior and media consumption. Similar to Comscore, their research services help businesses understand audience demographics, track TV viewership, and measure the effectiveness of advertising campaigns. Nielsen has a long-standing reputation as one of the major traditional research agencies (among others like Kantar, Ipsos, and GfK), with industry-standard metrics.
Conclusion
There are plenty of consumer insights companies at your discretion to aid in your market research objectives; it's just a matter of finding one that fits your specific research needs and budget.


quantilope's Insights Automation Platform covers a broad base of research needs. Its cost-efficient online approach makes custom research affordable and gives clients the ability to take control of their research process. Clients can begin analyzing survey data as soon as the study is launched, with final findings ready within a matter of days - much quicker than is possible with a traditional research agency.


The heavy lifting of analysis is done by automated tools, producing highly reliable and actionable findings to inform your decision-making - whether it is a marketing strategy, new product launch, pricing, or communication. Quantitative research brings number-based evidence, while qual adds depth of insight. Putting it all together, your research findings are displayed on a visually engaging insights dashboard that is easily shareable with other team members and stakeholders.


For more information on how quantilope can make your research process quicker and more insightful, get in touch below:
Get in touch to learn more about quantilope!