Blog
//
quantilope
//
2022-01-03
What Is an Insights Platform and When To Adopt One
(String: https://www.quantilope.com/hubfs/MRX%20Glossary_Insights%20Platform%282%29.png)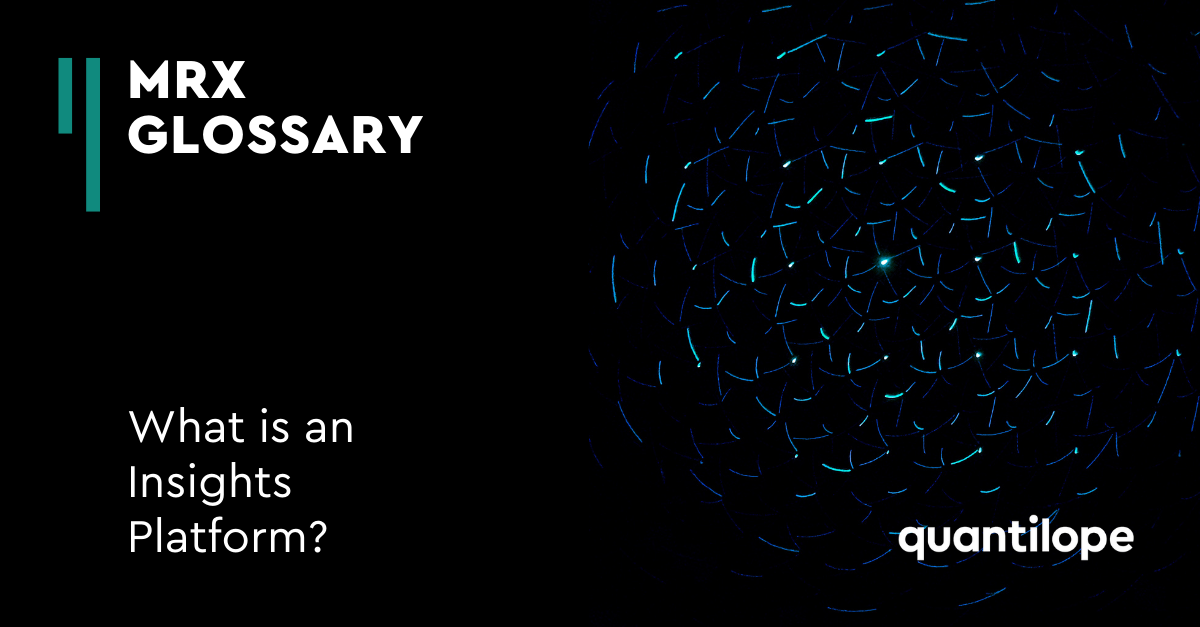 In this blog post, learn what an insights platform is, when your company should consider adopting one, and how quantilope's Insights Automation Platform provides value to our clients.
---
Table of Contents:
What is an insights platform?
Have you ever wished all your consumer knowledge and research capabilities were in one place, easily accessible by both you and your colleagues? Then what you're wishing for is an insights platform.
An insights platform is a hub accessed by a dashboard that enables you to conduct new research as well as utilize previous studies. It's your consumer research and information all in one place, ready to mine whenever you need to bring fresh thinking and relevant consumer insights to your business strategy.
When should I think about adopting an insights platform?
If you work for a business or organization that uses information about consumer behavior and attitudes to hone its offer and guide its marketing, then an insight platform could be a huge asset.
It's all too easy when a customer insight question pops up to think 'let's do some research on that.' If it's very specific to your current business issue - like testing an advertising campaign or fine-tuning a product concept - you may well need a research project. But often, you may be able to answer your questions through projects your colleagues have already run.
A classic information management issue in organizations is that different teams conduct their own research but findings aren't shared across the company. The beauty of an insight platform is that it acts as a central information point for everyone in the workplace who uses customer data, so you don't need to reinvent the wheel each time you need findings to inform or back up your business decisions. At the very least, your research might have asked the same question before, or at the most, it will mean taking the data and cutting it a different way. It's all about making your data work (and re-work) for you.
For example, you might have conducted multiple market research studies into your soft drinks brands and they are now all accessible on your insights platform. Some of those studies looked at new product concepts, some assessed the competitive landscape, and others explored reactions to different price points. You're now thinking about developing new packaging for one of your brands and wondering whether to set up a market research study to gain insights into customer usage and preferences. But first, you can mine the data and insights you already have - and in fact, you find that in previous studies respondents have talked a lot about how and where they drink your brand, which packaging they prefer amongst the competition, and how pricing (and indirectly the cost of different packaging) affects their purchase intent.
The fundamental knowledge on which your business pivots - such as your target market profile, usage and attitudes in the competitive set, and brand image - can be referred back to time and again, and used as the basis for fresh research. This not only makes for more efficient use of data but also means colleagues are all on the same page when understanding their audience and tailoring actions accordingly.
This collaboration and centralization of insights allow you to streamline and optimize your market research activity. New findings can be integrated into historic ones so that all relevant sources of information are in one place, making the use of insights extremely efficient. Beyond this, there are obvious cost benefits; without unnecessary research duplication, less is spent on ad hoc projects.
How can quantilope help?
At the heart of quantilope's insights platform is automation, making the entire process - from questionnaire design to analysis and data visualization - seamless and easy to manage, without various channels of communication between a number of service providers. Whether it's qualitative or quantitative research you need, quantilope's platform's functionality, advanced methodologies, and data collection make it simple to manage your market research studies and collaborate across teams.
Teams across your organization can jump into the insights platform at any time, tagging colleagues into specific questions, adding points of feedback, or making their own iteration of a study's insights dashboard. This iterative and collaborative process provides high value to an organization - sharing and repurposing work rather than reinventing the wheel. The streamlined workflows an insights platform provides can cut out a huge amount of time for not just one team, but many.
Aside from ease of setting up a study and collaborating across teams, an insights platform like quantilope's will update in real-time, providing data analytics as soon as responses come in. Reporting charts automatically update as more and more respondents take part in the research, without the need for manual adjustments or recalculations. The automated analysis also links directly to the reporting function of the platform, where you can choose between an array of chart options to see which produces the most impactful story.
As your collection of research studies builds up, your understanding of your target audience will deepen and you'll have an ever-increasing source of data and customer insights to inform your business decisions. quantilope's analysis tools enable you to take data already collected and analyze it in a way most appropriate to your business issue - whether it's understanding key drivers of customer behavior, understanding which features of a product are most important to consumers, or countless other questions you might have. This makes for a highly efficient way of using existing data and deriving actionable insights from it.
Further proving the value of its insights platform in facilitating customer insights is quantilope's Total Economic Impact (TEI) Report - commissioned by Forrester Consulting on behalf of quantilope in June 2021. This report discovered that brands' research budgets can receive a return on investment (ROI) of 319% over three years through the use of quantilope's Insights Automation Platform - compared to traditional research providers.
If you're interested in taking your research to the next level through the power of insights automation, get in touch below to learn more about how quantilope can serve you and your business.
Get in touch to learn more!