Blog
//
quantilope
//
2023-21-06
7 of the Best Market Research Tools To Use in 2023
(String: https://www.quantilope.com/hubfs/MRX%20Glossary_Best%20Market%20Research%20Platforms.png)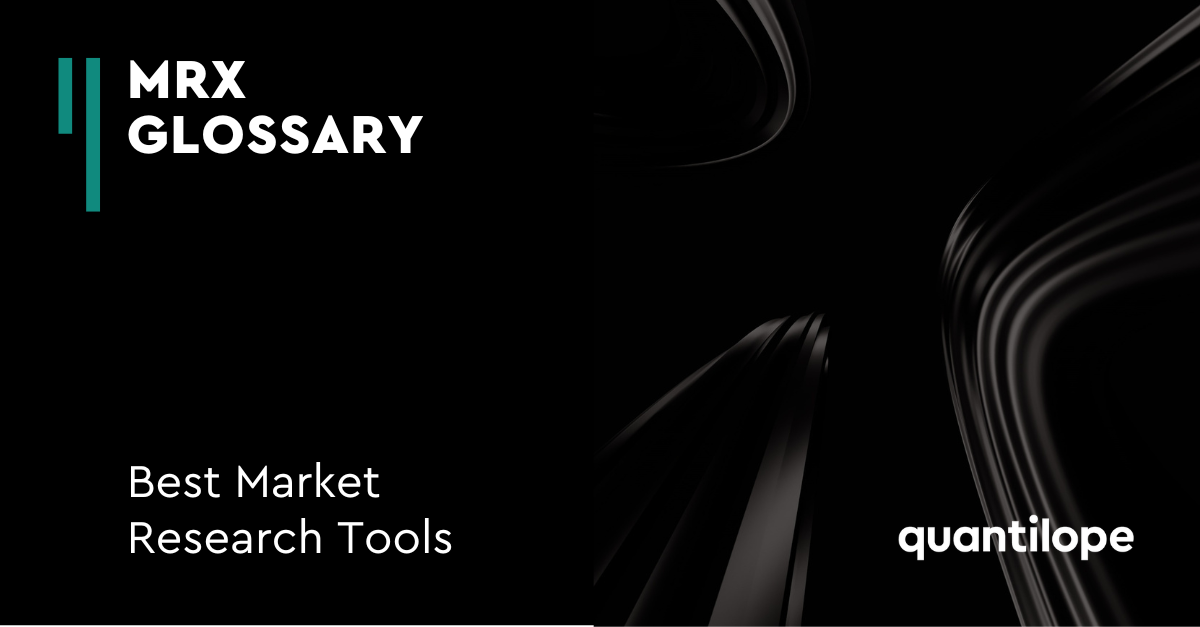 Knowing what to look for in your market research tool is a great starting point, but sometimes you might not even know where to start. Based on the collaborative experiences of our classically-trained researchers, below is a list of some major players that check the boxes when it comes to rigorous, insightful, online market research tools. Some allow you to create your own online surveys, while others collate data that already exists to present it in a way that's useful for your particular business situation.

Whatever your market research needs are, chances are you'll be able to solve those needs with one of the tools below.
---
Table of Contents:
Importance of market research
Market research should form the foundation of any business. Of course, you need to have a great product or service, a clear strategy, effective distribution, and committed staff, but the best way to grow your brand based on consumer needs is through market research.
Understanding your market - what your customers like, what they need, and what makes them buy one product over another - is the key to creating an offer that is relevant.

Below are 7 research tools to consider when in need of data-backed insights for your business strategy:
1. quantilope


Best market research tool for: real-time, high-quality, advanced method insights

The feature we love: largest suite of advanced research methodologies over any platform

Using the past experiences and knowledge from a team of classically-trained researchers, quantilope's platform is built by those who know the frustrations of traditional research - long turnaround times, complex questionnaires, version control issues, lack of flexibility, and so on.

As such, quantilope's fully automated online survey platform brings market research data to life for users of any skillset. Its intuitive survey builder allows for full customization, while customizable survey templates are also available as an option to questionnaire creation. Whichever route you take (building from scratch or starting with a template) you're sure to capture valuable insights from your target market through the use of built-in guardrails and automated advanced methods.


quantilope's suite of 12 automated research methodologies is designed to address a variety of advanced research needs. Whether you want to fine-tune your product development using Conjoint Analysis, use a MaxDiff to determine which factors potential customers consider most important in products or communication, conduct a brand tracking study over a duration of time, monitor market trends, or research any other area of your customer experience, quantilope has a solution.
In addition to its quantitative methodologies, quantilope also offers a qualitative video research solution: inColor. Questions for respondents are asked through the form of video, and responses are received through video as well - creating a deep sense of authenticity in your research through consumers' own words and mannerisms. quantilope inColor provides the perfect format for shareable, engaging consumer insight videos - with the ability to compile clips into showreels. Additionally, facial emotion, sentiment analysis, and keyword trend analysis create an even deeper understanding of consumer insights.
Whether using quantilope's quantitative or qualitative survey options, responses are available in real-time. This means you can get started right away on creating your showreel video clips, or start building your quantitative dashboard with insights updating automatically as additional data comes in.
And whether you choose to leverage quantilope's team of certified research experts or take a DIY approach, quantilope allows you to conduct a survey in a matter of days and quickly access the information needed to put consumer feedback into action.
2. Google Trends


Best market research tool for: exploring how online activity reflects behavioral and social trends

The feature we love: visual representations of trends based on searched-for terms
Google Trends - as the name implies -crawls its own search engine and social media platforms for trends or mentions of particular terms. Say you have a business selling flowers and you'd like to know the time of year that people are most likely to purchase flowers. Typing the search term 'flowers' into Google Trends will give you a wealth of online behavioral information, including:
The frequency of search team 'flowers' vs. Google's total search volume during a set period
The location of users typing the term in (with the option to limit your search to specific locations)
How global and local events affect online search activity for the term (i.e. if there is a shift in weather patterns like a drought, people may search how to best care for their flowers)
Comparisons between different search terms in the category (i.e. lilies vs. roses)
The context of search terms (e.g. flower care, flower watering, flower meanings/symbols)
Google Trends uses line graphs to illustrate trends over time and gives the terms a score out of 100 based on interest in the term. Google Trends is free, quick, and very visual, providing accessible insights into how internet users are searching over time.
3. Statista

Best market research tool for: making the most of existing data

The feature we love: creative data presentation, including industry forecasts and ready-made reports

Statista is a paid service that specializes in secondary research - in other words, using data that already exists and packaging it into a digestible format tailored to business areas and research needs. Statista obtains its data from reliable sources online and uses straightforward, customizable data visualization to present its findings. Some of its advantages include:
A huge array of metrics to choose from
Data from over 150 countries
Outlook reports that forecast how industries will develop
A variety of ready-made reports across business areas including digital trends, politics and society, and specific companies and brands


In addition to its data-gathering capacity, Statista also has a tailored research function, so you can launch your own online surveys based on your business's unique needs.
4. Pew Research Center

Best market research tool for: understanding how broader social trends tie in with consumer behavior

The feature we love: fascinating online articles about society in the past, present, and future

The Pew Center is a non-profit organization that specializes in research and analysis in many spheres including US politics, opinion polling, social and demographic trends, news and media, science, religion, and technology (including social media, online privacy, and more).


Pew's research is thorough and highly usable, and its website contains some fascinating articles that provide a window into how humans think and behave, on subjects like 'The Metaverse in 2040' and '10 Facts about Americans and Twitter.' Wherever your business interests lie, you're likely to find thoughtful information on this site.
5. Google Keyword Tool

Best market research tool for: understanding the words people use when searching for online content

The feature we love: keyword search volumes and how keywords differ by devices used
Google's Keyword Tool is one of the best for keyword research. Knowing which keywords your customers use when searching online can be hugely valuable when planning your marketing strategy, sales tactics, or launching a new product. Keywords provide consumer language so that you can reflect it in your communications. Plus the tool can also indicate which keywords you should include for SEO - ensuring your offer appears high in the list of online search results.
Google Keyword Planner shows keyword search volume, how competitive keywords are, and the relationships between keywords - all valuable information for content marketers. You can filter results by various criteria, including by a language or geographical area, and by those searched only on mobile (or other) devices. In short, it tells you how your target audience is searching for specific content to inform your marketing campaigns.
6. Social Mention


Best market research tool for: exploring how social media reflects and shapes brand perceptions

The feature we love: keyword monitoring across major platforms
Social Mention is a free service with a focus on how social media creates and impacts brand awareness and perceptions. It monitors over one hundred social media platforms like Facebook, Instagram, Twitter, and more, to establish how many times a keyword or brand has been mentioned. Social Mention keeps tabs on the types of mentions - whether positive or negative, counts how many people are talking about your brand (or competitive brands) in real-time, and produces an overview of brand perceptions. Alerts can be set up to update the user on keyword mentions as well.
Social Mention is a great tool for providing the context in which brands or keywords are being talked about, as well as the platforms where they get the most attention. This helps businesses direct their brand activity to certain channels.
7. Tableau

Best market research tool for: connecting and visualizing existing data

The feature we love: Data Cloud, allowing users to integrate data from any source


Tableau's premise is that there's a lot of data out there and it could be presented better. It is a business intelligence service that focuses on using analytics for clear, accessible data visualization that better informs business decisions.
Tableau takes data from plenty of formats including PDFs, Excel, Text, Python, R, Hadoop, and SAS, as well as other market research tools like Salesforce. Its interactive dashboard displays the data using graphs, tables, charts, and heat maps. Data can be shared across teams, making for easy collaboration. Tableau is a sophisticated market research tool that sits at the higher price end of paid-for services.
Get started on your market research

with quantilope
There are a lot of online tools on the market, with a variety of different capabilities. For a fresh and updated understanding of your target market's opinion of your category, brand, or product, quantilope has a comprehensive offering from simple surveys to advanced analytics.


To learn more about how quantilope's Consumer Intelligence Platform can help with your market research goals, big or small, get in touch below:
Get in touch to learn more about quantilope's Consumer Intelligence Platform!