How AI Continues To Disrupt Market Research, for the Better
(String: https://www.quantilope.com/hubfs/ai%20disrupts.jpg)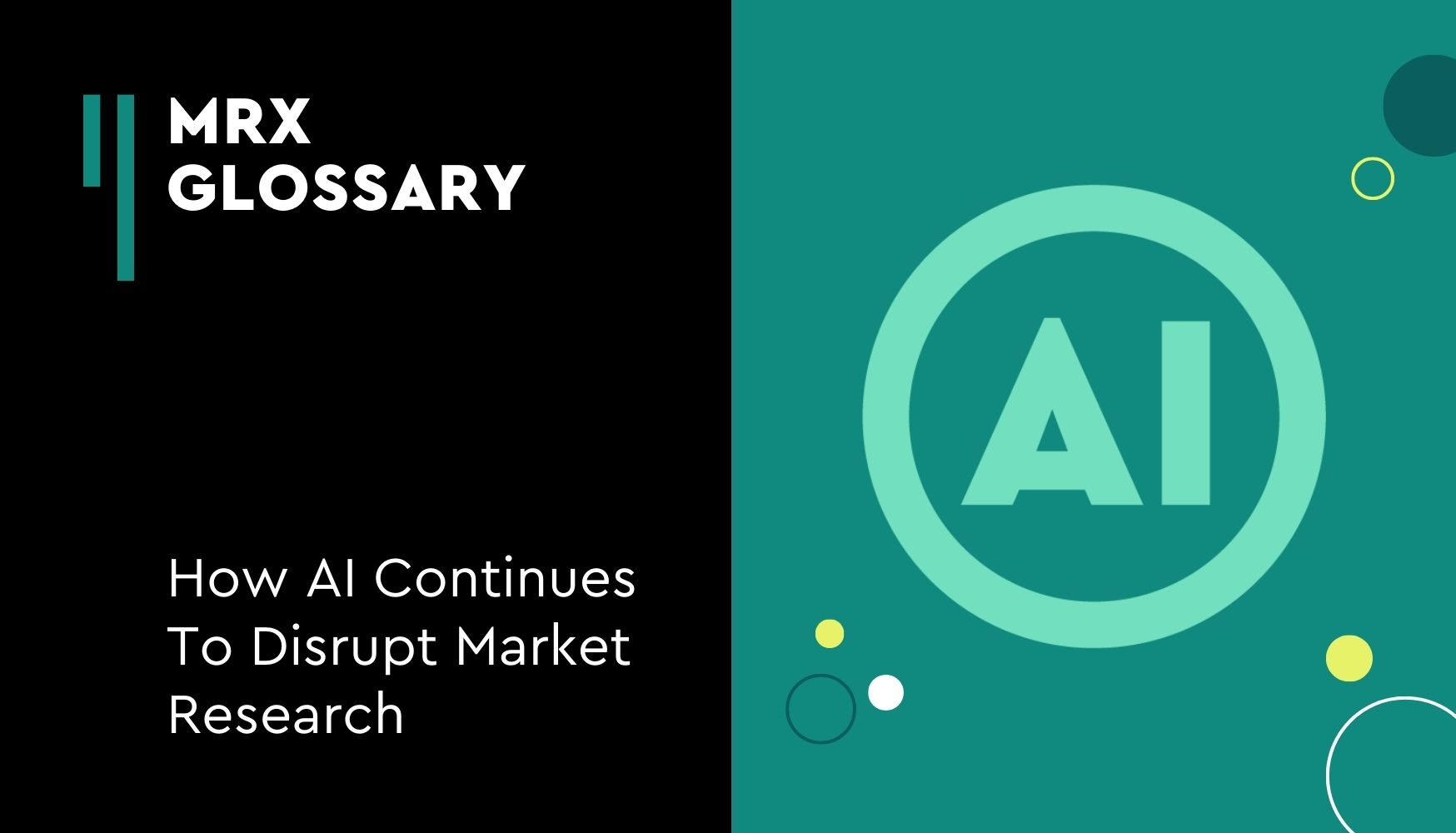 In this post, we touch on how AI is already redefining the consumer insights process to make it simpler for businesses to make high-quality, fast, informed decisions for their key business objectives.
By now you're likely familiar with Artificial Intelligence (AI) technology (being as it's become hard to ignore). However, you might be wondering how AI plays a role in the market research process. AI-driven market research is yet another example of how AI and machine learning algorithms are positively transforming industries through highly intelligent and efficient processes. In the sections below, learn how AI is already transforming the industry and the potential it has for the future.
---
Table of Contents:
Where does AI already exist in

market research

?
In today's age of digital, platform-based market research, many market research providers lean on AI for efficient data cleaning, predictive insights, text and data analysis, and more. In fact, AI is so seamlessly ingrained into many of these platforms that you may not have even recognized you're using it!

If you've ever used smart and intuitive survey building features (like drag & drop modules), a length of interview (LOI) prediction tool, automated data cleaning filters, automated analysis of advanced research methods, or real-time charting solutions, you've been benefiting from the power of AI. Compare this to the traditional days of manual and tedious market research processes, and it's clear we've already come a long way. Even so, AI continues to make advances in market research.
Back to Table of Contents
New advances in
market research

AI

AI is something that will only continue to grow - making it a really exciting time for market researchers who want to do more, with less.



One clear example of this is the excitement over Generative AI (or, Gen AI for short); that is, models that generate text, images, code, and other media in mere seconds. A notable GenAI tool that's become widely used is ChatGPT. Using AI, ChatGPT can generate paragraphs of text, list a series of bullet points, provide research into a certain topic area, and even tell you a funny joke! So how does something like ChatGPT help market researchers? Generative AI helps research teams quickly research a topic, provide a survey foundation, or understand the best survey layout - all from just a few prompted words. That's efficiency at its core.

However, other recent advances in AI can do more than just generate information - it can synthesize it. Synthezing AI (or, Synth AI for short) takes large data sets or other mass information and summarizes it for a faster and cleaner analysis. Research teams can use Synth AI for things like insights summaries, fast data analysis, knowledge management, and report creation.

Both Gen AI and Synth AI in market research are modernizing what's been an otherwise tedious and manual industry. With these efficiencies, researchers are in a position to focus more of their valuable time on strategic stories from the insights to make data-driven decisions.
Back to Table of Contents




What specific

market research

tasks can AI enhance?
Above we talked about how all types of AI make market research processes faster, and here we explore what those efficiencies look like at each step of a project.

Below are some major elements of the traditional market research process that AI can make easier or more efficient:
Survey ideation: For researchers stuck on what to ask or include in their surveys, AI tools can help generate ideas and questions that will provide them with high data quality and actionable insights. This might be particularly useful for applying advanced methods or for running product innovation studies when a brand is exploring a new target audience or unfamiliar venture.

Survey programming: AI can replace the need to manually write and program logic into survey questionnaires. Research platforms like quantilope offer the option to drag & drop pre-programmed survey questions or advanced research methods into a questionnaire. Automation during this step significantly speeds up the time from initial concepting, to actual fieldwork, and final decision-making. AI can also help with understanding participant experience during this phase - like quantilope's use of AI to predict the length of interview (LOI).

Data Collection and Analysis: AI tools streamline data collection and data analysis so that researchers can spend more time focusing on the insights and stories from their dataset. For example, quantilope leverages AI to automate the analysis of descriptive usage and attitude data as well as data from 12 advanced research methodologies so that platform users can spend more time with the findings than on the actual analysis. Rather than manually programming a survey for data collection and manually inputting chart metrics for analysis, automated algorithms can quickly analyze your data set and generate reports that highlight key takeaways. Some AI tools can even generate predictive analytics so you can start forecasting new market trends early on.

Data reporting: AI tools can populate real-time data so that you can get a jump start on market insights analysis before fieldwork even wraps up. Set up the charts you want to be populated and let AI take care of the rest as respondents complete your survey. Further, AI can even generate chart titles and descriptions to shorten the time from survey launch to stakeholder delivery.

Qualitative analysis: Are you using qualitative means of research like focus groups or online video interviews? AI allows market researchers to quickly perform emotion or sentiment analysis based on consumers' qualitative responses and extract key insights.

Customer support: AI has the potential to serve as a co-pilot, supporting each stage of the research process from initial planning to final reporting. For researchers who want to be more hands-on with their insights process but need a bit of help along the way, AI becomes their reliable partner to get more done in less time - time researchers can leverage for additional projects or to support other business needs.
Back to Table of Contents
Which

market research

tasks AI cannot take over
Though AI can (and does) transform the market research industry in many positive ways, there are some elements that simply can't be fully replaced by technology (yet).


For one, strategic consulting. No matter what level of AI you might be using, nothing can beat a human-to-human discussion to personalize consumer insights and bring them to life.


Second, AI can't totally take over the role of data scientists within a market research organization. You'll still need these highly skilled professionals to set up tailored AI integrations, troubleshoot any AI issues, and improve your AI features over time.


Third, relationship building. Market research requires a lot of relationships for projects to run smoothly. Even when using an all-in-one platform, you'll often still need panel partners, software integrations, and other external elements.


Finally, AI can't totally replace quantitative and qualitative market research projects where researchers gather consumer feedback and act on the insights. AI might help with certain steps in these projects but AI doesn't have the ability to actually go and replace studies from start to finish.


Overall, the role of AI in market research should be more about enhancing human processes rather than entirely replacing them.
Back to Table of Contents
Overall positive impact of AI on the

market research

industry
Consumer trends, wants, and needs are changing at a pace that makes it difficult for businesses to keep up. As a result, executives are increasing their demand for real-time, high-quality insights, putting increasing pressure on market research professionals. With these increased requests for data-backed consumer insights in very short turnarounds, market researchers are challenged to meet these new demands alongside limited or shrinking capacities.


The good news is that AI technology can take over these tedious, manual processes like cleaning unstructured data, inputting data sources into charts, automating statistical analyses, and creating final reports. AI is the solution for research teams that don't have enough hands to run all the research they need to run, but still need decisions backed by insights. With the use of AI and automation, researchers will have more time to really analyze consumer behavior insights and how they can support strategic initiatives for the company.

Overall, AI's impact on the market research industry is likely to be a combination of automation, transformation, and the emergence of new roles.

As quantilope CEO and Co-Founder, Peter Aschmoneit, sees it:
"The continued rise in applicable uses of AI, artificial intelligence, and machine learning in market research is one of the most exciting movements in the industry...and only getting bigger."

-Peter Aschmoneit, quantilope CEO and Co-Founder
How quantilope is continuously integrating AI
For nearly a decade, quantilope has been leveraging AI technologies to unlock high-quality consumer insights in real-time, empowering researchers and executives to elevate the consumer voice in boardroom conversations. quantilope was built with AI in its DNA to make high-quality market research faster, more affordable, and more accessible to researchers of all skill sets.

To continue growing alongside the exciting advancements in AI, quantilope established three core principles that you'll see reflected across the Consumer Intelligence Platform:


Build AI into the end-to-end research process.
For AI to reach its true potential in consumer research, it must be ingrained in an end-to-end workflow that researchers have direct and constant access to. Today's researchers shouldn't need to copy/paste data across platforms or data sources.

Blend AI with advanced research methods.
quantilope was built around the idea that speed to insights should never sacrifice the quality of insights. Only when using AI in combination with advanced research methods like Conjoint, TURF, Implicit Association Tests, and other advanced methods can researchers provide robust data that stakeholders can trust without compromising a project's timeline.

Make AI your research copilot.
The future of AI in the market research industry is through AI co-pilots that navigate you through each stage of the research process. Using an AI co-pilot, you'll seamlessly weave AI capabilities into survey creation, survey fielding, data analysis, and insights reporting for an overall more productive process. In other words, an AI co-pilot allows you to do much more with much less (effort, time, resources, etc.).


Staying true to the above principles around AI, quantilope has recently announced the launch of all new AI features to add to the platform's existing AI capabilities - which already include automated analysis of advanced methods, automated data cleaning, and automatically estimated LOI (length of interview). The new, additional AI features will lean on Gen AI and Synth AI to offer survey creation tools, automated project summaries, and more. With this announcement, quantilope is becoming the only research platform to blend market-leading advanced methods and AI technology - enabling researchers to unlock data they can trust, easier and faster than ever before.


"Over the short and long term, quantilope is reshaping market research through practical applications of AI that finally solve the age-old research dilemma of having too many requests for projects & insights with too few hands or resources to complete them," explained quantilope CEO and Co-Founder, Peter Aschmoneit. "Among all of the buzz and anticipation around AI, it's our commitment to seamlessly weave AI tools into our existing platform that naturally fit into the market research workflow and make advanced research methods even easier for researchers to implement into their processes."

With quantilope's expanded set of AI tools, researchers can build new projects and analyze customer feedback with just a few clicks of their mouse. As for the long term, AI will continue to form the backbone of quantilope's platform, further streamlining processes around fielding, data analysis, and data reporting. With this AI transformation, researchers are expected to get 50% of their time back on each project with quantilope - time they can leverage for additional projects or to support other business needs.


To learn more about AI and how quantilope is making the shift to AI to optimize our end-to-end consumer research process, get in touch below!
Get in touch to learn more about quantilope's new set of AI features!