Blog
//
quantilope
//
2023-23-08
How To Improve Your Market Research With Automation
(String: https://www.quantilope.com/hubfs/MRX%20Glossary_Automation-1.png)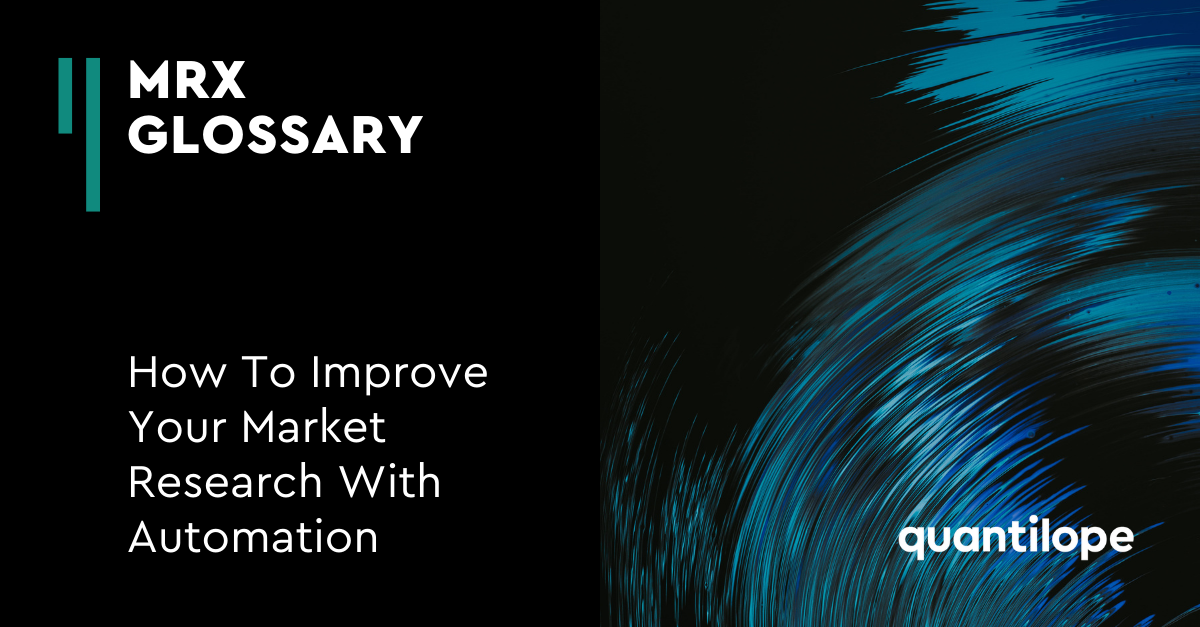 In this blog post, learn how to improve your market research process with quantilope's end-to-end Insights Automation platform.
---
Table of Contents:
What is
automation

and how is it used in

market research

?

Market research automation is the use of computer technology to take care of processes in market research that were previously done manually by humans.

The nature of market research is changing quickly, much to the benefit of insights managers. This rapid change in the industry is largely due to automation. As a researcher or insights manager, why spend time manually sifting through data files when AI-driven computer programs can analyze data automatically and often more accurately?

Rather than taking business issues to a market research agency and having them design a survey, find the sample, collect data, analyze findings, and provide a report, automated research providers are now placing the research into the hands of clients themselves. In transitioning the research process from many department teams or point solutions to a single client team, the process becomes much more time and cost-effective. Further, the closer clients are to the actual research process, the more invested they become in the results and the more actionable it is to stakeholders, with client teams able to speak closely to the data and methods used.

Many market research agencies have been using automation in one way or another for some time, but with machine learning and artificial intelligence (AI) capabilities opening new doors for insights, automation is more versatile than ever - especially with regard to DIY market research tools.

The survey design, programming, sampling, data collection, analysis, and reporting are all built into end-to-end platforms that can handle the full scope of research needs. This creates a 'self-serve' workflow for DIY clients, starting surveys whenever they're ready, and without worrying about bottlenecks from various teams typically part of the traditional research process.

Beyond the simple fact of accelerating the time to insights, automation offers specific key benefits throughout the entire research process that are worth mentioning as well:
Survey Routing
Any research project starts with programming a survey, and automation makes it much simpler to tailor that survey to individual respondents by way of routing. Routing in a survey can be thought of as a hidden map - navigating a particular individual through the survey based on each respective answer choice (i.e. not showing every participant the same list of questions or answer options). For example, if a respondent selects they know of Brand A, they may then be asked follow-up questions about Brand A, while another respondent might only know (and be asked about) Brand B.
Routing is possible without automation, though at the expense of very detailed programming notes that are sent to programming teams (and hopefully) interpreted as intended. However, in this day and age where insights are expected faster than ever, automation makes the routing process much simpler for researchers, removing the need for complex written logic statements such as 'If yes, go to question two, If no skip to question three' which can quickly become messy. Automated platforms apply routing logic with a few clicks of a mouse, and typically with guardrails in place.


Automated Advanced Methods
Market research comes in many forms, with countless different business questions to be addressed. Automated methodologies are just as varied, but many are quite complex - requiring a detailed background in research or statistics in order to leverage them.
With automation, technology takes over the processing and verification of advanced method data, meaning clients of any skill level can apply advanced methods to their research studies on their own (or with little help). This opens new doors for clients who previously could only run basic usage and attitude studies. For example, automated segmentation can split target groups into actionable consumer profiles, automated Key Driver Analysis can help explore the reasons behind decision-making, and automated pricing methods such as Price Sensitivity Meter or Conjoint Analysis can help better understand price perceptions - all without any statistical background required.


Automated data collection
Online panels are abundant these days, making it easy to find the right target audience from available panel respondents. Not only is it easy to find the appropriate respondents for your survey, but it's also easy to send out and capture data through automated tools. End-to-end research platforms have embedded panel sections where researchers can set up their sample and watch data collection as it progresses in field.
As researchers monitor field, they can apply automated data cleaners so that respondents are filtered out as needed - removing the need for manual data checks or back-and-forth communications with a data processing team.
Having direct access to data with automated data cleaners means brands can capture customer data anytime, anywhere, on any device with an internet connection (such as a smartphone) - with responses immediately recorded and analyzed through automated survey platforms.
Automated

data analysis
Machine learning programs have the power to combine large amounts of data very quickly, categorizing responses, subjecting them to statistical analysis, and cutting the data in whichever way is most useful for a client's story. Compare this with a traditional research provider's process of sending the final data to a data processing team, validating the results, sending it back to the client team for review, and undergoing several rounds of tabulation requests, only to then start on the analysis.
With data analysis automation, clients can begin analyzing the results before the fielding process even concludes, thus expediting the time to a final dashboard or report for stakeholders.
Automated, flexible reporting
Every stage of a research process holds an important weight, but what stakeholders really care about are the final consumer insight deliverables. Automated reporting processes quickly bring data to life through live, interactive functionalities - such as dashboards.
Instead of charts containing findings set in stone in a slide deck from a particular point in time, automated deliverables with live charts are created at the touch of a button, updated automatically with new data, and can be shared across the organization with stakeholders.
This automated way of reporting reduces the time needed to build charts from scratch, as well as the close attention needed to manually apply statistical testing; instead, automation takes care of it behind the scenes, allowing the researcher to focus on the actual story and insight from the data.


Learn more about quantilope's use of AI for automated survey setup, analysis, and reporting:

When to use market research automation
It's pretty hard to avoid automation in market research these days, particularly in quantitative research. There may be times with qualitative research when it is preferable to meet respondents face-to-face - for example in focus groups, or when conducting spontaneous research at events - but as a rule of thumb, automation makes research quicker, more reliable, and more flexible.
Self-service automated research brings a greater level of autonomy to the research experience. Using an online platform, clients can take more control of their research studies, using automated processes to gain insights that make a real difference to their business. There's no need to contact a research agency, brief researchers, or discuss survey design in length; clients can take their business knowledge straight to the online research tool and input their survey questions, select a sample, and view the research findings in real-time. This is particularly useful when time is of the essence, with a quick turnaround needed for a business decision to be made.
Customization in automated

market research
'For some, 'automation' might bring to mind a standardized one-size-fits-all offer, when in reality automated platforms are anything but. Automated platforms actually make it easier than ever to tailor and customize a research survey.
With direct access to automated research tools, researchers can make customized changes up until the moment of launch. Throughout field, researchers can also begin to customize their reporting using (for example) brand colors and personalized logos so that the final deliverable is unique and reflective of their organization. Compare this to templated surveys and report decks from traditional agencies, which are much more difficult to adjust on the fly.
Benefits of
market research
automation
Summarizing the benefits of automated market research, it comes down to accuracy, productivity, and agility.
Accuracy
Automation in research means insights are delivered faster and with a higher degree of accuracy. This is due to forgone time-consuming manual processes during survey programming, data cleaning, chart creation, and reporting - all of which can lead to human eye oversights (things automated machine-learning algorithms don't miss when it comes to data quality).
Productivity and efficiency
Moving to an automated research process allows researchers to get more done, faster. Time is valuable in the research space in order to keep up with the rapid pace of change in the market. In shifting to automation, researchers can streamline their workflows to focus on crafting an actionable insights story for their stakeholders, not on mining through data files and building charts.
Agility
Sometimes objectives of a research study can change rather abruptly, and having an automated end-to-end platform allows researchers to adjust their research findings with agility. With direct access to a survey, researchers can quickly add new questions or answer options before going live - without the need to communicate back and forth with a middle-man. The reporting process also become much more agile, with live interactive dashboards updating automatically as new data comes in, and with the ability to continually add new charts to a dashboard without having to send around versions of a file.
Automated market research does work - just asked anyone who has used it! The extensive development of automated processes over the past couple of years takes all the great practices of traditional, manual research for efficient, accurate, and reliable research projects. Many companies today wouldn't be able to do the level of insights work they do without automation.

Beyond the technical capabilities of automated methods and processes, automated market research simply makes sense for the way businesses operate these days. Designing products and services, bringing them to market, and advertising all happen at a faster pace than they used to, so market research has to keep up. That's where automation comes in, quickly gathering consumer views and feedback to shape how products are created and marketed. Businesses can no longer wait weeks to know if they should add an idea to their product lineup or go with a certain advertising campaign. Automated surveys can now be launched at the drop of a hat, and are flexible enough to be amended at short notice. The convenience and versatility of automated market research has been a real game changer for the industry.
Back to Table of Contents

Automate your research quickly with quantilope
quantilope offers an end-to-end automation platform that is transforming the market research industry with a variety of automated survey tools. The user-friendly platform offers features such as comment tagging, a live field progress view, real-time charting, and live data visualizations that update automatically with any new changes. Each client's study through quantilope's Insights Automation Platform is unique to them - including a customizable library of survey questions and methods as well as customizable dashboard reports.
quantilope's intuitive, automated features make it so that users of any research background can run DIY studies, yet always with direct access to a team of certified research consultants for questions and guidance as needed. For users who are more comfortable and actually prefer raw data exports, quantilope's platform is also equipped for excel and SPSS data downloads.
Beyond a wide array of quantitative automated tools, quantilope also offers its new qualitative video solution: inColor. inColor leverages video communication, asking participants to respond with videos answering survey questions. Automated machine learning algorithms then transcribe these video results and automatically categorize a respondent's emotion, sentiment analysis, and keyword trends.
Be it automated quantitative or qualitative research, quantilope's certified consultants are your strategic partners through any research need. Check out quantilope's automated research process to learn more on how to leverage the platform's quick, cost-effective, agile research that puts researchers in control of key business decisions.
To talk more about how quantilope's end-to-end automated platform can improve your market research efforts, get in touch with us below:
Get in touch to learn more!