Blog
//
quantilope
//
2023-08-03
How To Bring Tracking Research In-House
(String: https://www.quantilope.com/hubfs/MRX%20Glossary_in-house%20tracking%20research%20.png)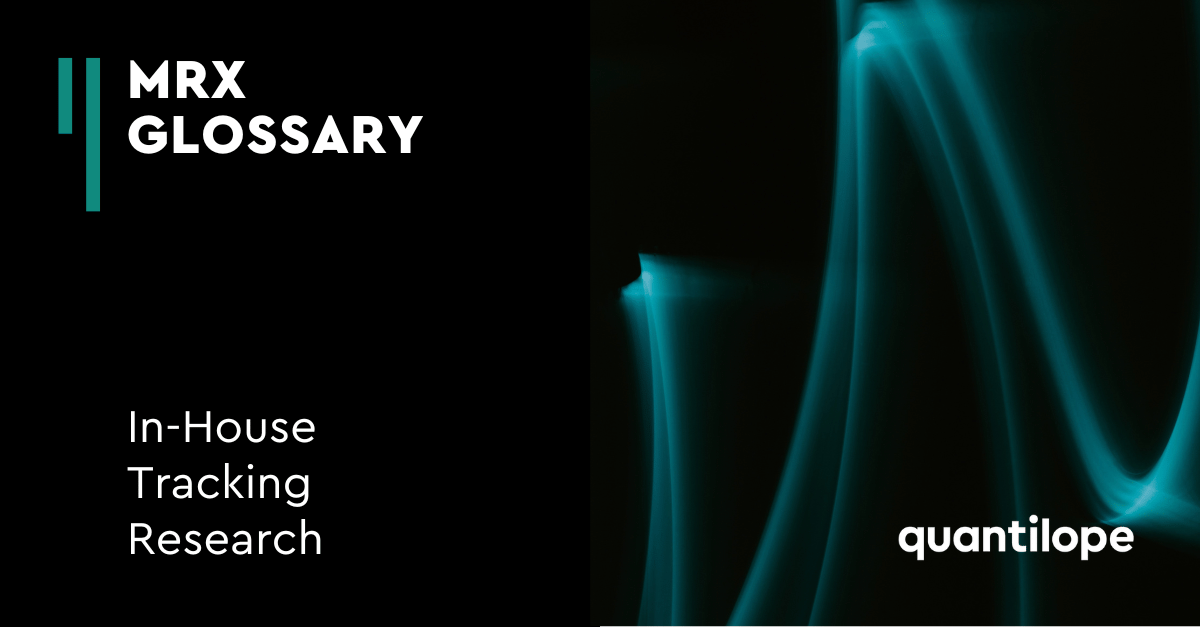 Tracking research is the process of running iterative waves of the same research study to track metrics over time as benchmarks. Tracking is one of the most valuable tools you can leverage for your business, though it can seem daunting, time-consuming, and expensive to set up. This blog post walks you through how to bring your tracking in-house to save valuable time and money, yet still capture crucial tracking metrics over time.
---
Table of Contents:
What are the differences between agency and
in-house

tracking?

Tracking studies often include questions about key metrics for a business, whether that be awareness, customer loyalty, customer experience, market share, and so on. Beyond this basic understanding, there are several types of tracking studies - depending on the need for insights.

Brand tracking studies will focus on questions around brand health - such as brand awareness, brand perceptions, brand associations, brand equity, brand loyalty, etc. Category tracking studies will focus on category consumption as a whole. Ad campaign trackers will monitor the success and performance of marketing campaign materials. Consumer trend trackers focus on consumer behavior, attitudes, and trends. Customer satisfaction (NPS/net promoter score) trackers monitor the likelihood a consumer will recommend your brand, product, or service to others. You get the idea - you can track just about any metric, in any industry, big or small.



Regardless of the type of tracking study you run, you have two main choices as to how you run it: outsourcing to a research agency that will own the tracking for you, or, taking a DIY approach and running your tracking in-house.



When outsourcing a tracking study, you'll work with an external team of researchers who will own the questionnaire programming, panel communication, field monitoring, data analysis, and reporting. All these steps are often siloed into different teams of the agency, each with its own timeline and associated costs. This tends to lead to the common misconception of tracking studies as time-consuming and quite expensive. The good news? Brands now have other options when it comes to tracking: automated DIY research platforms that bring tracking in-house for on-demand insights. In-house tracking removes the need for external teams, back-and-forth communications, and the long waiting period for insights.
Back to Table of Contents
Advantages of taking your tracking
in-house
As an insights team, you're tasked with the important job of capturing ongoing, actionable insights for the business. When you rely on other teams to provide you with these insights, they're the ones dictating the timelines and costs. Years ago, that used to be an accepted aspect of tracking research - something you simply couldn't avoid. Today, that's no longer the case. Regardless of your research expertise, consumer intelligence platforms now make it possible to bring tracking research in-house for real-time decision-making. Below are a few key advantages to in-house tracking:


1. Better control over questions
Does it sound all too familiar to have a consumer research survey ready for field, but at the last minute you notice something that needs to be updated on your questionnaire before setting it live? We've all been there...the color-coded word documents with comments all over the margins.
With in-house tracking, brands can make these last-minute changes to their tracking survey questions directly in their research platform in a matter of seconds without having to email versions of a file back and forth to an external agency team. You decide which questions to ask, when you want to go live into field, and how you want to analyze the results. When it comes to creating a tracking survey that will inform stakeholders of key brand metrics, why leave it in the hands of someone outside the business?


2.
Real-time

tracking

Who has the luxury of waiting weeks for results? You need insights and you need them fast. With in-house tracking through an automated research platform, you can start to analyze respondents' feedback in real-time as soon as they complete a survey. The benefits to real-time tracking are two-fold: the first obviously being speed to insights, and the second being the opportunity to quickly make adjustments to a study based on real-time consumer feedback or events.



Say for example you're ready to launch your second wave of a tracking study but a new trend or article pops up in the news that's relevant to your insights tracker. Within your automated platform, you can instantly add a new question, test the logic, and get into field without delaying your next tracking wave.


3. Lower costs
External agency costs can add up quickly. Agencies are charging for each individual team's contribution to the survey while often using traditional approaches - all of which can be done in-house for far less. Saving budget on your in-house tracking research creates the opportunity for even more waves of your tracking study...and more frequent research leads to more timely insights. Trust us, your stakeholders will thank you!
Back to Table of Contents
How self-service platforms enable the future of in-house tracking
Market research is no longer reserved for large corporations with vast research teams and seemingly endless budgets. Self-service platforms now empower research teams of all sizes and skill sets to capture real-time tracking data, in-house. With features like survey templates, field transparency, custom variable creation, and live insights dashboards, tracking research is much more accessible and flexible today than in years past. Don't shy away from a brand tracker or other form of tracking study based on previous agency experience. Try a self-service platform and take charge of your own in-house tracking.
Make the most of your tracking research with quantilope
quantilope's consumer intelligence platform is your tool for building a strong brand through tracking research. With an intuitive platform setup, end-to-end ownership of your market research, real-time insights, and the option for qualitative and quantitative methods, you'll capture actionable tracking data among your target audience and answer important stakeholder questions in a matter of days. Set up each wave of your tracker with a few clicks of your mouse, and watch trended data charts automatically update with new respondent feedback.


Ready to start your own in-house tracking study? Get in touch below!
Get in touch to bring your tracking research in-house!