Blog
//
quantilope
//
2023-23-02
5 Reasons To Consider Self-Service Market Research
(String: https://www.quantilope.com/hubfs/MRX%20Glossary_Self-service%20research.png)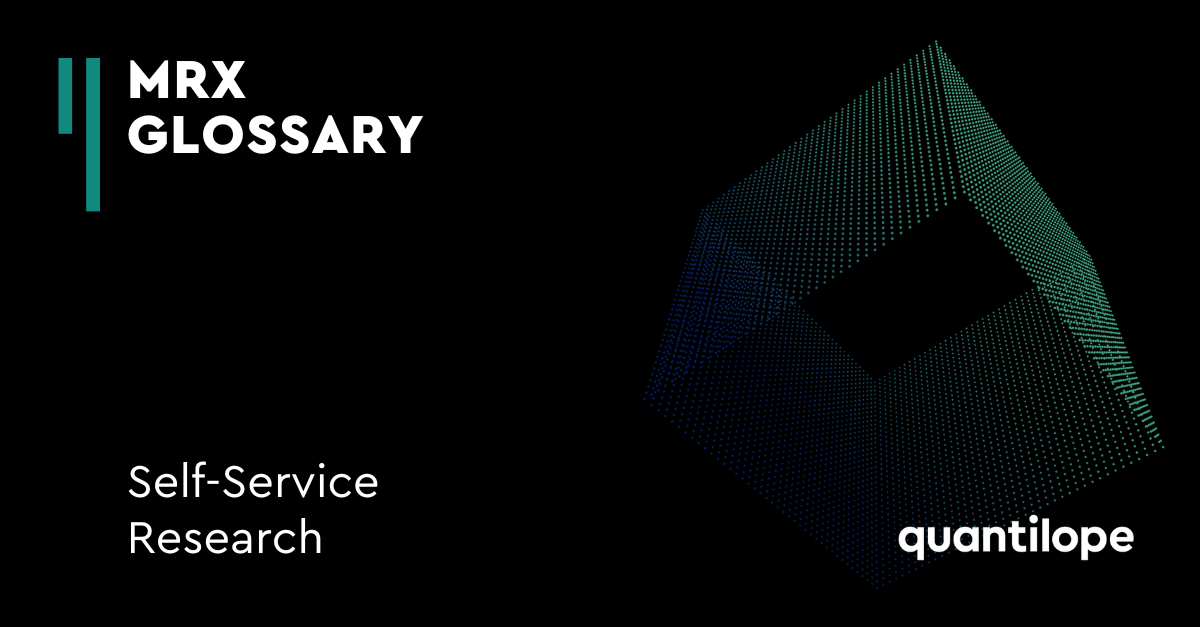 Market research has been around for decades, but traditionally it's been done by third-party agencies that have siloed teams, each with a different area of focus. With recent technological advancements, self-service online research platforms are an increasingly popular option for insights professionals. In this blog, we look at the reasons why DIY research could be a good fit for your business.
---
What is
self-service

market research

?

Self-service market research is a DIY approach to gathering consumer feedback. Traditional market research agencies typically receive a brief from a client, write the questionnaire or discussion guide (with or without help from the client), recruit the sample, conduct fieldwork, clean the data, analyze the data, and then send a final report with the findings. This process can take months and comes at a high cost to account for all those individual teams' contributions.

With self-service market research, insights teams can cut out the middle man (traditional agency or freelance researcher) to stay in control of their own research process from start to finish using an online DIY market research platform.
Reasons to consider using a
self-service
market
research
platform
Self-service market research is a flexible way of integrating research into a business's everyday activities. Access to a research platform that can launch studies at a moment's notice means businesses no longer have to wait weeks or months for answers to their pressing questions; if a need for research pops up, a survey can be drafted and launched in a matter of hours. This makes for a consumer-centric business model - one that is constantly in touch with market trends and highly responsive to customer needs. Not to mention the best part...it's also cost-effective! Self-service platforms will range in payment structures, but removing the need for client management and other various teams is sure to spare you some valued budget.
Looking for additional reasons to adopt a self-service platform? Below are five other key benefits to leveraging this kind of research platform for your insights needs:
1. Customize your research
Self-service platforms put you in the driver's seat of your research project. You decide how the study is designed, which questions to ask, which automated research methodologies to use, and which audiences to reach. Programming self-service surveys allows you to design your custom questionnaire exactly the way you want it. Many DIY platforms make the programming process simple, with drag-and-drop functionality to build questions into a survey instantly. Many platforms even offer pre-built survey templates to provide a base of relevant questions to ask for certain types of research studies.
Beyond the initial setup - using a template or building from scratch, DIY market research platforms allow a user to further customize however they need in order to fit their unique business objectives. Whether that's a question's wording, the number of questions asked, additional follow-up questions, or the incorporation of brand colors and logos, self-service users are in complete control. The best part? No back-and-forth, color-coded word documents to keep track of; simply make your edits directly within your survey platform.
2. Own your data
With traditional research agencies, insights teams rarely have direct access to their data. Instead, it's collected through a panel provider, passed to the agency's data processing team, and then sent along in a large cross-tab file.
That's not the case with self-service providers. With DIY platforms, users see all data collected from their sample from the moment it's available. They can cut this data however they like, create custom variables in a matter of minutes, and never have to put up with delays in emailing back and forth with a data processing team. Data that might not be relevant to a particular business question may be useful down the line, or beneficial to another team, and self-service platforms make it easy to access and share that data internally; simply add new users to a research project or download a raw data file. With self-service research platforms, you decide when, where, and how your data is used.


3. See your insights sooner
Say goodbye to the days when research projects had a standard eight-week timeframe before results are delivered. This timeframe doesn't work anymore in today's fast-paced consumer society.
With a self-service survey, you dictate the timeline - giving yourself as much (or as little) time as you need to set the questionnaire up and get it live for respondents. Once live, results are shown in real-time as they come in, giving insights teams a head start on their data analysis. Begin to build charts, cut the data among different subgroups, and outline an idea for your final dashboard deliverable. Any analysis charts you create will automatically update with any new data that's collected. Just sit back, and enjoy your data findings!
4. Automate reporting
Automation is becoming a non-negotiable for brands that need to provide stakeholders with real-time insights.
With automation on self-service platforms, there's no need for manual work like data cleaning or statistical analysis. All this is done behind the scenes so a user can focus on the story the insights are telling. Any charts that a self-service platform user began to build during field can be automatically added to a final dashboard or report in a matter of minutes - many of which are live, interactive charts with built-in statistical testing.
Along with standard chart reporting, self-service users also have the power to leverage advanced methodologies such as market segmentation, Key Driver Analysis, Conjoint, and MaxDiff without the need for a separate behavioral science team. As with standard descriptive metrics, all the calculations and analyses for advanced methods are done automatically, making these methods accessible to researchers of any background or skill set. Researchers can add these advanced findings directly to an insights dashboard or report the same way they would any other metric for quick, actionable insights reports.
5. Get noticed
This final benefit is somewhat of a summation of the first four. By expediting the time to capture customized, advanced research findings, you increase the value you bring to an organization at large. When stakeholders are no longer waiting around for weeks for a report, and on top of that you introduce advanced methodologies (all while saving research dollars), that's music to executives' ears.
Additionally, self-service platforms keep insights teams and individuals close to the actual research (not just the final reports). This makes those teams and individuals an irreplaceable asset to the business, as the ones with the deep-rooted knowledge of the questionnaire, methodologies, and data analysis.
Take it from one of quantilope's own DIY clients:


"The benefits [of DIY's] speed and consistency far outweigh waiting for other people to do things...and the other people to do things aren't always the experts in the categories. We can build everything ourselves and we know what to do. It's not as scary as some people think."

- Chris Tate, Senior Manager of Consumer Insights at Pharmavite
Self-service

research with quantilope

quantilope's online survey platform combines the advantages of a DIY approach with expert support, catering to all levels of assistance needed. For those looking to run market research projects entirely on their own, the platform's DIY access makes it simple to capture real-time data at your own pace and own your research project from start to finish. For those looking for a bit more consultative help, quantilope's assisted service offers client service support as needed, whereas a fully managed project offers complete customer service support from beginning to end.

To find out more about how quantilope can bring research directly into your own hands and into the boardroom, get in touch below:
Get in touch to start owning your research process!