Blog
//
quantilope
//
2023-08-02
The Top 6 Consumer Trends To Watch This Year
(String: https://www.quantilope.com/hubfs/insights%20blog%202023%20trends.png)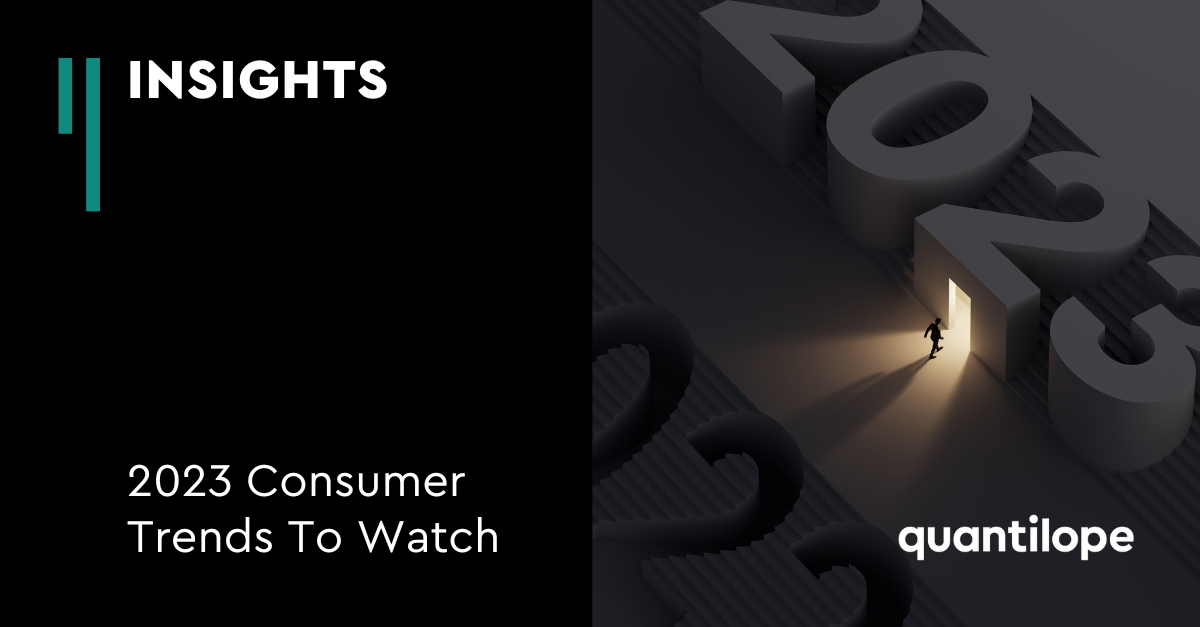 We're now officially well into the new year, so what better time to do a final reflection on the consumer trends of last year, and look ahead to 2023?
---
A brief reflection on 2022 customer trends
It's hard to think about the past year without thinking of how inflation impacted both retailers and consumers. Inflation limited what consumers could buy (and how much of it) which in turn made retailers pivot their pricing and packaging strategies to try and maintain profits. 2022 was also an important year for retailers to regain brand loyalty after an abnormal few years of navigating unfamiliar territories such as the pandemic, new ways of shopping, and the added obstacle of inflationary costs.
Whether related to the pandemic and inflation or not, the past year also emphasized the power of social media selling, online shopping, and e-commerce business models. If anything was apparent, it was that consumers wanted the trendiest items and they wanted them fast - even coining the phrase 'TikTok made me buy it'. In 2023, we don't see social selling and the digitization of products going anywhere - but let's look at some of the other trends brands should keep an eye out for this year.
The top six customer trends to look for in 2023
1. A focus on ethics and
sustainability
With increased discussions around climate change (regardless of your stance on it), there is a large portion of consumers who will be committed to more sustainable shopping in 2023 and beyond. Sustainability goes beyond the forgoing of single-use plastic packaging - consumers want sustainable products as a whole. Keep this idea in mind during your product innovation cycles. Is the ingredient source for your product ethical and sustainable over time? Is the packaging of your product reusable or recyclable? These choices will impact how consumers view your brand and what it stands for, helping or hindering brand loyalty.
Some businesses might view this shift to a more sustainable supply chain as expensive and something they'll have to pass onto the price of their goods; the good news is that 66% of consumers are willing to pay for it.
2. A new era of DTC
You may have heard that DTC (direct-to-consumer) shopping is dying. Good news: it's not - in fact, it's now table stakes to maintain relevance and competitiveness in your industry. What is changing, however, is where to reach (and connect with) your consumers.
Consumer behavior seems to creep more and more toward connected brand experiences. Consider razors sent to your doorstep, glasses frames you can try on at home, or a car rental service that personally drops a vehicle off right at your doorstep. In 2023, we'll see more brands reaching consumers beyond just directly shipping to their doorstep.
It's the brands that focus on optimizing their shopping experiences across many forms of direct sales channels that will win consumers over. Consider shoppers who prefer a social media 'swipe up' link for convenience compared to a shopper who likes to physically touch and feel a sweater before buying it, or personally get help from a sales associate in-store. And then compare those types of shoppers to someone who likes to browse all their options on an e-commerce site from the comfort of their own home, yet with access to a brand representative for questions. All these points of contact look different, but each is a valuable opportunity for a brand to connect with consumers through an omnichannel approach.
We're not saying third-party mass retailers like Amazon are going anywhere - consumers love efficiency and convenience. However, brands that sell directly to their shoppers have a chance to stay closer to their customer journey, build customer loyalty, save profits previously shared with third-party sellers, and generate a more personalized online or in-store shopping experience (more on that below).


3. Increased use of subscriptions and services
Many brands offer subscriptions as a way for consumers to save money on recurring orders while committing to repeat sales for that brand: a win-win. Because consumers in 2023 will still be recovering from the effects of inflation, and even possibly the lingering effects of the pandemic, saving money on frequently-bought items through subscriptions could be the winning ticket. Additionally, many subscription services provide exclusive benefits such as added discounts for subscribers, early access to new items, or free shipping, all of which further incentivize customers to use them.
Subscription services aren't just for basic item cost savings like paper towels or laundry detergent. Today there's a subscription for just about everything: from food - such as DashPass, makeup - such as Ipsy or Birchbox, clothing - such as Stitch Fix or Rent the Runway, coffee - such as Cometeer or Trade, wine - such as Bright Cellars, crafting - such as KiwiCo or Cratejoy, and so on...(really, we could go on for days).
Whether consumers will lean toward subscriptions for cost savings, to be more intentional with spending, to support small businesses, or just for fun, this is certainly a trend to watch in 2023.
4. Continued importance of personalization
With such an overwhelming number of product offerings, consumers will be looking for brands and experiences that tailor to their individual needs and wants. Personalization can help businesses build those strong relationships with their customers, create more engaging content, and ultimately increase sales. A focus on personalization can also provide valuable insights into consumer behavior trends, consumer expectations, audience demographics, and more.
Take for example care/of vitamins. We don't need to be the ones to tell you that vitamins are nothing new or groundbreaking. How many times have you passed the vitamin aisle, subconsciously picked up your familiar bottle or brand, and moved on with your day? Care/of didn't create anything new - they personalized it, creating a vitamin pack specialized to one's own needs, with their name printed on the front of every packet. Oh, and did we mention it's a subscription? (see section 3, above).
Personalization is an essential part of the modern marketing mix, enabling companies to reach the right customers, at the right time, with the right product and message. With personalized marketing strategies in place, businesses curate unique experiences for each customer that will keep them coming back for more.
5. More immersive experiences with AR and VR
Augmented Reality (AR) and Virtual Reality (VR) are two technologies that some may be sick of hearing about by now; bad news for those folks, these aren't just buzzwords and they're not going anywhere — if anything they'll continue to grow. That's because AR and VR transform the way consumers experience the world around them, and as consumers are spending increased time at home, those exciting world experiences are more appealing than ever.
With AR, users can view digital objects in the real world, while with VR, users can explore virtual worlds and interact with digital objects as if they were in a real-life environment. By combining these two technologies, companies can create unique experiences for their customers that will help them engage with their products or services in an entirely new way.
6. Flexible payment options
Customers want to be able to tap their phones, watches, or cards at checkout. In other words, shoppers want flexible payment options to pay in a manner that's most convenient to them.
This customer experience trend involves online stores as well; it's no longer enough to offer credit or debit payments. Consumers now also want the option to pay with services such as Apple Pay, PayPal, or Google Pay as well. Some consumers may never even dig their card out of their wallet - if they can't quickly checkout with a mobile payment service like the ones mentioned above, they're more likely just to close out the transaction altogether than go hunt down their card number.


When brands offer these flexible payment options, they increase the likelihood that a consumer will convert to a transacting customer. And since many consumers are shifting to shopping online, this will be a customer trend to watch in 2023.
How brands can respond to customer trends
To stay competitive and successful, brands must be able to respond quickly to consumer behavior trends and ensure that their customers' needs are met.
To do so, brands need real-time customer data that provides support to anticipated trends. Technologies such as data automation platforms allow brands to capture insights, stay ahead of the competition, maintain customer retention, and stay relevant in the 2023 market (and beyond).
Get in touch below to learn how you can set up a market research study to monitor these consumer trends for your own business over the next year.