Blog
//
Insights Team
//
2022-22-09
Tuning In to Streaming and Social Platform Insights
(String: https://www.quantilope.com/hubfs/Q%20-%20Marketing%20internal/Blog/imagery/insight-studies/Streaming%20&%20Social%20Platforms%20Study.png)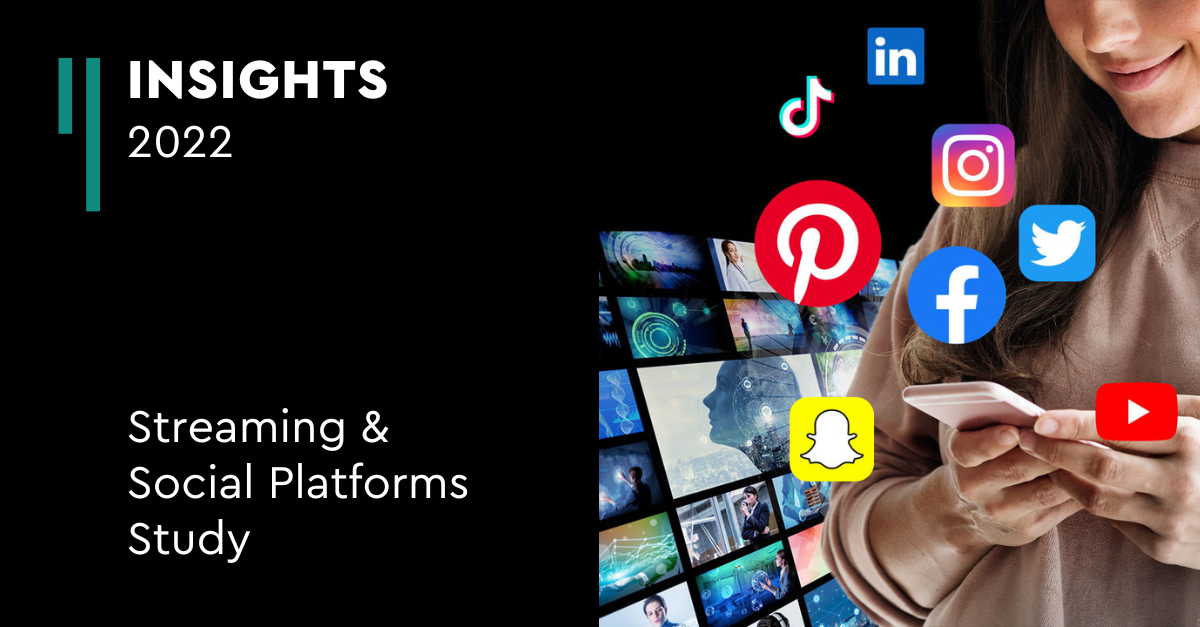 quantilope's new Streaming and Social Platforms Study surveyed 3,000 consumers in the US, UK, and Germany to reveal behavior patterns & trends across platforms.

The Streaming and Social Platforms Study, broken into four main sections: Media Consumption, Streaming Media, Social Media, and Media Advertising, aims to provide brands with an understanding of where consumers are willing to spend their money, where they've cut back, and where they might be considering cutting back in the near future.
To truly understand the minds of consumers, quantilope leveraged an Implicit Multiple Association Test (MAT) to tap into their subconscious attitudes around 8 major social media platforms: Facebook, Instagram, LinkedIn, Pinterest, Snapchat, TikTok, Twitter, and YouTube. Implicit research captures gut reaction to stimuli, based on the speed of reaction and order of item selection, for the most unbiased reading of consumer metrics around a brand, product, or category. This study's MAT presented a series of associations to consumers (such as 'lame', 'addictive', 'mindless', etc.), and consumers were asked to select which of 8 major social media platforms that association 'fit' with.
Using automation, quantilope's platform analyzed these reaction and selection times to produce an association map of the findings (as shown below). The example below of US findings shows where US consumers 'over-index' on associations with each platform (aka, where associations with a platform are stronger than average). The closer an association's dot is to a platform, the stronger that association is. Similarly, the closer two platforms are positioned on the map to one another - the more similar they are perceived.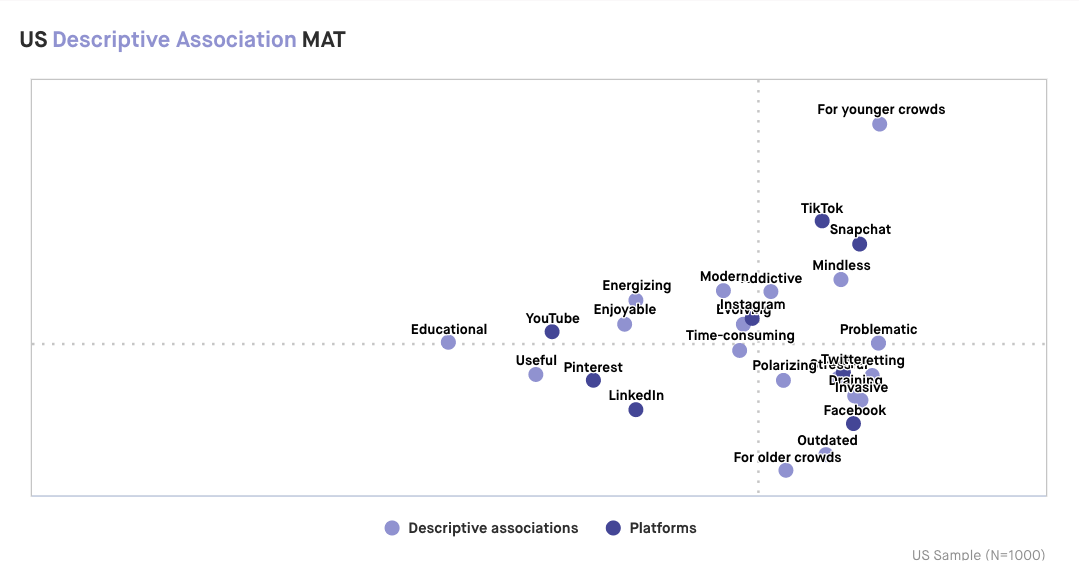 Based on the map above, Facebook can deduce that US consumers view them as 'outdated', 'draining', 'invasive', and 'for older crowds' - similar to how they view Twitter. Meanwhile, Pinterest and LinkedIn can deduce that they are a 'useful' platform, while TikTok and Snapchat are similarly 'mindless'.
Along with these implicit findings, all other Streaming and Social Platform data can be found by accessing the complete insights dashboard below. The dashboard's data includes findings on how many consumers across each market have cut TV/Video subscriptions in the past, who is planning to do so in the next 3 months, where consumers are accessing their news, how willing each generation is to pay to skip over ads (and how much they're willing to spend to do so), and so much more. Access the dashboard below which also includes links to market-specific dashboards for each market:
Access the Streaming and Social Platform Insights Dashboard!