Blog
//
quantilope
//
2022-03-08
Brand Strategy Questionnaire: 12 Questions To Ask When Developing a Brand Identity
(String: https://www.quantilope.com/hubfs/MRX%20Glossary_Brand%20Identity.jpg)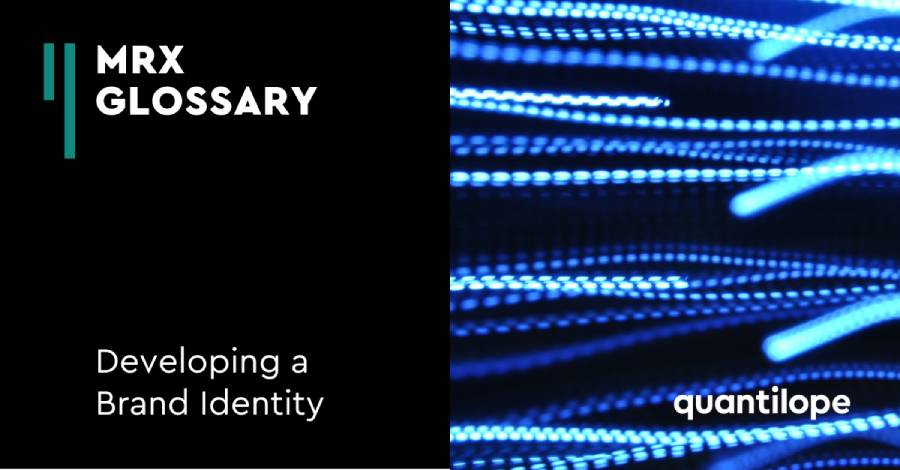 In this post we look at the importance of brand identity as part of an overall brand strategy, and how brands can use market research to shape and hone their identity.
---
Table of Contents:
What is a branding questionnaire?
A branding (or, brand strategy) questionnaire is a set of questions that companies should ask their target consumers to create a blueprint for their brand. It's a way of pinning down what a brand is all about, almost like DNA -what makes the brand unique. A branding questionnaire is a great way to focus and decide on what you want to communicate about your brand internally, to your customers, and to any third parties who work with you on your branding or marketing strategies.
Why

do I need a branding questionnaire, and what is brand identity

?
As mentioned above, a branding questionnaire is your means of narrowing down your business focus to the elements that are most important to your customers. Without one, you'll be left to make a guess as to which products, services, features, packaging, or design elements your consumers value - which could either be a lucky guess or a major flop; so why leave that to chance? Ask your target audience directly what it is they value from your brand and craft your brand strategy accordingly.

From the biggest and most famous brands such as Nike, Apple, and McDonald's to smaller, local shops, brand identity helps customers decide what they buy and who they buy from. Customers need to decide whether they will put their trust in a local window cleaning service just as much as they need to decide which big-name sportswear they will purchase. A brand identity encapsulates a brand's values, personality, and overall 'brand voice'. It represents the brand as a whole in a certain tone, communicating to target customers what's important to the brand and what they can expect from it. It also serves as an anchor for everything a company does, so that it can be referred back to at any point to ensure strategic decisions are in line with the foundational brand identity.
In a world where countless brands compete for market space, forming a strong brand identity creates a better chance of standing out. Creating an identity for a new brand is equally as important as refreshing an identity for an existing brand; it's never too late to take a look at what's at the heart of a brand and see if the core values or messaging around it can be improved.
How to create a branding questionnaire to solidify a brand identity
An effective brand strategy questionnaire will include all the questions needed to create a comprehensive profile of your brand in terms of voice, personality, and values.
The most efficient way of creating a branding questionnaire is through an online survey platform. A good platform will have a template that contains the most common and useful questions for a brand identity survey. It will also have a survey builder that allows you to easily drag and drop questions into your own questionnaire to make it unique and customizable to you.
To supplement your questionnaire, you may also decide to conduct other consumer research to understand how your customers' perceptions of certain elements of your brand fit with the perceptions you were aiming to achieve. This might include logo design research, a brand awareness study, brand tracking, and/or concept testing - if you are considering rebranding or want to identify which propositions are most important to your target audience.
Top 12 questions to consider when building your branding questionnaire
There are some essential questions to keep in mind when building a branding questionnaire. Every branding questionnaire will be unique, as each business and corporation is unique.


Ask yourself these questions when drafting your branding questionnaire to help guide actionable insights:
1. What's your brand's story?
Marketing and branding are all about stories. They are at the center of every brand's proposition and they are responsible for building engagement with the target audience. Within this question, you need to answer what the brand's literal story is - how the company or product started, what's behind the company name, how it developed along the way, what has made it the brand it is today - as well as the story that you want the brand to tell its customers. Which adjectives would you use to describe your brand? What is its personality? What is the brand's purpose? What does it offer the customer? Why should customers buy into it?


2. Who is your ideal customer?
Customers are becoming more responsible than ever for shaping a brand's identity. No matter how much you put into creating the identity, customers will recreate it based on their own experience of the brand and will perpetuate their perceptions via social media and other interactions they have with people.


Knowing who your customers are and who your ideal customers are (based on previous market research, or on knowing who you hope to target with your brand) will help reveal what your brand needs to do to appeal to them. Knowing this will help inform brand personality, values, and communications to effectively reach these people. Learning more about your target customers can also inform which media your customers use the most, what they will do to help spread the word about your brand, and which channels to invest in for the highest audience engagement.


3. Who are your main competitors fighting for customer loyalty?
In addition to knowing who your customers are, knowing which brands you're up against is just as crucial. You will need to know the rules of the category - what works, what doesn't, and what customers expect from it. Within the competitive area, you'll need to know which brands are most successful and why. This will tell you which parts of their strategy your brand should emulate or build upon, or where your brand can offer something different, which leads into...


4. What is your unique selling point (USP)?
What does your brand have that no other brand does? This might be hard to pin down in a crowded category, but there is always something that a brand can claim as its own. It might be your business' ethos - perhaps efficiency, environmental credentials, or striving for excellence - or more practical or visible benefits like cleaning power, taste, or some other aspect of performance. Whatever it is, this aspect that sets your brand apart should be at the core of your messaging.


5. What is your long-term vision for your brand identity?
You might have a good idea of where your brand is at now, but how do you see it progressing? Will it stay the same, build upon existing values, or develop new ones? Knowing the direction of travel for your brand will help you to establish what you need to do now to lay the groundwork and prepare your target audience.


6. What do you like about your current brand identity?
It's good to identify what you like and what works amongst your customers, as these elements of your brand should remain stable over time to build loyalty. Make sure to distinguish though between what you like and what your customers like, as these might not always be the same things and, as all good businesses know, the customer comes first.


7. What do you dislike about your current brand identity?
There may be some parts of your identity that used to work but don't anymore. They may have become outdated, or the competition might have changed the landscape and certain characteristics of your brand just aren't relevant in the new market setting. Again, check with your customers before you remove any elements that, to them, might be central to your offering.


8. How do your current logo design and branding efforts communicate your brand identity?
Having determined your brand values and personality, also be sure to examine whether your logo and other branding devices are in line with what you want to communicate about the brand. For example, if you want your logo or web design to imply a brand that's modern and fun, are the current design elements getting this across? Are the color themes holding it back? Consumer research can be invaluable here; launch a survey to explore your existing logo and any alternatives, evaluate your website, and get reactions to your advertising concepts or ideas.


9. What logo designs and other brands inspire you?
Identifying other logos and brands that you love - whether within or outside the category in which your business operates - can bring inspiration to your own brand's visual identity. Consider what it is about that branding that you admire; are you drawn to a clean design, smart lettering, good use of color, or something else? How do those logos relate to the brand that they represent?


10. Which fonts best represent your brand?
Some fonts are traditional, some modern, some intricate, some subtle...the number of fonts available is endless, so narrowing down the words you would use to describe your brand identity should help you decide which fonts suit it best. If you're a delivery company, you might want to use a font that suggests an element of speed while a mattress company might choose one that implies calm and relaxation.


11. Which colors do you want to make up your brand design?
We know that colors can provoke emotional reactions in people and it's worth looking at the semiotics involved here to decide which colors will best communicate the feel of your brand. Speed and urgency might mean that red or orange are featured prominently in your branding materials; purple or blue might be good choices to convey calmness and relaxation.


12. What is your brand voice?
Having thought about which separate visual elements would work well for your brand and what your unique selling point is, think finally about how your brand would speak if it could. Is it reassuring? Bubbly? Confident? Caring? This will guide the tone of your communication. Using personification techniques in market research can help establish how customers perceive and think about your brand.
Summary
Establishing a solid brand identity using a brand strategy questionnaire can be a central pillar of your branding and communication approach. It means knowing your brand and sticking to its most important values - otherwise, brands can start to drift and become shapeless.


quantilope can help with all your branding needs, from brand monitoring to establishing a brand identity. Its intuitive online survey platform allows you to build a brand identity questionnaire using pre-set templates, as well as create any other custom questions you'd like to include.


To gain valuable consumer input, quantilope has a library of advanced research methods to choose from. Whether it's identifying subconscious associations with your brand, understanding the most/least important elements of your brand offering, or testing communication materials with an A/B test, quantilope's automated survey solutions will give you the insights you need.


Beyond larger-scale quantitative surveys, quantilope also offers a qualitative approach through its inColor tool. Video-based responses bring you face-to-face (virtually) with your consumers, bringing your findings to life with engaging footage. This is a great method for exploring the emotional side of your brand identity in detail.


To learn more about building a brand identity with quantilope, get in touch below:
Get in touch to learn more about brand strategy research!