Blog
//
quantilope
//
2023-07-08
The Best Concept Testing Platforms of 2023
(String: https://www.quantilope.com/hubfs/MRX%20Glossary_Concept%20Testing%20Platforms.png)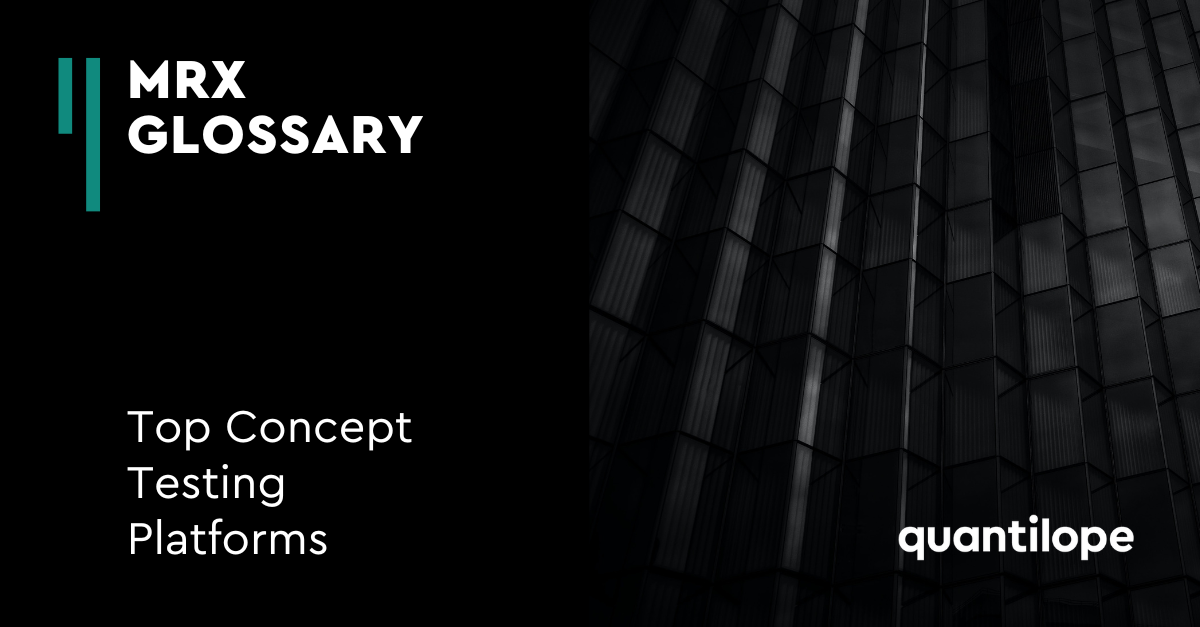 In this blog, we'll look at how concept testing amongst a brand's target audience provides confidence when introducing new ideas to the market.
Launching a new product or service is an exciting step for a business - but it can be risky if there hasn't been extensive market research in anticipation of the launch. The sections below review what concept testing is, why you should use it, what to look for in a concept testing platform (and some top examples), and how to execute your own concept testing studies.
Table of Contents:
What are concept testing platforms?
Online concept testing platforms are tools or software solutions designed to test new ideas, products, services, or concepts before fully developing or launching them in the market. Concept testing platforms let brands gather consumer feedback to gauge the viability or interest in a concept they intend to release.
Concept testing platforms will show respondents (representative of a brand's target audience) an idea or prototype and ask questions on its likeability, usage, features, or anything else the brand would like to measure about a concept before fully committing resources to its development and launch.


For fast concept testing, online platforms are an efficient approach; they play a vital role in helping businesses make informed decisions early in the development process, reducing the risk of launching products or services that may not meet customer expectations.
Back to Table of Contents
Why use a concept testing platform?
We've all had that one crazy idea - a trackable chapstick that's impossible to lose; a sunscreen that turns color when you're starting to burn; a gel that instantly gets rid of a headache. In our minds, we're sure that our new invention will be a runaway success. But while focusing on the benefits, have we neglected to fully think through the negatives?
How much will a tracking device cost to add to a tube of chapstick and will it affect the size or weight of the product? Will a sunscreen that changes color contain harsh chemicals? Will a gel that gets rid of headaches cause an adverse skin reaction? If you don't test your ideas before you go to market with them, you can't be sure how your target audience will react to them.
It might be tempting to trust your instincts and launch without getting consumer feedback - after all, concept testing with traditional market research methods has been known to take weeks. However, concept testing doesn't have to be long and arduous; concept testing platforms make this form of research quick and simple. Whether you have a new product idea, product development questions, alternative designs for a new logo, new packaging designs, or advertising and communication ideas, concept testing helps to refine concepts and identify routes that will appeal to your target market.
Types of concept testing suppliers
When it comes to concept testing research, brands have the option to either use an automated platform or hire a third-party agency. Each approach comes with its own pros and cons, so a brand will have to weigh which solution works best for its unique concept testing needs.

Below are a few areas to consider when choosing a concept testing approach:
Cost:
Automated Platform: Using an automated concept testing platform is generally more cost-effective than working with a third-party agency. Many research platforms offer subscription-based plans or pay-per-use models, making them affordable for businesses with specific project needs.
Third-party Agency: Hiring a third-party research agency to conduct concept testing can be more expensive than a platform approach. These added fees tend to come from service fees per team, the scope of the project (due to manual programming), and the complexity of your study.


Control and Flexibility:
Automated Platform: When using an automated platform, businesses have more control over the concept testing process. They can work hands-on in the platform to design and customize their surveys, connect or link to specific audiences, and access their data results in real time.
Third-party Agency: Working with a third-party agency often means relinquishing some control over the concept testing process. Rather than working hands-on, many agencies will require research teams to go through their client services team to implement survey changes, statistical testing, or reporting requests.


Expertise and Insights:
Automated Platform: Automated platforms take the manual work out of concept testing so that researchers can focus on the results and feel confident in the data they're working with. There is less risk of manual calculation errors or missed statistical testing, given automation takes care of these processes on the backend.
Third-party Agency: Depending on the agency, an agency team can offer recommendations and interpret the data in a way that drives actionable decision-making. However, some agencies may not offer this level of consultancy and simply pass along the deliverables, leaving the interpretation to the client team.


Time and Resources:
Automated Platform: Automated platforms generally save time and resources, as businesses can quickly set up and launch concept tests without the need for extensive coordination between teams or back-and-forth communication with an external agency.
Third-party Agency: Leveraging a third-party agency for concept testing may require more time and resources, as businesses need to collaborate between the programming team, panel team, data processing team, and reporting team, each with its own timeline, objectives, and deliverables.


Customization:
Automated Platform: Many platforms offer customizable survey templates, question modules, and advanced methodologies. Because most platforms are very hands-on, users have the option to customize their research deliverables however they best see fit.
Third-party Agency: Agency processes and deliverables are typically standardized - given the large scale of research projects they take on. This can be limiting for research teams that want a highly customized survey experience, data output, or report deliverable.

In summary, using an automated platform for concept testing is a cost-effective and convenient option, especially for businesses looking for quick insights and customization. The choice between an automated platform and a third-party agency is a personalized one, and research teams should consider specific requirements, budgets, and objectives of their concept testing initiative to choose the best solution.


Back to Table of Contents


What should you look for in a concept testing platform?
When testing new concepts, be sure that the insights will be reliable and actionable. The best concept testing platforms achieve this in many of the following ways:
High-quality sample
The quality of your data is only as good as the quality of your respondents, so it's crucial to find a provider that offers a certified research panel of participants or allows you to use a sample that you trust (from your own database, for example).


Automation
For a quick and seamless concept testing survey, automation is key. The best online concept testing platforms automate every step of the process, from survey templates to build and customize questionnaires, to automated fieldwork, analysis, and reporting. Survey automation also ensures consistency when there are iterative stages to the concept testing process; for example, if there are several versions of the concept that need to be tested in quick succession - or for benchmarking concept tests over time, to learn which elements score most highly.
Interactive Dashboards
When testing new product concepts, logos, designs, or advertising ideas, brands often put several alternative routes (or, backup ideas) into the research as well. It's useful to be able to cut these findings in different ways to visualize the demographics (or other criteria of respondents) who opted for one alternative over another. Interactive dashboards not only allow brands to select certain data charts to show in a final deliverable but also allow brands to explore and visualize differences among consumers by displaying significant changes between metrics.


Real-time reporting
Speed is key when working with concept testing platforms, to minimize the time between concept testing and product launch. One of the ways speed is achieved for concept testing is through automated, real-time reporting. As responses to the online survey roll in, clients can get a preliminary read on the data and see which way consumers are leaning before the survey is even out of field. In some cases, an early read on the data might help gauge how successful a concept will be and if a team needs to head back to the idea phase before progressing any further.


Qualitative research component
Qualitative research adds an additional layer and dimension to quantitative concept-testing responses. Using qualitative research, such as a video research solution, respondents might be shown a concept (or several) and asked to give spontaneous feedback. Rather than hard and fast scoring, respondents verbalize their thoughts on a concept in their own words. This is a great way of identifying which elements of the concept resonate most strongly, which are ignored, and which require improvement. This form of research can also help with marketing and communication efforts around a new concept, tying the type of language that consumers used in their qualitative responses.
Back to Table of Contents
Best concept testing platforms for fast results
quantilope
quantilope's automated Consumer Intelligence Platform offers a variety of advanced, online survey methodologies. quantilope users looking to perform concept testing research can choose from a number of these methods - such as A/B testing or Choice-based Conjoint. These quantitative research methods will help brands understand which concept is most preferrable, and which specific features of a concept respondents are partial to (respectively).


The platform is set up to build a survey from scratch with drag & drop modules, or to leverage customizable, pre-programmed survey templates which ensure that all essential concept testing questions are included within the survey design. To test a concept on quantilope's platform, concepts can be in any state of completion - from simple product descriptions to prototyped package designs. For any concept, the platform allows images and videos to be uploaded as visual stimuli.


quantilope has trusted panel providers for vetted, high-quality respondents of the general population or niche demographics, yet clients also have the option to leverage their own panel or other sample sources - with no limit to how many respondents you can test. Regardless of how clients opt to source their participants, respondents can choose to take the survey on any device they wish, with responses available in real-time on quantilope's fielding, analysis, and reporting tabs of the platform. The research findings are presented through an online dashboard with interactive charts (which can be built in advance and also update in real-time as new data comes in - thanks to powerful automation).


For clients looking to add another layer to their concept testing, quantilope's inColor video research solution offers a qualitative approach to capture keywords, sentiments, and emotions toward a new concept.


Unbounce
For businesses that want to test a concept for a new landing or website page, Unbounce is a tool that enables users to test copy, design elements, call-to-action buttons, and any other aspect of your page that will be visible to viewers. Testing the concept for a new page (be it a product release announcement page, marketing campaign page, or general new website page), ensures that viewers will interact with it the way you hope they will, and notice the information that's most important. With the results, you can fine-tune certain details of your page concept, rephrase information, re-design the page layout, and implement any other helpful feedback from your concept testing data.


Fastuna
Fastuna offers a fully automated concept testing tool with pre-designed questionnaires/solutions for evaluating new concepts. Fastuna users simply upload stimuli, determine the criteria for the target audience, and set the survey live in just minutes.


Surveys are device agnostic, allowing respondents to provide feedback on any device, at any time. These respondents are sourced from a selection of panel providers who fit basic desired criteria (i.e. region, age, gender), with the option to set additional parameters as needed. As soon as respondents provide feedback, their feedback goes straight into a report and can be compared to industry averages. Fastuna offers pricing tiers that include a limited number of respondents per concept idea.


Ipsos Simstore InnoTest
Ipsos's Simstore InnoTest tool allows respondents to evaluate products in a way that mirrors a real shopping experience, yet on a virtual screen. Each participant is first shown a set of products that includes a new concept, although the respondent is unaware of which product the new concept is. After being shown this set, respondents are then formally introduced to the new concept and asked to once again compare and contrast the set of items on a virtual shelf. In combining metrics from both of these scenarios, InnoTest is able to predict the new concept's success in the market. InnoTest can be used to test a brand's own products alone or in a competitive context.


While an online tool, Simstore InnoTest is able to replicate all kinds of shopping environments, both online and offline. And as with other online concept testing tools, the concepts can be tested at any stage of development.
Back to Table of Contents
Test your concepts with quantilope
Concept testing is essential for a successful service or product launch. With quantilope you can eliminate the ideas that don't have traction and optimize those that do, resulting in a refined offer that you can launch into the market with confidence.


quantilope's DIY tool makes the concept testing process simple and quick, with a customer support team of research experts available whenever needed. The end-to-end platform helps hone concepts at all stages of their development process, with the goal to satisfy market needs and improve the customer experience. Automated dashboard deliverables outline actionable insights for stakeholders, with brand tracking capabilities to measure iterative stages of concept testing research.


quantilope is ready to help make your next concept test quick, easy, and actionable. Get in touch below to learn more:
Get in touch to learn more about concept testing!