Blog
//
quantilope
//
2023-27-03
A Guide to Product Category Understanding
(String: https://www.quantilope.com/hubfs/MRX%20Glossary_Product%20Category%20Understanding.png)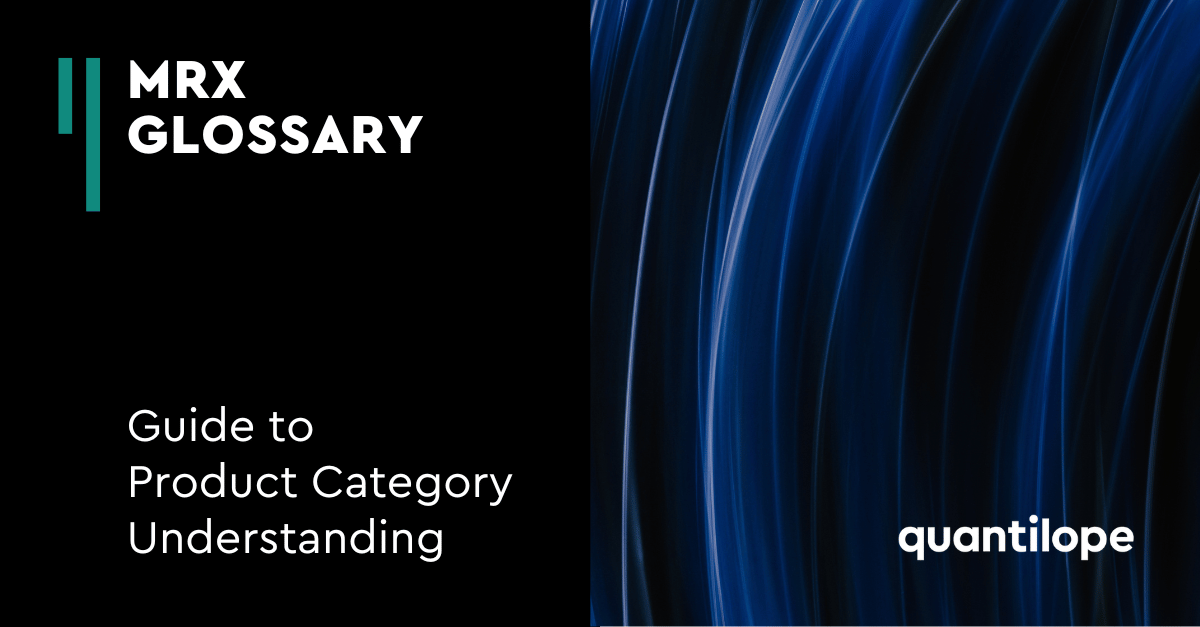 In this short guide, learn what product category understanding is, why it's important, how it relates to other types of analyses, and how to leverage this kind of market research study for your own business.
---
Table of Contents:
What is
product category

understanding?

A product category understanding study (also referred to in this article as product category analysis) is similar to an audit of the various products a company offers, and how those products stack up against other products in the same space. It can include a dive into the features, benefits, perceptions, and applications of products within a category, and how well those product elements meet consumers' needs and expectations.

For example, let's say you're in the business of selling skincare products. To create successful products in this category among all the other skincare brands, you'd need to start with a strong understanding of products in the skincare space - the ingredients, fragrances, consistencies, price points, package design, product claims, and even customer reviews.
Why is
product category

understanding important?

By knowing what types of products are offered in a category, and how well those products are performing, businesses can make strategic decisions that improve their own product offerings, content marketing strategies, e-commerce tactics, digital marketing campaigns, and sales metrics while simultaneously catering to customers' product preferences.



Aside from improving existing products, a product category analysis can also identify white space opportunities for potential new products. While undergoing your product category understanding study in the skincare industry, say you found that consumers preferred a non-fragrant, hydrating, foaming facial cleanser but no products currently have an offering that fits those exact needs. With this information, you're in a position to develop a product with a unique value proposition that fulfills consumers' specific product expectations and win them over as customers.
Back to Table of Contents
Product category

understanding vs.

competitor analysis

Product category analysis and competitor analysis are both strategic tools for businesses to understand their competitive landscape and make informed decisions, though they differ slightly in their focus and scope.


Product category

analysis
Product category analysis focuses on understanding the overall category of products in which a company operates - continuing with our example above, this would be skincare. To understand the skincare category, a product category analysis would capture the size and growth rate of the skincare market, emerging skincare trends, consumers' skincare needs and preferences, and what types of products are currently on the market. With this understanding of the market landscape, a skincare brand can develop effective strategies for existing and future product development, pricing strategy decisions, product features, distribution channels, and more.


Competitor analysis
On the other hand, competitor analysis focuses on the strengths and weaknesses (think of a swot analysis) of direct and indirect competitors that could be fighting for your target audience's business. These are typically competitive brands that offer similar products, but sometimes it's not so obvious.


For example, as a skincare company, you might consider other skincare brands as direct competitors, since they offer the same type of products you're selling. But what about a makeup brand like Sephora? At first glance, you might not view makeup as part of your direct competition, until you remember they also sell a ton of skincare products. Suddenly, this makeup conglomerate is a direct competitor of your skincare brand and you need to consider them as part of your overall competitive analysis, next to small businesses and startups. A competitor analysis would capture metrics around competitors' product pricing, marketing strategies, market share, social media presence, messaging tactics, a competitor's website strategy, and more, with the goal to identify opportunities for differentiation and competitive advantage in your category.


While product category analysis provides a broad understanding of the market, competitor analysis provides a more specific understanding of the competition within that market. Both types of analysis are important for businesses to make informed decisions about their product offerings, product innovations, marketing strategies, and expansion into new markets.
Back to Table of Contents
Leveraging a
product category

understanding study

Knowing what product category understanding studies are, their importance, and how they differ from competitive analyses, how can you put one to use for your own business needs?


Discover your best-performing
product categories
Use a product category understanding study to discover your top-performing products. Many businesses have a set of product lines rather than just one. All those product lines require dedicated budget and resources, so you need to make sure the product's outcome is worth the effort put in. This is where product category analysis comes in - to confirm whether or not the product aligns with current industry trends, consumer needs, pricing expectations, and more. The products that do align with these needs are your top performers. The ones that don't, might be products you decide to discontinue or less heavily promote.


Determine product positioning
A product category understanding study can be a powerful tool for brand awareness and product positioning. Here are the general steps you can follow to use it effectively for this use case:


- Start by capturing metrics around key attributes and characteristics of your product category. This could be survey questions like: "What comes to mind when you think of [product]?"; "What words would you use to describe [product]?"; or "What attributes are important to you about [product]?".
- Next, determine your key segments. These are groups of your overall target audience that may have varying wants and needs when it comes to your product. This is an important step, as not all members of your target audience may react the same way to a single product positioning. You can define your segments through an automated segmentation analysis, or by analyzing existing customer data.
- Analyze competitive positioning. Within your product category, explore how direct and indirect competitors are positioning their products. You can either opt to position yours similarly, with some form of added value, or take an entirely different approach to differentiate yourself in the market.
- Position your product. Based on the key attributes, characteristics, segments, and competitive positioning you've identified, it's time to start crafting your product's positioning. Within this positioning, highlight need gaps that your product fulfills for consumers that they can't get anywhere else; this could be specific features or benefits unique to your product.
- Finally, test and refine. Test your positioning strategy using market research and refine it as needed based on respondent feedback. This step is an ongoing one, as you'll want to continuously monitor the market and adjust your positioning strategy to stay ahead of the competition and meet the evolving needs of your target customers. Use your initial findings as a benchmark to reference back to over time.

By using these steps to position your product effectively, you can differentiate yourself from the competition and build a strong brand that resonates with your target audience.
Get ideas for
new
product
development
Another great use case for product category understanding studies is to guide new product development.

Start by gathering information on the current market trends, consumer preferences, and behaviors related to your product category. This could include surveys, focus groups, or video interviews with consumers, as well as the analysis of existing industry reports and data.


Within your data, look for areas where a new product might differentiate itself from existing products in the market and provide added value to the customer experience. Develop new product concepts that address those unmet criteria and test them among your target market to see if they might gain traction.
Back to Table of Contents
How to run a product category understanding study
Product category understanding is a necessary tool for any business looking to enhance, optimize, and out-compete others in their industry. There are several ways to go about it, whether that be quantitative online surveys, qualitative video research, in-person focus groups, or ethnographic observation. In many cases, it might make sense to combine several formats of research for a comprehensive understanding of your product category.


If you choose to go the quantitative route, consider including advanced methodologies such as MaxDiff to prioritize preferences, segmentation to narrow down specific target audience needs, or an A/B test to test product positioning ideas.


To learn more about product category understanding studies, get in touch below! You can also check out quantilope's cannabis category understanding study, exploring use cases, needs, and segments of cannabis users.
Get in touch to learn more about product category understanding!