Blog
//
quantilope
//
2023-20-03
How To Use Tracking Research to Drive Business Success
(String: https://www.quantilope.com/hubfs/Business%20Success%20with%20Tracking%20Research.png)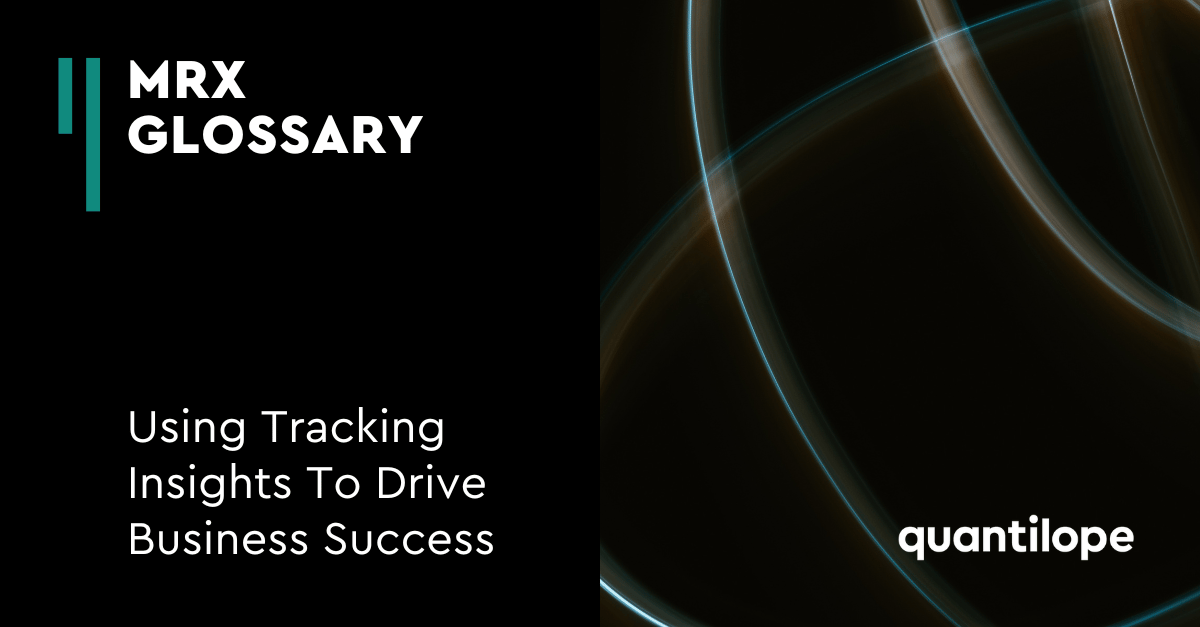 Wondering why tracking research is so important and how to go about starting a tracking questionnaire for your business? You came to the right place!
---
In this blog, explore:
What is
tracking research

?

Tracking research is the process of gathering ongoing consumer insights, in equally-spaced intervals, over a duration of time. Tracking studies' cadences vary depending on business needs and the urgency of insights, which could range anywhere from every day, week, month, quarter, or year.

Regardless of how frequently a brand opts to run its tracking study, tracking research is a way for brands to grasp a continuous measure of important consumer metrics to their business, such as overall customer satisfaction, purchase frequency, brand awareness, brand loyalty, and more, and then compare these KPIs back to an original benchmark wave.
Goals of tracking research
The goals of tracking research are highly dependent on industry, business size, and overall company objective. For example, a small startup business in the tech space may have a company goal to increase market share by x% by the end of the year. To monitor this performance, a tracking research study's goal could be to capture an ongoing pulse of customer awareness, consideration, usage, and satisfaction to determine where to focus efforts in the customer journey.


Another company, say, a global multibillion-dollar CPG brand, might have the company objective to introduce a new product to an existing product line. For this, the goal of tracking research might be to measure competitor performance of similar products, product prototype interest, and in-store shopping habits to understand if the product might be a success. If so, that same brand may then use tracking research to track the performance of the product after it's in the market - by way of product awareness, usage, and satisfaction.


Regardless of your industry and business size, the goal of tracking research should always aim to answer important business objectives that inform a broader company strategy.
Why is tracking research important?
Brands that don't build real-time consumer insights into their business strategy put themselves at risk of being left behind. Ongoing data collection through tracking research is your way of capturing timely target audience insights for successful decision-making.


Below are a few key benefits of tracking research:
Real-time consumer pulses: Tracking studies allow companies to make quick adjustments to their business offerings to better cater to their target audience. This could mean adjusting the phrasing of a marketing campaign that's not quite hitting the mark or revisiting the usability of a new product innovation that's not performing as expected.

Minimize efforts: The cool part about a tracking study is that once you set it up initially, there's not much to it when launching subsequent waves. Simply set the new wave live and watch new data populate existing charts. That being said, should you want to make adjustments or additions to your survey, tracking research is flexible enough to accommodate changes without having to launch a whole new questionnaire.

Measure insights big or small: Tracking data doesn't have to cover full-blown brand health or brand equity metrics if that doesn't make sense for your business needs. Rather, tracking research services should be able to monitor anything from a single data point over time to dozens of brand-related questions, enabling you to quickly react or pivot business strategies for any need.

Save money: Launching a new online survey often requires extensive time and effort from multiple siloed teams (programming, fielding, data processing, analysis, reporting)...and time and effort cost money. Tracking research (when done through automated research platforms) allows you to save the costs of all these individual teams by housing the end-to-end research process in one location. Even for tracking studies done outside of an automated platform, brands save money by not having to start from scratch each time they're looking for fresh insights.
Types of tracking studies
When people think of tracking, they often think of brand tracking which encompasses a variety of metrics related to, you guessed it, your brand. These are metrics like brand awareness, brand equity, brand loyalty, etc.


Along with this type of tracking study, the below list outlines some other common use cases for tracking research:
Brand tracking
A brand tracking survey, as highlighted above, is used to understand a series of brand performance metrics over time. These types of trackers can be used by businesses big or small, in any industry - even business-to-business (B2B) companies can leverage a brand tracking study.


Brand trackers typically start by covering the basic brand funnel - awareness, usage, and consideration of a brand's products or services. Brands will use this form of tracking to gather customer feedback on how well they're doing, especially related to competitors in the space.


Brand tracking studies guide business decisions around where to prioritize time and resources - on products/services that are currently performing well, or on improving ones that are struggling.


Ad tracking
Ad tracking is a form of tracking research that tracks the success of marketing and advertising materials. Businesses might use this when launching a new campaign to understand how impactful that campaign is over time. Is it increasing brand awareness? Are prospective customers converting into users of your brand? Are people interacting with your campaign on social media? Does your target audience recall seeing an advertisement? How does ad recall change over the course of the campaign? These are all questions that an ad tracking study can effectively monitor over time.


Customer experience

tracking

Customer experience tracking is also commonly called customer satisfaction tracking, which, is also commonly called a Net Promoter Score (NPS) study. Did we lose you? Let's break that down a bit more.



The customer experience deals with how satisfied your consumers are with your brand, products, services, support, etc., and how likely they are to recommend your brand to others (that's where NPS comes in). NPS is a single-question methodology that asks respondents to rank from 1-10 on how likely they'd be to recommend your brand to others. Tracking this information over time is key to understanding whether or not new ad campaigns, product launches, public relations/news coverage, etc. affect customer satisfaction and their overall experience with your brand. Without tracking these metrics, you'd be left with point-in-time data points that don't paint a telling story of how you're performing overall.
Back to Table of Contents
How to implement
tracking research
You might now be thinking "How do I start a tracking research study?" We have you covered:


Step 1: Determine your tracking goals
Remember this step from earlier? It's key that you tie your tracking research back to the overall business objectives so that you're capturing metrics that feed into successful decision-making.


Step 2: Select your type of
tracking study
After determining what your business goals are, select a type of tracking study that will enrich insights into that area. This could be a brand equity tracker for overall performance, an ad tracking study to measure a marketing campaign, or a customer satisfaction tracker to monitor market share in your industry...just to name a few.


Step 3: Gather your data
When using a traditional research firm (like Ipsos, Nielsen, or Kantar), at this stage you'll have to contact your research team to set up the panel and monitor completion. As for those using an automated research platform, you'll set your study live within the end-to-end platform and be able to monitor results in real-time.
Regardless of your approach to data collection, you'll need to finalize your target audience (including any key demographics you want to capture), and your sample size (how many respondents you want to complete your survey). Be mindful that if you opt for an advanced research methodology in your tracking study (such as segmentation), you'll need to make sure your base size is large enough each wave to thoroughly analyze the results.


Step 4: Analyze and interpret your data
After you've hit your sample size goal, and the data has been cleaned and verified, it's time to analyze your results! With tracking data, it's key to implement statistical testing so you can easily see where there are significant lifts or declines in a metric over time.


Once you've analyzed your results, you'll create a slide deck presentation for stakeholders with the actionable findings, or leverage an automated dashboard. The perk of using the latter is that results will automatically update each time you run your tracking study. Otherwise, you're left to update slide metrics manually (or outsource the task to a third-party team).


Step 5: Repeat!
Congratulations! You've run the first wave of your market research tracking study! Now, you repeat.
When it's time to run the next occurrence (wave) of your tracker, you'll need to communicate with your external research team (at an agency) or set up the next wave of your tracker by toggling on a button (on an end-to-end research platform). After a few waves, and with statistical testing implemented, you might begin to see shifts in metrics that inform business strategy. On the other hand, if all metrics are remaining stable over time, that could be a sign that your business strategy is solid and performing well, or, you might take this as a sign to shake things up a bit with a new product launch or marketing campaign.


Whatever you decide, stay consistent with your tracking - aiming to launch each wave around the same timeframe as the last (i.e. at the beginning of each month, at the end of each quarter, etc.) for the most accurate tracking results.
Back to Table of Contents
Summary
Tracking research is one of the most beneficial applications of market research. It's a way to stay in constant 'communication' with your consumers and understand their changing needs over time.
To learn more about automated tracking research with quantilope, and how you can take charge of your own tracking study with a few clicks of your mouse, get in touch below.
Get in touch to drive future business success through tracking insights!