Blog
//
quantilope
//
2022-05-10
Six Market Research Trends To Watch in 2023
(String: https://www.quantilope.com/hubfs/optimized-compressed-images/MRX%20Glossary_Market%20Research%20Trends.jpg)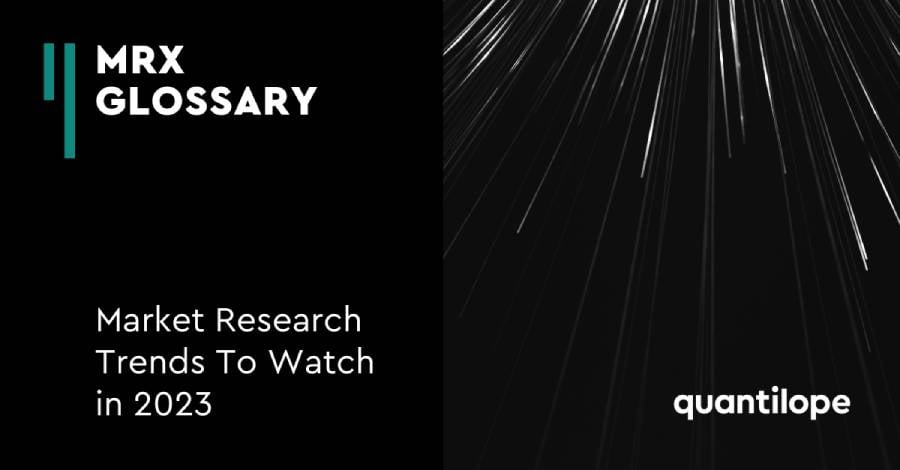 In this blog, we will look at what trends businesses can expect in the market research industry next year and why they should be keeping an eye on them.
2022 is nearly over, and in market research, it pays to always look toward the future. Any business interested in maximizing sales should be attuned to developments in market research, such as updates to methodologies or new technologies that can help enrich consumer insights.
Here are the top six areas of market research businesses should expect to watch in 2023:
1. Holistic research platforms
Companies are always on the lookout for ways to run their business more efficiently, and how they conduct market research is no exception. Businesses in which each team commissions its own research are dwindling in numbers as companies recognize the value of a holistic approach to gathering and sharing customer insights.
Holistic research means the survey design, programming, sampling, data collection, analysis, and reporting processes are all built into end-to-end platforms that can seamlessly handle the full scope of research needs. This creates a 'self-serve' workflow for DIY clients, who can launch surveys whenever they are ready and have findings quicker than ever before.
Not only does the use of one holistic platform save time and money, but it also makes internal decision-making smoother. Teams can connect the dots between different research projects, understanding how research findings affect both their own operations and those of their colleagues in other teams within their organization. This fosters a more connected way of thinking and collaborating, for a broader view of how separate teams fit together in the big picture. The best platforms will offer a broad range of methodologies and allow users to smoothly conduct numerous study types pertaining to any subject of research and with any level of complexity.
2. Speed and automation
One of the greatest ways in which market research has changed over the past couple of decades is in its speed. Technology has enabled every phase of the research lifecycle to become faster and more efficient. Surveys that took weeks to complete can now be wrapped up in a matter of days. Beyond the technology advancements of a survey itself, platforms create a central place for research findings that make navigating findings for iterative research a simple process. With research platforms becoming more and more affordable, fewer barriers exist for a brand to own its research and to avoid making crucial business decisions based on gut feel alone.
One of the main reasons why research is becoming faster is automation. Where researchers used to manually create and process questionnaires and data, computer software now does all the heavy lifting. Machine learning and artificial intelligence (AI) capabilities bring a higher level of sophistication to consumer insights, and automation is more versatile than ever - especially with regard to DIY market research tools.


3. Agile insights
Agile insights are another way in which research is set to become faster and more efficient in the years to come (beyond the advancements it's already made to the industry). Agile research is iterative in nature, in that it takes findings from one piece of research (or other source of information around consumer behavior) and feeds them directly into another piece of research for greater understanding on a topic.
Agile research aligns with today's fast-moving consumer landscape; the customer experience doesn't stay the same for long and research needs an iterative approach to keep on top of these developments.
With an agile approach, small-scale surveys can be launched quickly, with simple tweaks to past questionnaires or an adjustment to sample groups.


4. Social listening
With the rise of social media, consumer attitudes are now on display for anyone to see in real-time - including businesses. Social listening is the art of monitoring and analyzing these attitudes and opinions, which can represent a wealth of insights for businesses hoping to leverage emerging trends, hone their messaging, and satisfy consumer needs.
Social listening is a great way to meet consumers where they already are: according to Statista, the average amount of time that people worldwide spend on social media per day is nearly two and a half hours. That's a lot of time for consumers to interact with content, provide feedback on products or brands, and start conversations with friends - all information that is extremely valuable to brands. Brands can leverage a variety of social media listening tools to monitor things like brand and category mentions, hashtags, and category trends.
5. Inclusivity in research
As market research has become more technologically sophisticated, the reachable audience has grown wider. Consumers can now take surveys on their mobile phones while commuting, on their tablets during TV commercial breaks, or on their laptops late in the evening after putting their kids to bed. This flexibility of research (no longer having to reach consumers on the phone during appropriate hours, or only reaching consumers with at-home internet access) leads to a much more inclusive research environment.
With this progression in research, this also means research panels now have a wider reach and can provide businesses with the respondents they need at an affordable level. This is important, given that globally, a large portion of survey respondents tend to be 'WEIRD': white and educated, from industrialized, rich, and democratic societies. Clearly, this group does not accurately reflect the perspectives of most consumers.
The aim of market research in 2023 will be to increase sample diversity, with a greater range of demographics represented and therefore a greater chance for businesses to research the entirety of their target audience. This will make for more targeted and inclusive business decisions like product development, advertising, and social media activity.
6. Understanding adjacent markets
When external events impact people's ability or willingness to buy a brand, businesses need to have other ideas up their sleeves to survive. The pandemic forced some businesses to abandon their existing ways of working and create new opportunities for themselves; restaurants delivering contact-free takeaways, hair stylists visiting clients at home, retailers focusing on the online side of their business rather than offline, and so on.


It might not be one major event that affects how consumers behave, though. It might be a steady shift towards new ways of thinking - a growing interest in sustainability, for example, or a need to save money as the cost of living increases. As a result of these shifts, understanding the adjacent needs that consumers have allows businesses to branch out with new product ideas, improve existing products, or expand into new markets. For example, if a fitness brand understands that their consumers also prioritize nutrition and skincare, they may develop post-workout cleansing face wipes or partner up with a nutritional supplement company for a pre-workout drink.
Conclusion
As the new year inches closer, businesses will need market research platforms that can highlight where new opportunities lie and adapt to changing business priorities. They will need platforms that bring all their insights together in one place, ensuring smooth and agile processes that cut out time-consuming administrative work to focus on the findings that will improve sales. Ideally, platforms will offer both speed and efficiency, providing businesses with authentic and reliable insights through advanced and automated research methods. These platforms should also be able to access a sample that reflects a diverse and inclusive target audience.


quantilope brings the whole end-to-end process of market research into one platform for survey development, sampling, chart analysis, and dashboard report creation. The speed and automation of the platform allows businesses to monitor data in real-time, with final results in a matter of days. With quantilope's panel agnostic capabilities, you choose the consumers you want to hear from and the metrics you'd like to understand - whether that's through a connected panel provider or from your own supplied list of contacts.
To learn more about how quantilope can help achieve your market research goals for the upcoming year, get in touch below:
Get in touch to learn more about market research with quantilope!