Blog
//
quantilope
//
2023-24-05
quantilope Launches a Modernized Brand Health Tracking Solution
(String: https://www.quantilope.com/hubfs/company%20news%20brand%20health%20tracking.png)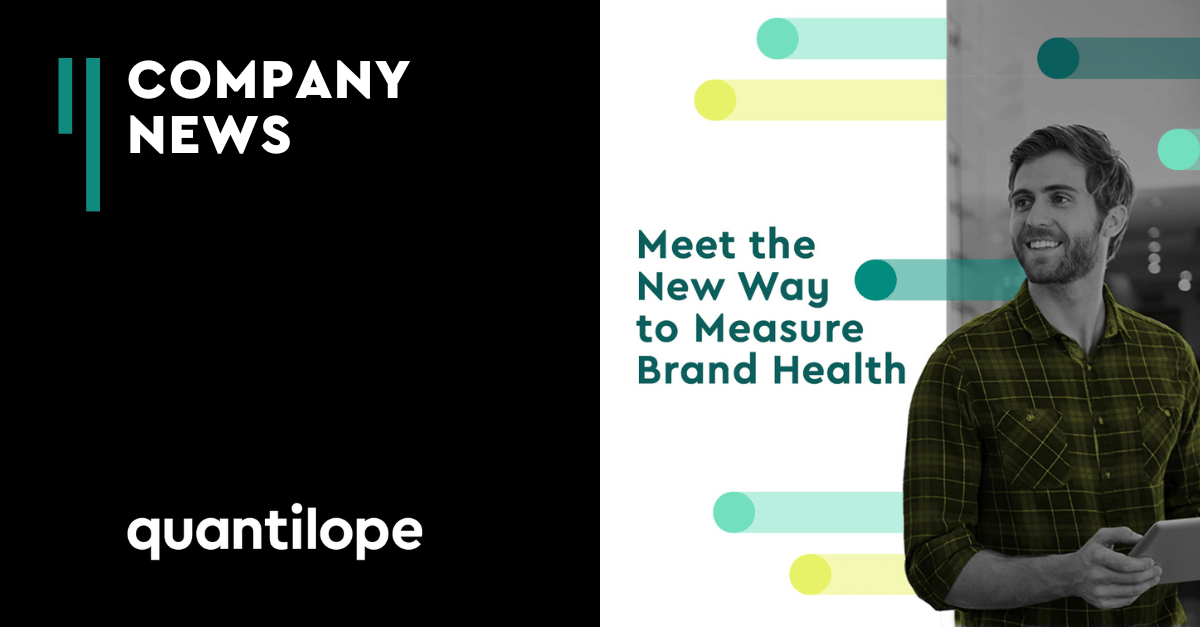 Can you relate to any of the following?
Current brand tracking solutions are not efficient (in terms of cost or time)
Brand tracking outcomes aren't always actionable or relevant
We need our tracking study to tell us more about our brand than just awareness or usage
If you can, you'll be excited to learn more about quantilope's new Brand Health Tracking solution below!
---
Table of Contents:
What is brand health tracking?
Brand health tracking is an ongoing research survey used to monitor consumers' experience with (and perceptions of) a brand over time. It's a single study that's fielded in periodic increments (aka, waves) which might be monthly, quarterly, or annually.
A useful brand health tracker should go beyond basic brand funnel metrics to be able to guide future marketing activities and diagnose a brand's performance.
Why is brand health tracking important?
Over time, consumers will gravitate toward the brands that are relevant to their needs and provide them with positive experiences, making brand health tracking a crucial measurement for long-term success.
Consider Kleenex for example. Their brand health is so strong that anytime a consumer even thinks about buying tissues or asks someone for one, they often use the name 'Kleenex' instead of tissue; same with 'Band-Aid' in place of bandage.
These brands have something called strong 'Mental Availability' which is the likelihood that consumers think of your brand in specific buying situations (situations known as: Category Entry Points).
These two concepts (Mental Availability and Category Entry Points) are two empirically-grounded market research concepts that are proven to help businesses grow based on the acclaimed work of Professor Jenni Romaniuk of the Ehrenberg-Bass Institute of Marketing Science (author of Better Brand Health and co-author of How Brands Grow). However, not many brand health trackers are making use of them.
Knowing the importance of brand health tracking, and the validity of a mental availability framework, we've created a new automated, yet customizable, brand health tracking template within our Consumer Intelligence Platform.
How does quantilope's modernized approach to brand tracking work?
quantilope's new model for brand health tracking is designed for the category, analyzed for the buyer, and reported for your brand.


​​The approach is based on the fundamental principle that a brand will grow by increasing the number of buying situations that come to consumers' minds. Again, these situations are known as Category Entry Points (CEPs) which could be things like 'I'm feeling thirsty', 'My feet have been hurting in these shoes', or 'I'm going on a summer trip and don't want to get sunburnt'. In each of those scenarios, a consumer might think to themselves 'Maybe I should grab a Coke since I'm passing the local Pizza shop', 'I should go try on new Adidas sneakers since my friend mentioned them being so comfortable', and 'I should stock up on Neutrogena sunscreen since I know it comes in a travel size'.


quantilope's AI-based model will help generate the perfect list of buying situations (Category Entry Points) in a pre-study, which will then lead to the following mental availability metrics in your main tracking study:


| | |
| --- | --- |
| Mental market share | A share of CEP associations with a given brand among total CEP associations across all brands (i.e. How present is my brand in consumers' minds?) |
| Mental penetration | The number of participants with at least one CEP association for a given brand (i.e. How many consumers think of my brand in at least one buying situation?) |
| Network size | The average number of CEP associations per brand, among those with at least one CEP association for that brand (i.e. How broad are the category associations for each brand?) |
| Share of mind | The share of CEP associations with a selected focus brand, among those with at least one CEP association for that focus brand (i.e. What other brands are our consumers thinking of?) |
Summary:
quantilope users who leverage this new approach to brand health tracking will have access to:
A templated and research-consultant-guided pre-study to prioritize relevant buying situations (CEPs)
A templated and research-consultant-guided brand health tracker survey based on the pre-study, including pre-built report charts and a templated dashboard
Real-time tracking insights for instantly-actionable decisions
Ready to learn more about automated brand health tracking with quantilope? Get in touch below to set up a demo, or, click here to explore the use of this new model for soda insights!
Get in touch to learn more about quantilope's automated brand health tracking!