Blog
//
quantilope
//
2022-12-08
Brand Monitoring Tools to Enhance Your Brand in 2022
(String: https://www.quantilope.com/hubfs/MRX%20Glossary_Brand%20Monitoring-1.png)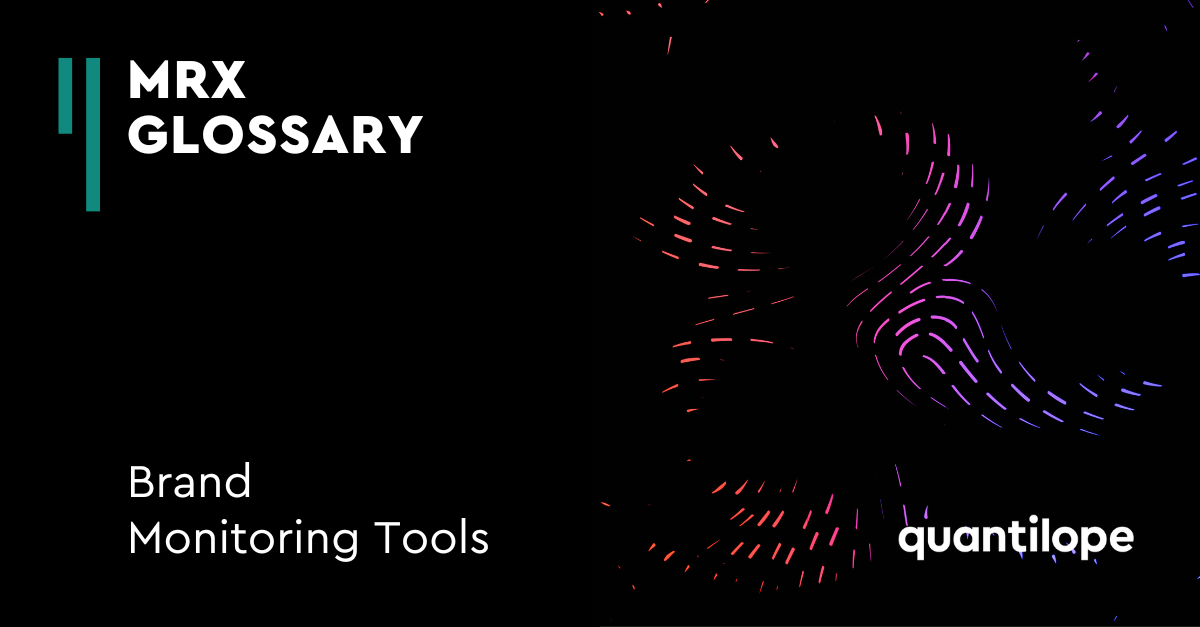 This post highlights some of the top brand monitoring tools to enhance your brand in 2022 when it comes to marketing campaigns, content marketing, brand reputation, and more.
---
Table of Contents:
What is brand monitoring?
Brand monitoring is the process of tracking mentions of your brand, perceptions of your brand, and brand reputation across different channels - such as social media platforms, web forums, influencer pages, and any other online presence where your brand may be mentioned. You can track mentions of your brand through hashtags, brand monitoring tools (see sections below for some examples), or email alerts/notifications for social mentions of your brand name in real-time on sites like LinkedIn or Twitter.
Why should you monitor your brand?
As a brand, it's valuable to know what consumers are saying about it and use that information to enhance your brand strategy. When consumers have negative experiences with your brand, they may vocalize that feedback on social media platforms or review sites. While you never hope someone has a bad experience with your product/service, social listening and monitoring this kind of inevitable feedback will only strengthen your brand positioning.


Below are some other specific reasons why brand monitoring is crucial:


Reputation management
Brand monitoring keeps a constant pulse on your brand reputation to identify shifts in brand sentiment and act fast. If your brand monitoring tools point to consumers talking negatively about your brand, you can address the situation in real-time rather than react once it's too late.


Consider Airbnb as an example. A few years ago, consumers took to social media to complain that Airbnb hosts were rejecting them based on their name or profiling image, in large part due to racial discrimination. By monitoring hashtag conversations around the topic, Airbnb was aware of this reputation and took action to manage the situation. The company hired a task force of high-profile civil rights activists and made a public commitment to increase the number of hosts who accept bookings with the Instant Book feature (i.e. without first reviewing a guest's name or profile). While this doesn't fully solve the issue of discrimination on Airbnb's platform, this reputation of their brand totally shifted their response to where anti-discrimination is now baked into their customer experience on their platform.


Establishing relationships with your audience
Brands can easily track brand performance through sales metrics, but just because consumers are buying your product/service doesn't mean they are 100% satisfied or that they would buy it again. Brand monitoring goes beyond simple brand performance to understand your target audience's actual customer experience. Consumers want to know they're being heard, and brands who take the time to listen (through social media monitoring or other social listening tools) and respond will naturally form strong, loyal relationships with their target audience.


Solving customer pain points
Let's say consumers leave negative comments on a review site about your pricing; you may go back to the research and development stage for a product to change the packaging size for added value, or cut prices elsewhere to lower the cost of the product for consumers.
As another example, if your social listening points to consumers feeling unhappy with the flavors of a product you sell in a set, you can consider making the set customizable if it fits in the budget.


Spreading brand awareness
In addition to understanding current consumer perceptions of your brand, brand monitoring tools can also be used to increase brand awareness and gain traction among new audiences. Monitoring your brand through a market research tracking study can show how your brand awareness stacks up to competitors over time. This type of competitor analysis provides context into who those competitive consumers are (assuming your study captures demographic information), so that you can set up your future content marketing, influencer marketing, or general marketing campaigns to effectively reach them.
What to look for in a brand monitoring tool
Knowing how important brand monitoring is, here are some things to look out for when searching for a brand monitoring tool:


Sentiment analysis
A good brand monitoring tool will include sentiment analysis. Sentiment analysis is the analysis of expressed information - be it text, facial emotions, or behaviors, to understand how consumers feel about a topic. Sentiment analysis measures both positive and negative emotions, allowing brands to understand if their brand reputation is favorable, unfavorable, or neutral.


This form of analysis is valuable to brands because it goes beyond just what consumers say or select in a market research survey; it analyzes their response a level further to extract more meaningful insights to use as part of your brand monitoring.


Campaign tracking
If you just launched a new marketing campaign around a new product, you're going to want to track how it's performing; having campaign tracking as part of your brand monitoring tool is essential in doing so.


Campaign tracking is a tool used to measure how effective your launch is among different marketing channels - such as social media channels. Campaign tracking tools may utilize specialized URLs, download forms, or other parameters that can identify when viewers have engaged with your campaign content. Stakeholders are especially interested in campaign tracking data, to ensure their dedicated budget is being put to good use.


Social listening
Your brand monitoring toolkit should also be equipped for social listening. Social listening is a media monitoring tool that extracts information from social networks, online forums, and even news sites. Listening is a bigger picture than just social media monitoring; unlike monitoring hashtag mentions of your brand, social listening is a bit broader - often observing online conversations of entire industries rather than just your own brand name.


Through listening, you may come across a consumer insight that then takes you down another avenue of exploration, rather than just focusing on that one data point itself. These social media analytics that come from social listening help your brand optimize future content marketing, marketing campaigns, marketing strategies, and so on.
Best brand monitoring tools
Below are some of the best brand monitoring tools you should consider this year to monitor brand perception, brand awareness, brand reputation, and much more:


quantilope automates consumer research to unlock high-quality insights with speed and ease. Users can easily drag + drop questions and advanced methods into a survey, consult with a team of research experts, monitor data results in real-time, and build customizable data charts for a final insights dashboard.


When it comes to brand monitoring, quantilope users are covered - with automated brand tracking to monitor consumer sentiment metrics over time, and 13 automated advanced methods - such as NPS (to measure customer satisfaction), KDA (to see what's driving consumer satisfaction), or segmentation (to identify and monitor key target audience groups).


quantilope users can leverage closed or open-end question formats to measure mentions of your brand, see where your brand name ranks in a list of items, or see how your brand stacks up in a competitive analysis.


quantilope's key features:
- Pre-programmed question library, including 13 advanced methods
- Drag + Drop survey building functionality
- Certified research support
- Real-time brand monitoring tools
Google Alerts is a service that provides users with a notification whenever new content matches their search term. For example, brands could set up Google Alerts to be notified each time their brand name or industry is mentioned in a news article, blog post, etc. This is a very helpful brand monitoring tool for real-time social listening.


Google Alerts' key features:
- Real-time notifications
- Editable at any time
- Customizable to the number of notifications you get, types of sites you see, language, etc.
Brandwatch, owned by Cision, is a Consumer Intelligence and Social media-focused company. Brandwatch is used to help brands understand and engage with their customers by automating ad campaigns, tracking performance across channels, benchmarking, and more. The platform collates insights from 100 million online sources, including tweets, hashtag mentions, news site mentions, etc.


Brandwatch's key features:
- Competitor analysis
- Crisis management
- Trend analysis
- Social Media management tool
HootSuite is a great brand monitoring tool for anyone looking to effectively manage their social media activity. HootSuite allows brands to schedule their social media content across a variety of social media channels, all in one platform. Planning content on HootSuite is a way for brands to stay organized with their content marketing, and easily track how their posts are performing.


HootSuite also allows users to stay on top of trends by setting up customizable feeds with notifications about certain topics.


HootSuite's key features:
- Cross-channel content marketing planning
- Trend analysis
- Integrated with 150+ apps
Keyhole is a real-time social media reporting and analytics tool. Through a variety of social media analytics such as hashtag analytics, Instagram analytics, and social listening, Keyhole automates social media reports to generate a dashboard, saving users hours of manual work.


Keyhole's key features:
- Brand reporting
- Campaign reporting
- Hashtag reporting
- Influencer reporting
Ahrefs is a brand monitoring tool focused on SEO (search engine optimization). Ahrefs performs website audits, competitor analysis, and keyword research to optimize content for a brand and grow their search traffic.


Using an SEO tool like Ahrefs is great for brands to monitor and understand the foundation of their brand performance; if a new marketing campaign doesn't perform well, is it the content or the SEO search terms that are throwing it off?


Key Features:
- Backlink exploration (for own content and competitors)
- Keyword database
- SEO website audit
- Google rank monitoring
BuzzSumo is a content marketing platform that helps brands discover engagement and outreach opportunities across social media channels and search platforms. BuzzSumo users are able to see where their target audience is engaging with content, what content is performing best in their competitive realm, and which content has been the most shared in a certain time period. Further, when negative mentions of your brand or category show up in search, BuzzSumo can alert brands of a potential crisis to more quickly navigate changes to brand reputation.


There is even a free version of BuzzSumo that users can add on as an extension to their Chrome browser to understand metrics around certain content.


Key Features:
- Content discovery (hot topics, trends, by time period, etc.)
- Data analysis
- Influencer discovery
- Crisis management
Mention is a tool enabling brands to monitor web traffic, conduct social listening, and manage their social media content from a single platform.


With Mention, you can receive alerts on a specific topic, monitor mentions of your brand, filter social media data from a variety of sources, and conduct competitive analysis. Brands looking to add a comprehensive platform to their brand monitoring tools can get everything from web monitoring to social media marketing with Mention.


Key Features:
- Alerts
- Tracking mentions
- Social listening
- Social platform integration
Summary
When it comes to brand monitoring, there are a number of tools on the market that brands can leverage to manage their brand reputation, brand awareness, online presence, and so much more. Some tools are focused on specific niches, such as SEO or social media planning, while others are more broad-based and can be used to achieve a variety of goals.


quantilope is equipped to handle your brand monitoring needs, whether it be tracking consumer sentiments over time through automated brand tracking, developing a branding questionnaire to more closely understand your brand identity, or hearing your target audience verbalize their customer experience through quantilope's video research solution: inColor.


To learn more about how quantilope can help manage and monitor your brand, get in touch below:
Get in touch to learn more about brand monitoring!