Consumer Electronics – the latest Insights in a European comparison
(String: https://www.quantilope.com/hubfs/Q%20-%20Marketing%20internal/Blog/imagery/insight-studies/Blogpost-Image-consumer-electronics.jpg)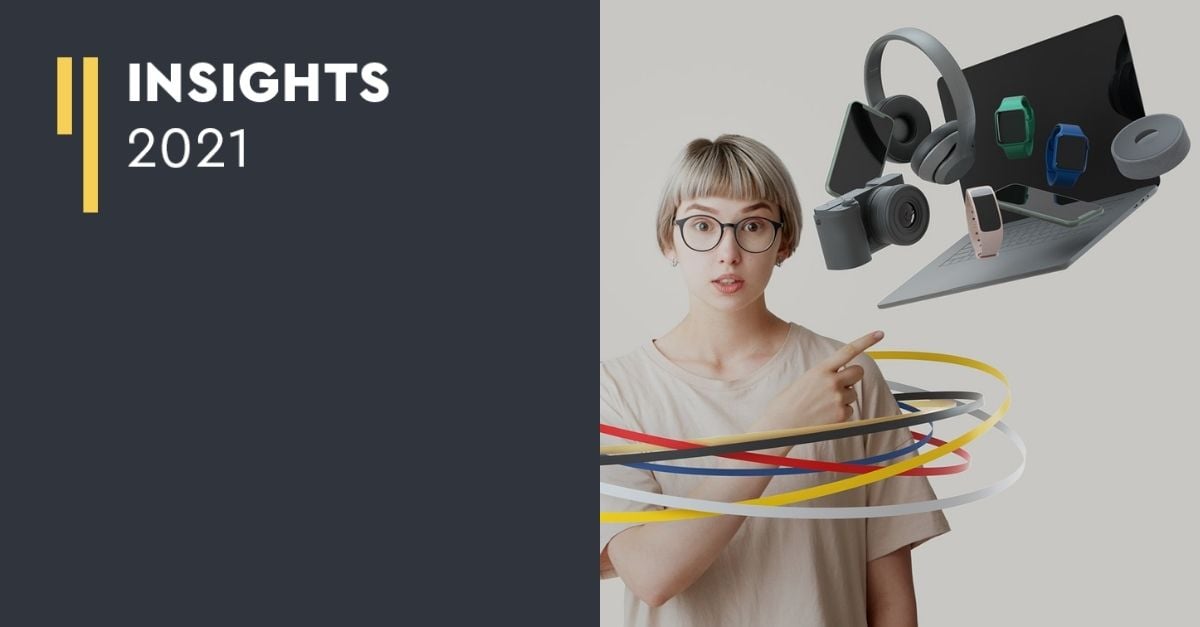 quantilope's latest Consumer Electronics study will leave readers with an understanding of the most important trends and shopping behaviors in the consumer electronics market, across four European countries (UK, Germany, France, and Spain). In the associated Insights Dashboard below, you can also learn more about the current trends specifically around smart homes and wearables/smart watches, the importance of sustainability in the purchase of electronic devices, and relevant differences between respondents in each market.
A virtual year lies behind us. Never before have people been so dependent on digitization as they are at present. Not only are people increasingly turning to electronics in a professional or educational context, personal consumer electronics also experienced an upswing last year. In quantilope's Consumer Electronics Study, more than half (58 percent) of European respondents said they spend more time on electronic devices now than they did a year ago. In Spain, as many as 70 percent agreed with the statement.
Consumers plan to buy smartphones, TVs, and laptops
When asked which devices consumers plan to purchase in the next 12 months, smartphones, TVs and laptops were most often mentioned. Consumers from Germany and Spain lead in purchases of smartphones and tablets. Around a third of respondents in the UK also plan to buy a TV in the next 12 months (around 25 percent in Germany and Spain, and only 19 percent in France).
Suppliers or brands may benefit from promoting their products in markets where the purchase intentions for these products are already high, indicating that consumers may be more susceptible to advertisements.
For example, brands of smartphones and tablets could benefit from promoting their products in Germany and Spain, since the purchase intention there is particularly high.
Why reviews on Amazon and Co. are so important - especially in Spain and the UK
The majority of consumers read reviews carefully before buying a new electronic device (67 to 84 percent): respondents from Spain and the UK especially agree with this statement (more than 80 percent).
Research is usually conducted on third-party websites (e.g., Google Reviews or Amazon), with more than 60 percent indicating they use these types of sources. Retailer websites are another frequently used source (except in France); in France, consumers are more inclined to visit a brand's website (40 percent) or specific consumer review sources (38 percent).

Social media is least leveraged for research across all countries (below 20 percent in the UK, Germany, and France, and only 26 percent in Spain).
For companies in the consumer electronics industry, the results show the importance of (good) reviews on third-party websites (such as Amazon). One way to influence positive reviews can be to ask consumers for a review directly, such as after buying a product on Amazon.
Online-Shopping – The new normal
Unsurprisingly, consumers have predominantly purchased consumer electronic devices online in the past 12 months. However, there are some differences across the four countries.
In France, for example, one in three respondents (33 percent) said they have purchased consumer electronics equally in-store and online. And even more (41 percent) expect to continue these shopping habits post-Covid-19.
In the U.K. and Germany, there is a clear trend toward online shopping, with the majority (U.K. 55 percent; Germany 52 percent) having made their consumer electronics purchases either predominantly or exclusively online. However, most British consumers (41 percent) expect to shop in-store as much as online after the pandemic. In Germany, consumers are slightly less likely than in the U.K. to return to in-store shopping: About a third of Germans plan to shop in-store as much as online (31 percent) or predominantly online (32 percent) in the "new normal."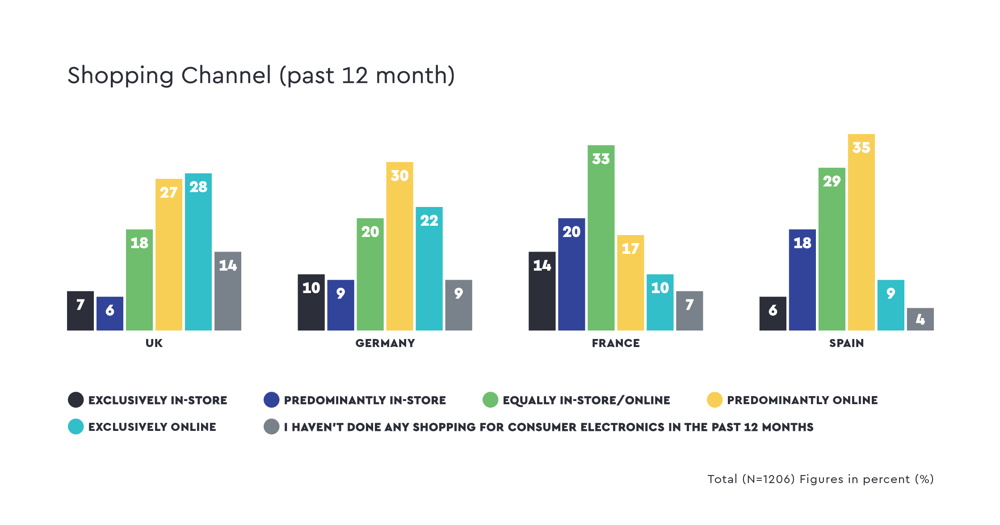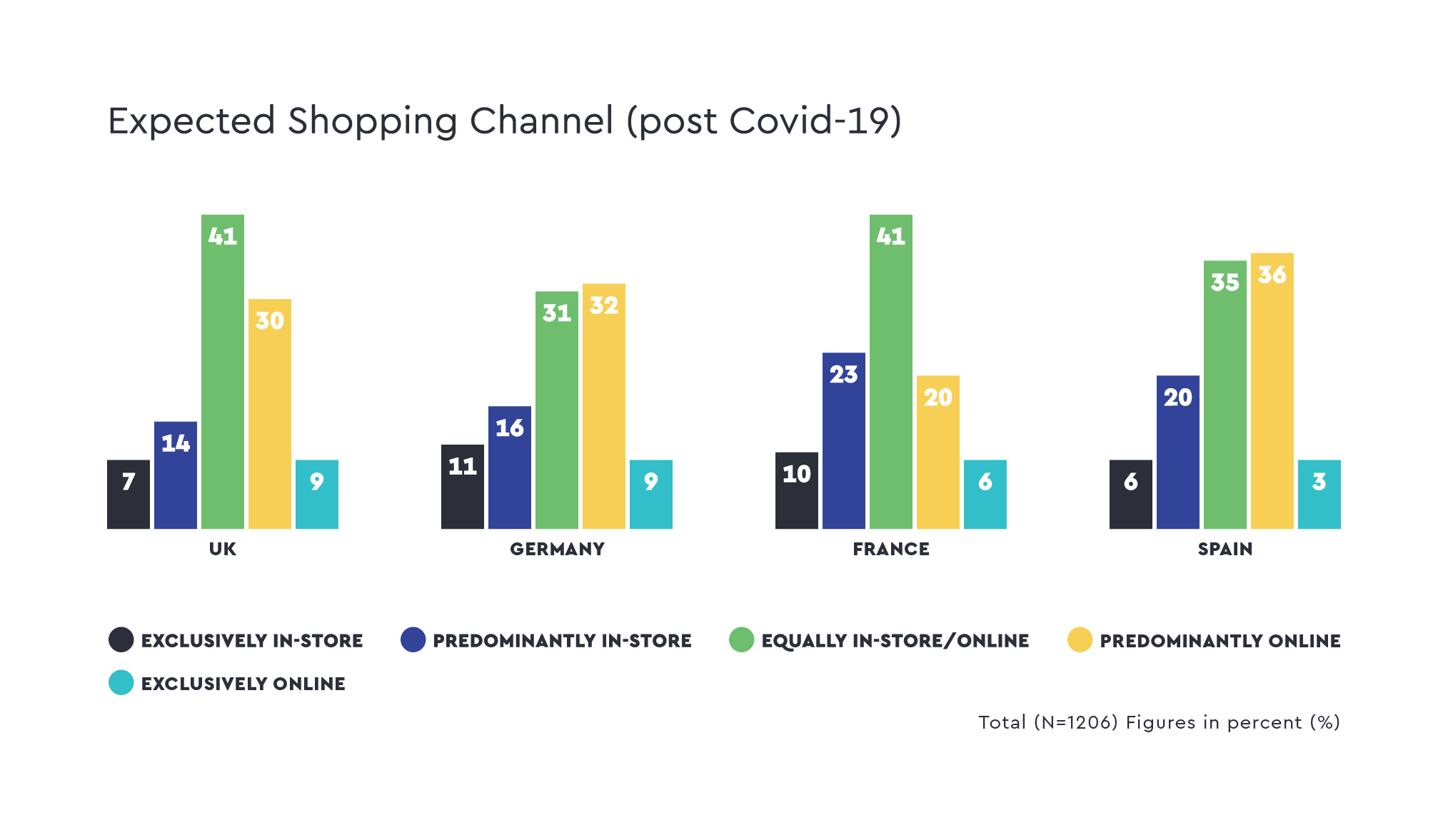 It seems that most people purchase their electronic devices online or alternately online and in-store. Many expect these behaviors to remain the same post-pandemic. For brands, it is important to know which channel is used particularly frequently for their product, in order to build the most effective sales strategy and invest their budget appropriately in the corresponding point-of-sale marketing. For example, brands can use discount promotions or special offers at the point of sale (e.g., bundled offers) to target a specific audience through a particular channel.
Pro online shopping: customers appreciate better prices and easier comparison of products
The main reasons for buying online are:
Better prices
Easy comparison of options
Convenience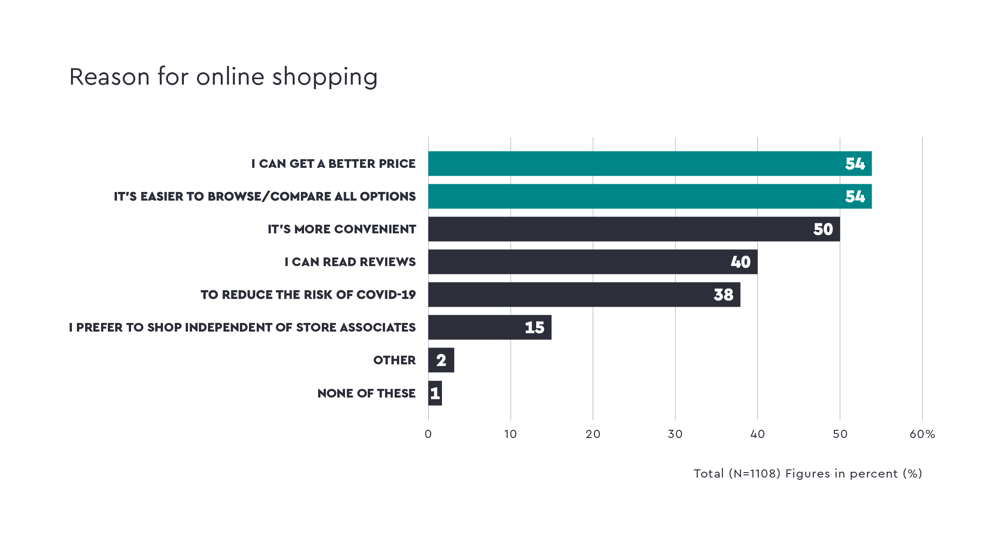 On the other hand, the most important reasons for shopping in stores are:
Being able to touch or try out a product
To get help from a store associate
Not having to pay or wait for shipping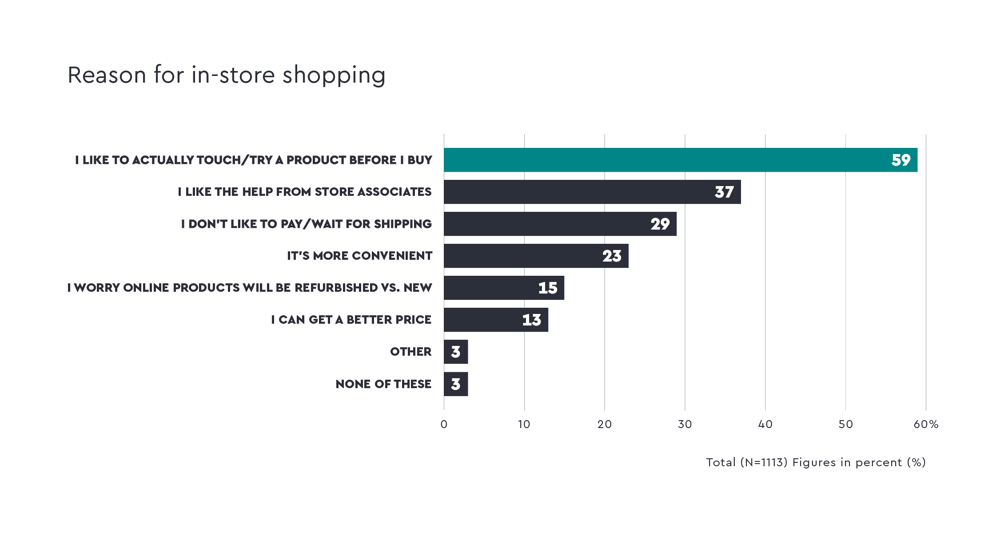 To encourage loyal store customers to buy online, it may be helpful to offer more direct assistance as well as free and fast shipping.
If it is necessary (e.g. after Covid-19) to motivate customers to return to stores, it may help to remind them of benefits such as the ability to touch and try products and to get help from an in-store associate.
A lot of other exciting insights await you in the interactive Insights Dashboard (access below). For example, take a deeper dive into the topics of smart home devices and wearables (such as smart watches).
Did you know, for example, that...
... the biggest barriers to smart home devices are lack of interest and prices that are too expensive? (In the UK, consumers also don't see the benefits (yet)!)
... the best features to promote a smart watch are fitness tracking, pedometers, and heart rate measurement?


Sample information:
N = 1,600 European respondents from the U.K., Germany, France, and Spain (with n = 400 per country). The main sample is representative of the respective country in terms of age and gender.
For some specific smart watch and smart home questions, a boost to owners of these devices was also used.
Get free access to the Insights Dashboard now!