Agile Insights Revolutionize The Market Research Industry
(String: https://www.quantilope.com/hs-fs/hubfs/Imported_Blog_Media/Gruender_GF_qlp_smile_M_free-300x191.jpg?width=610&height=388&name=Gruender_GF_qlp_smile_M_free-300x191.jpg)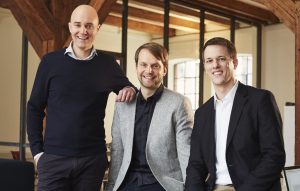 We have come to a new generation of consumer insights
Everything must now move faster than ever before. Our business life requires fast, secure processes, valid results with the push of a button, transparency, overview and maximum flexibility on every front. This is something we're already well aware of for many aspects of a company. Software tools support our daily work so we can keep up with the modern pace and react quickly and efficiently. Sales employees now use software tools such as Salesforce, advisors get support from ingenious project management systems, and Google Analytics provides a constant performance overview to online marketers.
Traditional market research is reaching its peak.
With this modern market research, we must confront this fast, flexible and simultaneously professional work method even more rigorously. Standard market research processes offer valuable, important criteria for deciding on marketing concepts and brand marketing still require a lot of manual work and tedious, time-consuming coordination procedures. Only the data compilation and data sources have changed over time. All the same, market research teams must also provide insights faster and more efficiently now without sacrificing quality. Whether it's decisions about the importance of new product or packaging selections, strength/weakness analyses for brands, advertising effect research, customer satisfaction analyses, or price tests – these insights are absolutely essential to marketers and crucial for maintaining a competitive edge. At the same time, many budgets are shrinking while the pace is accelerating.
Market research employees and marketing managers are subject to this resulting high pressure, which can often lead to frustration. Because this can no longer be mapped with traditional research methods, it calls for new standards and methodologies that will empower us marketers, market researchers, and insights teams once again.
We need new solutions that strengthen the role of the marketer and market researcher and that bring our expertise up to date. As experts in market research, marketing science and practices, at quantilope, we believe in agile processes with fast results, profound professional insights and flexible activities for each marketer and insight manager. Our top priority at quantilope is to give the world of market research a fast, simple and efficient shape and to liberate it from overly complex processes. We want to get rid of comment threads, time-intensive email coordination or unnecessary - not to mention wasteful - stacks of paperwork. We want to scrap long waiting times before results can be used. And we fully admit it; we want to have more fun with insights once again, because we're spending our entire days on them.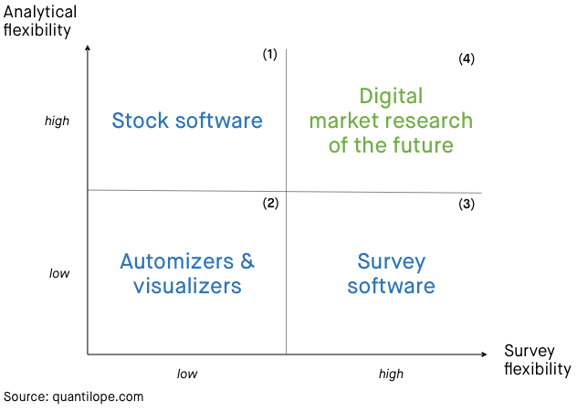 This is the starting point for our unique Agile Insights software. We want to empower markets and market researchers alike. They do important work, creating the decision-making basis for successful brands, concepts and new products. Testing new ideas easily, quickly and with a simple click every week with affordable framework conditions – that's the kind of market research we believe in! This is what distinguishes Agile Insights, or agile market research.
quantilope turns the market research industry upside down and sets a new standard with our agile approach to consumer insights. We're convinced that we can have both sound and scientifically-backed strategies with flexibility and speed. For us, this is what puts the joy back into market research. It won't be everyone's cup of tea, but it is the new generation of capturing and understanding customer experiences.
If you're casually listening to music on Spotify, you can also master quantilope. Digital solutions should be fun and make life easier – so why not market research too?
Want to get a live experience of Agile Insights?