How the Pandemic has Affected Consumers' Shopping Behavior
(String: https://www.quantilope.com/hubfs/Q%20-%20Marketing%20internal/Blog/imagery/insight-studies/Blogpost-image-shopping-behaviour-study-Germany-1200x627px.jpg)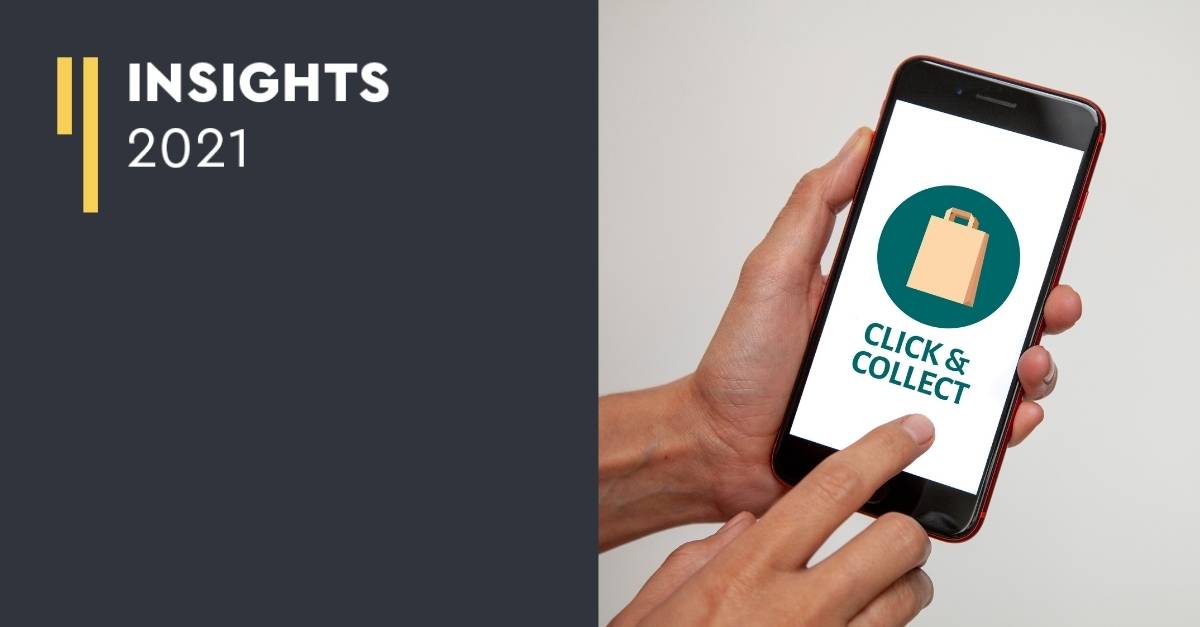 Image Source: @laurence-soulez from Getty Images, Canva Pro
Which industries will benefit even after the pandemic is under control? How is stationary/in-store retail changing? These are questions we as researchers are asking ourselves, and quantilope's recent study sheds light on the latest insights into consumer shopping behaviors before, during, and after the Covid-19 pandemic. It also highlights some potential new ways of shopping, such as Click & Collect.
Good News for the Fashion Industry:
The fashion industry is one that has particularly suffered as a result of the pandemic, with an overall decline of around 30 percent worldwide in 2020. In line with this finding, quantilope's data also shows that nearly three-quarters of all shoppers surveyed (those who normally shop in-store at clothing retailers) bought fashion significantly less often during the pandemic. Even though about one-third of shoppers said they ordered clothing online more frequently during the pandemic, this was not enough to compensate for the overall sharp decline.
Earlier findings from quantilope's 2020 Fashion study may help explain this decline, which found that shoppers were buying less due to closed retail stores. However, in-store fashion retailers offer a unique benefit to shoppers, with the ability to actually try on clothes, gain the help of stylists, and find inspiration - all attributes less available online (or not available at all). This pandemic shopping behavior study affirms that shoppers may be craving this in-store advantage, with only seven percent of respondents citing 'no demand' as a reason for not buying clothes. In other words, consumers are looking to return to clothing/apparel stores, and 50 percent even say these are the type of stores where they would like to shop again first after restrictions are lifted. With such eagerness to return, there's a chance clothing retailers will enjoy "pent-up buying" behaviors as consumers catch up on revamping their wardrobes after many months at home.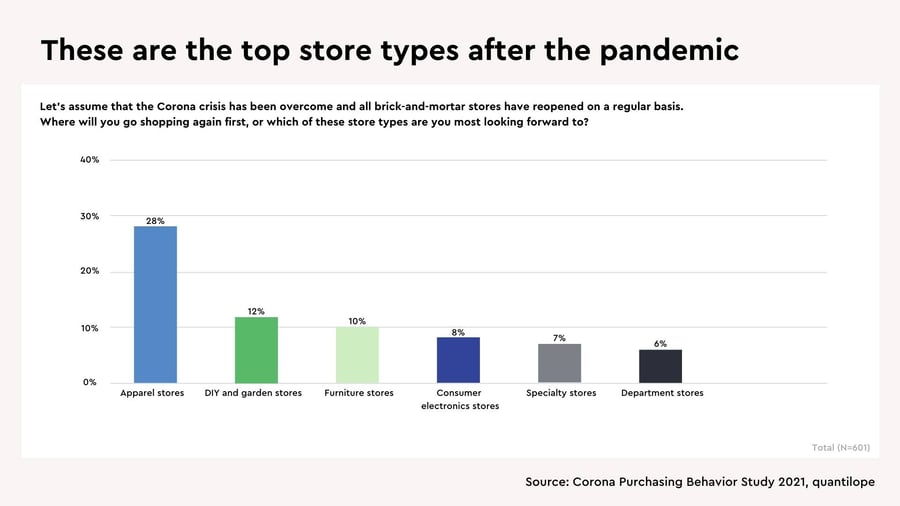 The will to return to clothing stores is particularly characterized by female shoppers; 40 percent of all women surveyed currently rate clothing stores as a preferred store to shop at again, which is significantly higher than male consumers (16 Percent). Meanwhile, male consumers plan to visit electronics stores significantly more often (with 13 percent) than females (with only three percent).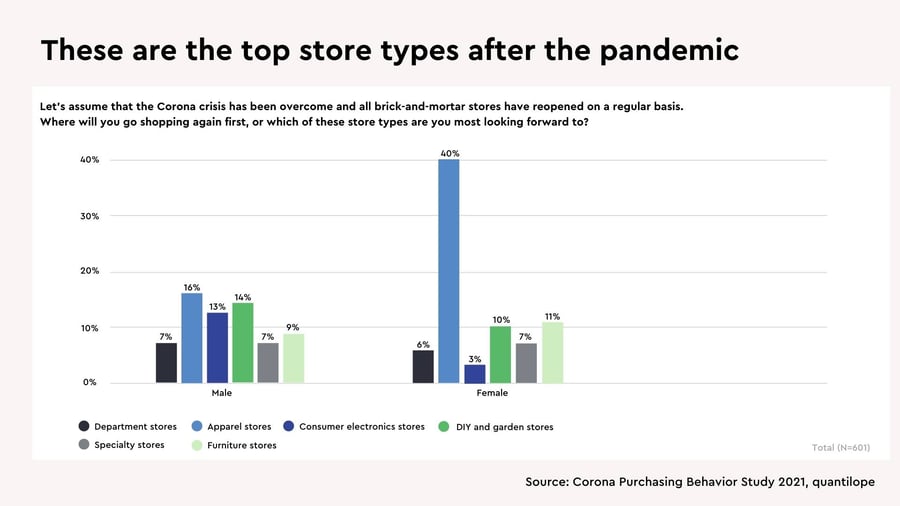 Little Change in the Consumer Electronics Industry
Electronic items were frequently ordered online even before the pandemic hit. About three-quarters of shoppers surveyed (consumers who normally shop in-store at electronics retailers) have purchased electronics items online just as frequently, or more frequently, since the rise of the pandemic in March 2020. As a result, the decline of in-store consumer electronics sales were well compensated by the online market.
In contrast to the fashion industry, the interest in going back to in-store shopping for electronics is rather low. Only eight percent of all respondents indicated electronics stores as the type of store they would want to visit first when stores reopen. Even among regular in-store consumer electronics customers, that figure is only 18 percent.
Are 'Click & Collect' and similar methods future-proof?
To offset losses as much as possible, in-store retailers have gotten creative in the pandemic. New shopping models such as Click & Meet, Click & Collect, and Click & Reserve have been established to enable 'Covid-19-Compliant' shopping. Around half of surveyed respondents have used Click & Meet and/or Click & Collect (or can imagine using them), while fewer have used (or can imagine using) Click & Reserve, at just 32 percent.
Even after the pandemic, there are definitely customers who can imagine continuing to use these shopping methods. However, this continued usage is very much dependent on the target group.
Younger generations tend to be more open to these methods. For example, the willingness to use these new ways of shopping even after the Covid-19 pandemic is around 40 percent among millennials and Gen Z, while just 22 percent among GenX and only 10 percent among boomers.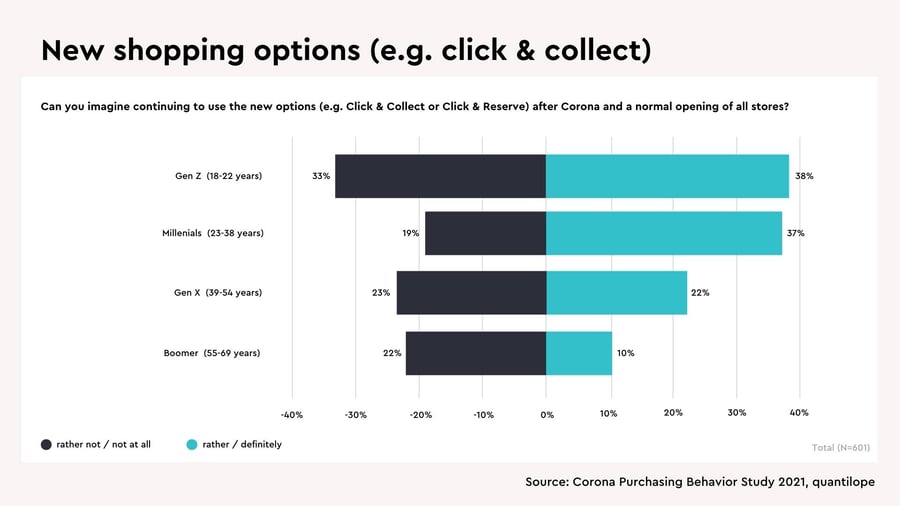 Yet, there is still potential for improving the communication and processes around these new methods. Brands should closely consider their target audience when considering establishing or continuing these ways of shopping once the pandemic is over. Further, brands can test the openness to these methods (or even new future models) through advanced market research studies.
About the sample:
N= 600 participants in Germany were surveyed for this study. The sample is representative in terms of age, gender, and region.
Download the full dashboard now!